Oceanic Society is partnering with Lindblad Expeditions to offer this unique cruise to see the 'wilder side' of the Bahamas. Aboard the 62-passenger National Geographic Sea Lion, we will explore and snorkel some of the remote and wild islands of the Bahamas on this 8-day cruise.
Beyond the all-inclusive resorts, the Bahamas is truly wild at heart. This archipelago of more than 700 islands—of which only about 30 are inhabited—is home to blue holes and thick mangrove forests, coral reefs, spectacular beaches, and abundant marine life.
An Active Bahamas Cruise for Nature Lovers
Travelers on this active adventure cruise will discover the Bahamas' wild side on a voyage to some of its most far-flung islands and hear an intriguing history of pirates, pilgrims, lost civilizations, and the slave trade. You'll land on remote islands with endangered wildlife and habitats that are passionately protected by Bahamas National Trust and other local conservation organizations, and you'll learn about the conservation initiatives seeking to protect fragile ecosystems throughout the Bahamas. You'll have opportunities to snorkel with abundant sea life in warm turquoise waters, explore waterways by kayak, and get introduced to the islands' terrestrial flora and fauna on guided walks in nature reserves.
Read more about what you'll see on this Bahamas adventure cruise.
Note on Trip Costs
Families welcome: Take $500 off the double occupancy price for each person under 18.
Trip prices do not include international airfare. Limited single supplements are available. Please see expedition itinerary for special terms and conditions.
Founded in 1969, Oceanic Society is America's oldest 501(c)(3) nonprofit organization dedicated to ocean conservation. As pioneers of "eco travel," our expeditions have been designed to directly support our mission. They not only positively impact our travelers, but also the people, places, and wildlife we go to see. Your expedition costs include fees that support conservation and promote sustainable livelihoods in the communities we visit, and Oceanic Society's earnings are invested back into our global research and conservation programs. In 2019, we also established our Expedition Impact Fund (EIF) as a way to grow our impact. The fund is seeded annually with money earned from our expeditions, and supplemented by donations from Oceanic Society travelers. Through the EIF, we award grants to our partners for their on-the-ground efforts to protect ocean habitats and the wildlife and human communities that depend on them.
Our itinerary and routing will be flexible to account for weather conditions and ensure the best possible guest experience. The following is a sample itinerary, and is subject to change. Request a detailed itinerary using the form below for a comprehensive daily itinerary, price details, frequently asked questions, and more.
Day 1  | George Town, The Exumas
Arrive into George Town on the island of Great Exuma, and transfer to the National Geographic Sea Lion. Settle into your cabin, and meet the crew as we set off on our Bahamian adventure. (D)
Day 2 | Crooked Island - Long Cay
This morning, we arrive at Crooked Island, anchoring near Long Cay. After breakfast, we'll take Zodiacs to shore to kayak Turtle Sound, an aquamarine waterway that cuts deep into the island. The sound draws sea turtles in search of calm waters, and we may see them surfacing as we paddle. The mangroves at the water's edge make for great birding opportunities as well. This afternoon, gear up for our first snorkeling excursion, watching for schools of amberjacks, wrasses, and maybe a sea turtle as we swim over the reefs off Crooked Island. (B,L,D)
Day 3 | Acklins Island
Separated from Crooked Island by a three-mile wide channel, Acklins Island has been at different times in its history the haunt of pirates, an island of cotton plantations where enslaved people toiled, and, some say, an early stop on Christopher Columbus's first voyage. This morning, walk across the island at its most narrow section and explore the fishing settlements on the lagoon side. After lunch on board, enjoy an afternoon of paddleboarding, kayaking, and snorkeling. (B,L,D)
Day 4 | Mayaguana
The easternmost island in the Bahamas, Mayaguana is the name given to the island by the original inhabitants of the Bahamas, the Lucayan people. On a morning walk on this rugged and remote island, learn about its history and the lost Lucayan culture. Keep an eye out for wildlife such as Bartsch's iguanas, West Indian flamingoes, royal terns,  and Wilson's plovers. In the afternoon, return to the magical undersea, snorkeling amid an extraordinarily diverse population of reef fish including blue tangs and princess parrotfish. (B,L,D)
Day 5 | Long Island
We'll make our way back to the central islands of the Bahamas overnight and wake up in Long Island. Enjoy a full day of water activities here, including snorkeling, kayaking, and paddleboarding in the vast lagoon that stretches along the island's coast. Take Zodiac cruises along the shore, stopping to explore when we find interesting wildlife or sites. (B,L,D)
Day 6 | Eleuthera
Measuring 100 miles long but rarely more than two miles wide, Eleuthera is an island of pink sand beaches and wild landscapes. It was first settled in 1648 by a group of Brits known as the "Eleutheran Adventurers" who were escaping religious persecution. Today, visit the innovative Island School, which uses a unique, hands-on approach to teach science, conservation, and sustainability to international and Bahamian high school students. After lunch on board, choose to go snorkeling or learn about the island's terrestrial flora and fauna while walking the trails of Leon Levy Native Plant Reserve. (B,L,D)
Day 7 | Conception Island
This morning, land on a white-sand beach on Conception Island, an uninhabited island that is now a national park. Set off on an easy hike, looking for tropicbirds and boobies that nest here, as well as many other bird species. The island is laced with creeks that we can access with our Zodiacs when conditions are right. Enjoy a final chance to snorkel in the rich waters surrounding Conception. This evening, toast our Bahamian adventure with a cocktail on the beach. (B,L,D)
Day 8 | George Town, Exumas - Home
Disembark after breakfast and transfer to George Town Airport for your flight home. (B)
Ship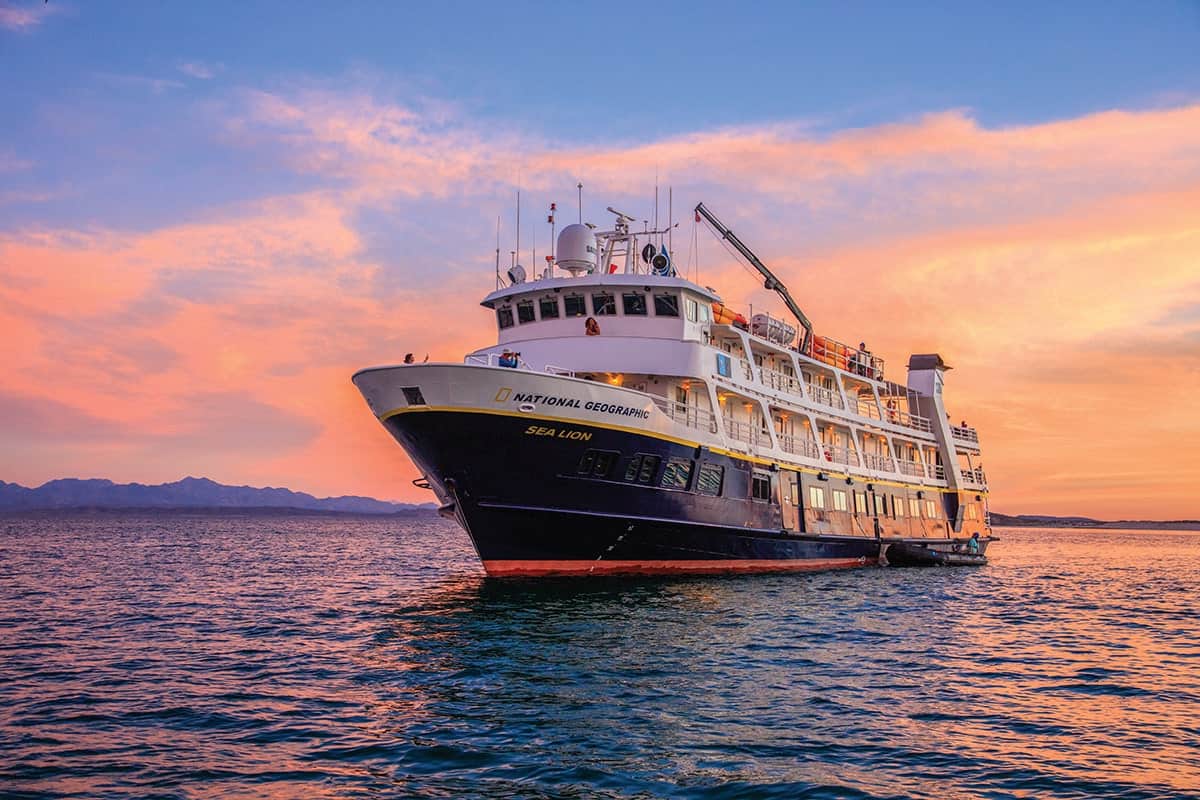 National Geographic Sea Lion
U.S. shipbuilder Nichols Brothers built the National Geographic Sea Lion and her twin ship, the National Geographic Sea Bird. Nimble, reliable, and intimately scaled, they both continue to sail the waters of the west coast of North America and Central…
Ship Details
Naturalist(s)
Your expedition will be led by one or more of the following expert naturalist guides: