Depart from Sausalito out under the Golden Gate Bridge and then explore San Francisco Bay on the beautiful 132-foot tall ship the Matthew Turner. Onboard this incredible vessel, Oceanic Society naturalists provide expert interpretation as we seek local wildlife (including whales) and get close-up views of iconic landmarks such as Pt. Bonita Lighthouse, the San Francisco Waterfront, Pier 39, Alcatraz, Angel Island and more! For more information, see the Detailed Itinerary section below.
Departure Time: 9:30am | Every Thursday & Sunday | May-November 2021 | Click Here to See Our Schedule & Book Now!
Departure Details: Depart @ 9:30am | Return @ 12:30pm
Trip Capacity: 30 passengers | (The boat can hold nearly 100. We keep plenty of space for everyone!)
Departure Location: US Army Corp SF Bay Model Pier. (2100 Bridgeway, Sausalito, CA 94965 | Check-in is just beyond the parking lot, near the entrance to the pier.)
Parking: Free on site | For Parking Diagram & Additional Trip Details Click Here!
Any Questions?: Email whales@oceanicsociety.org and get a fast response!
Clothing: Face covering is required. Warm, layered clothing with a waterproof outer layer is strongly recommended. Hat, sunglasses, and sunscreen are also advised.
Food & Refreshments: Bring your own food and beverages; there are no concessions on board. Alcohol is discouraged, but not prohibited. Backpacks are fine, but please, no coolers due to space limitations.
Weather: Trips go rain or shine, but may be cancelled due to high winds and/or high seas. All passengers will be notified via email and text should we need to cancel.
Policies: For cancellation policy, refund and reschedule policy, and other important terms, read our detailed Terms and Conditions.
Oceanic Society is a 501(c)(3) non-profit organization dedicated to ocean conservation. Your participation in our whale watch helps fund conservation efforts, such as our Critter Scholars Program, which delivers life-changing ocean experiences free of charge to underserved student groups and communities in the San Francisco Bay Area. We also use our whale watching cruises as an opportunity to collect photographic identification data on marine mammals, which we share with a network of researchers throughout the eastern Pacific. You can see our recently photographed whales on Happywhale. Our Golden Gate Sailing Cruises are operated in partnership with Call of the Sea, an educational non-profit that connects people to the sea and maritime traditions, and your participation in this trip helps to support their great work too.
Searching Availability...
Our vessel, the majestic 136-foot sailing brigantine Matthew Turner, departs from Sausalito (just north of San Francisco) at 9:30am. On every trip we provide multiple local experts to interpret wildlife, points of interest and the natural history of San Francisco Bay!
To start the day, we cruise under the Golden Gate Bridge, often seeing harbor porpoise along the way. Next, we travel up the coastline of the Marin Headlands passing beautiful Diablo Cove where we can view hauled-out harbor seals and the occasional Black Oystercatcher birds on the rocks. From there, we sail past Pt. Bonita and its gorgeous lighthouse, one of the most iconic in the United States. Right around this area it is common to come across feeding humpback whales and if we do, we will stay for the show!
After this we return back under the Golden Gate Bridge and sail along the San Francisco Waterfront. Here we pass the legendary California sea lions by Pier 39 and get one-of-a-kind views of the city skyline from our elevated sailing deck.
Next up, we sail over for comprehensive views of Alcatraz, with expert interpretation from our naturalists on both the natural history of the island and the wildlife refuge that exists there now. To finish off our trip, we trek around the back side of Angel Island, another fascinating landmark of the Bay rich with history and scenic views.
We arrive back to the dock in Sausalito right around 12:30pm and our naturalists will give a wildlife list and summary of what we experienced. What a great day!
Ship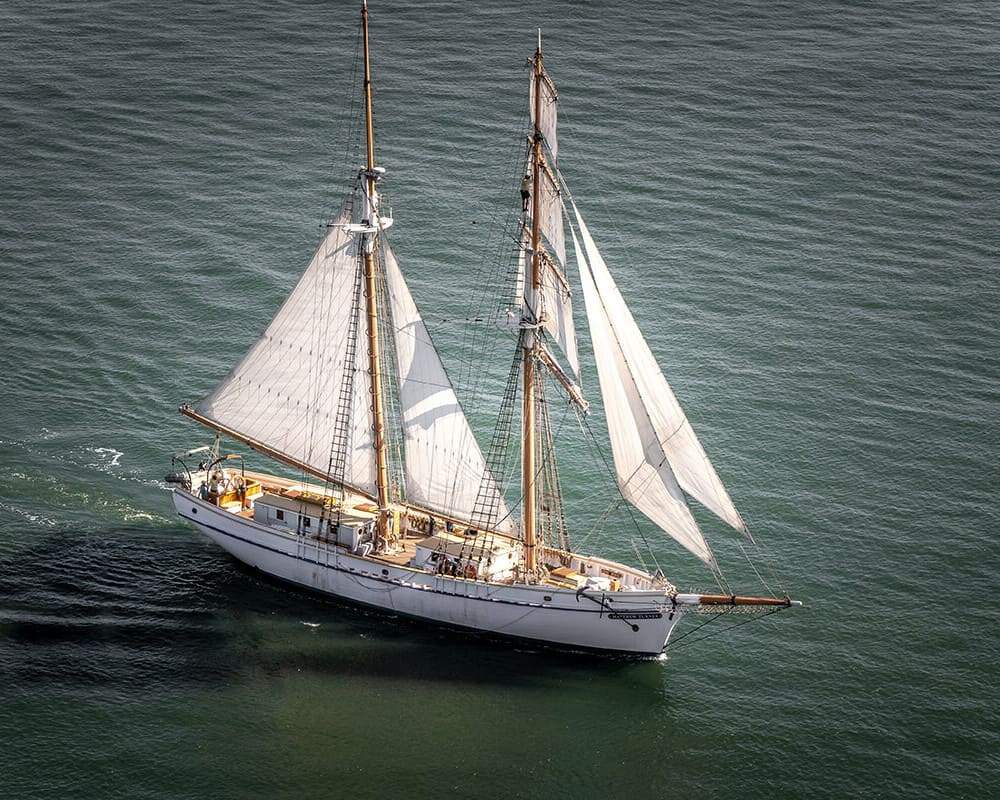 Matthew Turner
Matthew Turner is a tall ship that was built and is operated by our partners Call of the Sea. It measures 132 feet long (with over 100 feet of deck), and was constructed over a seven year period with Douglas Fir, Oregon White Oak and Bronze Fastenings,…
Ship Details
Naturalist(s)
Your expedition will be led by one or more of the following expert naturalist guides: