Spend 12 days exploring the shallow coral reefs of Raja Ampat, Indonesia with scientists, artists, photographers, and local NGOs
Learn from experts about conservation issues including the growth of tourism in Raja Ampat and the impacts of plastic pollution in this pristine region.
On-board conservationists and artists will connect what you see in Raja Ampat with other conservation projects worldwide.
Join Oceanic Society and Plastic Pollution Coalition on an educational exploration of plastic marine pollution found in the remote and sparsely populated region of Raja Ampat, Indonesia. This is the third Oceanic Society and Plastic Pollution Coalition collaborative expedition. Located in Indonesia's West Papua Province, the Raja Ampat Archipelago is at the heart of the most biodiverse marine region on Earth—the Coral Triangle. We will spend 12 days aboard a 112-foot motored schooner snorkeling and diving among the vibrant tropical reefs and devote some time to looking for cetaceans.
See a trip report from our 2016 collaborative expedition with Plastic Pollution Coalition
Along the way, we will examine what can be done to promote "Blue Habits" in local communities and among tourists to reduce the impacts of plastic pollution. With its sublime scenery of steep, jungle-covered islands, fine white-sand beaches, hidden lagoons, and turquoise waters, Raja Ampat is without question one of the most beautiful island chains in the world.
This is a special itinerary created by Oceanic Society and we would like to extend an invitation for you to participate in this intensive expedition that will follow up on an initial voyage conducted in 2016 to Bali and Komodo. While we are exploring the natural world, we will simultaneously experience first-hand and bear witness to the impact that plastic pollution is having on the marine and terrestrial habitats we visit.
Notes on Trip Costs
Please contact us for availability and reservations.
Trip price does not include airfare. There is a single supplement fee of $1,450 (limited quantities available); upper deck cabin upgrades are available for an additional $400/person (double occupancy only). Click here for our full expedition terms and conditions.
Founded in 1969, Oceanic Society is America's oldest 501(c)(3) nonprofit organization dedicated to ocean conservation. As pioneers of "eco travel," our expeditions have been designed to directly support our mission. They not only positively impact our travelers, but also the people, places, and wildlife we go to see. Your expedition costs include fees that support conservation and promote sustainable livelihoods in the communities we visit, and Oceanic Society's earnings are invested back into our global research and conservation programs. In 2019, we also established our Expedition Impact Fund (EIF) as a way to grow our impact. The fund is seeded annually with money earned from our expeditions, and supplemented by donations from Oceanic Society travelers. Through the EIF, we award grants to our partners for their on-the-ground efforts to protect ocean habitats and the wildlife and human communities that depend on them.
Dates & Prices
We're sorry, but there are currently no future dates set for this expedition. If you'd like to be notified when this trip is available, please contact us.
Note: This day-by-day itinerary is provided as an example only; our actual daily itinerary will be flexible to allow us to take advantage of weather conditions in Raja Ampat.
Pre-tour Departure and Arrival Information
Depart your home country. Most North American flights depart on October 22-23 to arrive into Jakarta on October 24th (crossing the International Date Line). Make sure you arrive no later than the evening of the 24th to give yourself a day to relax before your adventure begins. Meals are on your own before our expedition begins.
Days 0-1 | Oct 25 & 26 | Relax, Fly, Depart for Raja Ampat
Enjoy a day in Jakarta. Then take a late night/early morning flight to Sorong, the gateway to the Raja Ampat Archipelago. Once we land in Sorong (the morning of Oct 26), we will be transported to the Sea Safari 8, our home for the next 11 nights.
Day 2 | Oct 27 | Batanta Island
Today we will visit the incredible reefs found adjacent the island of Batanta, where we'll see beautiful hard and soft coral gardens with lots of colorful fish like fusiliers, oriental sweetlips, trevallies, bannerfish, rainbow runners, groupers, and reef sharks.
Day 3 | Oct 28 | Mansuar and Kri Islands
The waters off Kri's cape are frequented by a huge variety of fish. Try to see if you can find a giant grouper as we dive along undersea walls. Manta rays may congregate at a nearby cleaning station, with gold-banded fusiliers and other fish escorting them. You may even spot hawksbill sea turtles, a school of humphead parrotfish, or blacktip reef sharks.
Days 4-5 | Oct 29 & 30 | Waigeo Island
Waigeo Island is one of the largest islands in Raja Ampat, and has the greatest number of land and fresh- water bird species. Early morning boat rides will allow us to look for parrots, hornbills, kingfishers, and Ruby-Throated Myzomelas. While snorkeling/diving here we may spot Napoleon wrasses, angelfish, and butterflyfish among swaying sea anemones and colorful coral heads, or perhaps glimpse the endemic epaulette walking shark.
Day 6-7 | Oct 31 & Nov 1 | Aljui Bay
The calm waters of Aljui Bay are an excellent place to see juvenile fish hiding among staghorn corals. Here, we may see keyhole angelfish, bluegreen chromis, midnight snappers, striped surgeonfish, schools of blue tangs, and oriental sweetlips along the islands' sloping edge. In the shallows, we will look for tiny worm-like sea cucumbers wrapped around soft corals, or shrimpfish, archerfish, and cardinalfish that swim among the mangrove roots. Aljui Bay is also an excellent place to try a night snorkel/dive. The night brings out an array of creatures, not seen by day, like a sleeping cuttlefish or a well-camouflaged tassled wobbegong shark.
Day 8-9 |Nov 2 & 3 | Wayag Island
Wayag is a lush and rocky island with scenic limestone cliffs. Here we will see overhangs and boulders decorated with soft corals and colorful anthias fish. Ridge Rock is a submerged pinnacle with large soft corals.
Day 10 | Nov 4 | Gam Island
We'll start the day with an early morning hike in search of the Red Bird-of-Paradise "lek" (breeding ground) where we hope to see a group of male birds displaying their feathers to attract females. While snorkeling/diving Gam's clear waters, keep an eye out for oriental sweetlips, coral trout, glassfish, and orange and purple anthias that inhabit the reefs and mangroves of this area. Weather permitting, we can take an exciting drift snorkel/dive, floating with the currents through the Kabui Strait between Waigeo and Gam, where the Java cownose rays can often be seen.
Day 11 | Nov 5 | Penemu Island
Today we will snorkel/dive the calm waters between Penemu's mushroom shaped rock islands, which harbor hard and soft corals, giant clams, and extensive coral gardens filled with vibrantly colored fish and nudibranchs. This evening, we set sail for our return to Sorong.
Day 12 | Nov 6 | Disembark | Fly back to Jakarta
After an early breakfast, all group members will disembark the vessel. We'll transfer to the Sorong airport to connect with our flights back to Jakarta.
Ship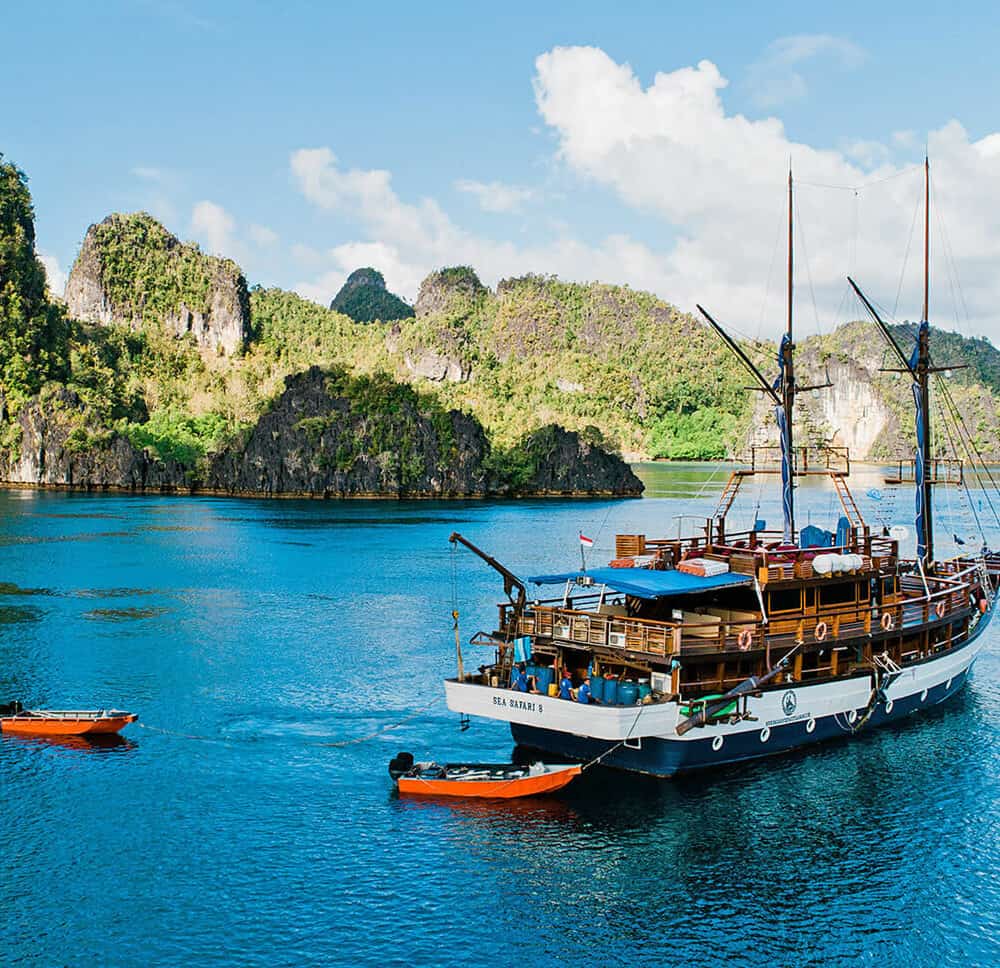 Sea Safari VIII
The Sea Safari VIII is a 24-passenger, 112-foot-long motored pinisi Buginese schooner that features twelve double or twin bed cabins. This mid-range liveaboard ship was designed and built specifically for snorkeling and scuba diving in Raja Ampat and o…
Ship Details
Naturalist(s)
Your expedition will be led by one or more of the following expert naturalist guides: