Ten days spent cruising, kayaking, and hiking in wildlife rich coastal Alaska.
Experience incredible wildlife moments and enjoy breathtaking forest landscapes throughout the trip.
Look for feeding humpback whales, killer whales (orcas), sea lions, sea sea otters, puffins, brown bears, bald eagles, and other iconic wildlife.
Focused time to try to see groups of humpback whales bubble net feeding in herring-rich summer waters.
Read a Glacier Bay trip report and photo journal from trip leader Jaymi Heimbuch.
This is not your average Alaska cruise! Traveling aboard the 12-passenger Snow Goose, we will explore the Inside Passage of Southeast Alaska including Frederick Sound and Chatham Strait with a goal to maximize wildlife sightings and examine our natural surroundings in depth.
Wildlife Highlights
During the summer months, the Inside Passage of Alaska is home to a large concentration of feeding humpback whales, and we should have many opportunities to observe these gentle giants and their unique behaviors, including breaching and bubble net feeding. We may also have the chance to see resident and transient killer whales (orcas) during the trip, and other marine mammals including Dall's porpoise, Steller sea lions, and more.
Bald eagles are abundant in this region and will be seen throughout the trip, and we may also see golden eagles and puffins, in addition to many other bird species. With luck, we may also encounter brown (grizzly) and black bears along the shore.
Over our 10-day/9-night cruise we will have opportunities for wondrous encounters with humpback whales, bears, moose, mountain goats, sea otters, seals, sea lions, eagles and horned puffins to name just a few. Armed with onboard water sampling capabilities, hydrophones, microscopes, and other tools, we will go beyond basic wildlife observation to truly explore and appreciate the details of this magnificent ecosystem. Six double sea kayaks and a large skiff allow us to fully explore the coastline and make excursions on the shore.
A highlight of our experience will be the opportunity to look for congregations of humpback whales "bubble net feeding" in Chatham Strait and Frederick Sound near the start of our trip. Every summer they migrate north to feed on the herring and tiny krill that blossom with the sunlight. Leaving the humpbacks, we travel onwards toward the town of Wrangell and will pass Chichagof Island and Admiralty Island National Monument, which have very high populations of brown bears. Along our route there will be opportunities for sea kayaking, forest walks, hot springs, and viewing other marine mammals, including sea otters.
Learn more about life on board the Snow Goose below. Your tour will be educational in nature and the onboard naturalist for this expedition will make sure you have excellent wildlife viewing opportunities and a complete understanding of the Southeast Alaska coastal ecosystem.
Notes on Trip Costs
If you are traveling solo we will try to match you with a same sex roommate.
Founded in 1969, Oceanic Society is America's oldest 501(c)(3) nonprofit organization dedicated to ocean conservation. As pioneers of "eco travel," our expeditions have been designed to directly support our mission. They not only positively impact our travelers, but also the people, places, and wildlife we go to see. Your expedition costs include fees that support conservation and promote sustainable livelihoods in the communities we visit, and Oceanic Society's earnings are invested back into our global research and conservation programs. In 2019, we also established our Expedition Impact Fund (EIF) as a way to grow our impact. The fund is seeded annually with money earned from our expeditions, and supplemented by donations from Oceanic Society travelers. Through the EIF, we award grants to our partners for their on-the-ground efforts to protect ocean habitats and the wildlife and human communities that depend on them.
Our itinerary and daily plans will be flexible to accommodate the tides and weather and to take advantage of the surprises and opportunities that occur on each trip.
Day 1: Embark - Sitka, Alaska
Nestled in the shadow of Mt. Edgecombe on the outer coast of Baranof Island, our trip will begin in the Russian capital turned fishing-port town of Sitka. At the Sitka Harbor Master's office, a member of the crew will greet you and escort you to the vessel. After a brief orientation and cabin assignment, lunch will be served and we will depart from Sitka and head north to prime whale territory. From the Sitka Harbor, we will enter into Sitka Sound and begin to look for humpback whales, sea otters, puffins, auklets, and other pelagic marine species.
Days 2-9: Chatham Strait / Chichagof Island / Baranof Island / Frederick Sound
Our principal focus will be on viewing humpback whales in Chatham Strait and Frederick Sound, with sightings of lunge and bubble-net feeding the primary objective. Starting from Sitka we will proceed through Sergius Narrows into Chatham Strait. The area around Tenakee / Iyoukeen is anticipated to be particularly good for whale viewing and we are planning to spend up to 4 days there.
We then proceed south in Chatham Strait, through Frederick Sound to complete the voyage in Wrangell, AK. Chichagof Island and Admiralty Island National Monument have very high populations of brown bears, and there will be opportunities for sea kayaking, forest walks, hot springs, and viewing other marine mammals, including sea otters.
Day 10: Disembark – Glacier Bay/ Gustavus
On arrival in Glacier Bay, guests will disembark in mid-morning.
Ship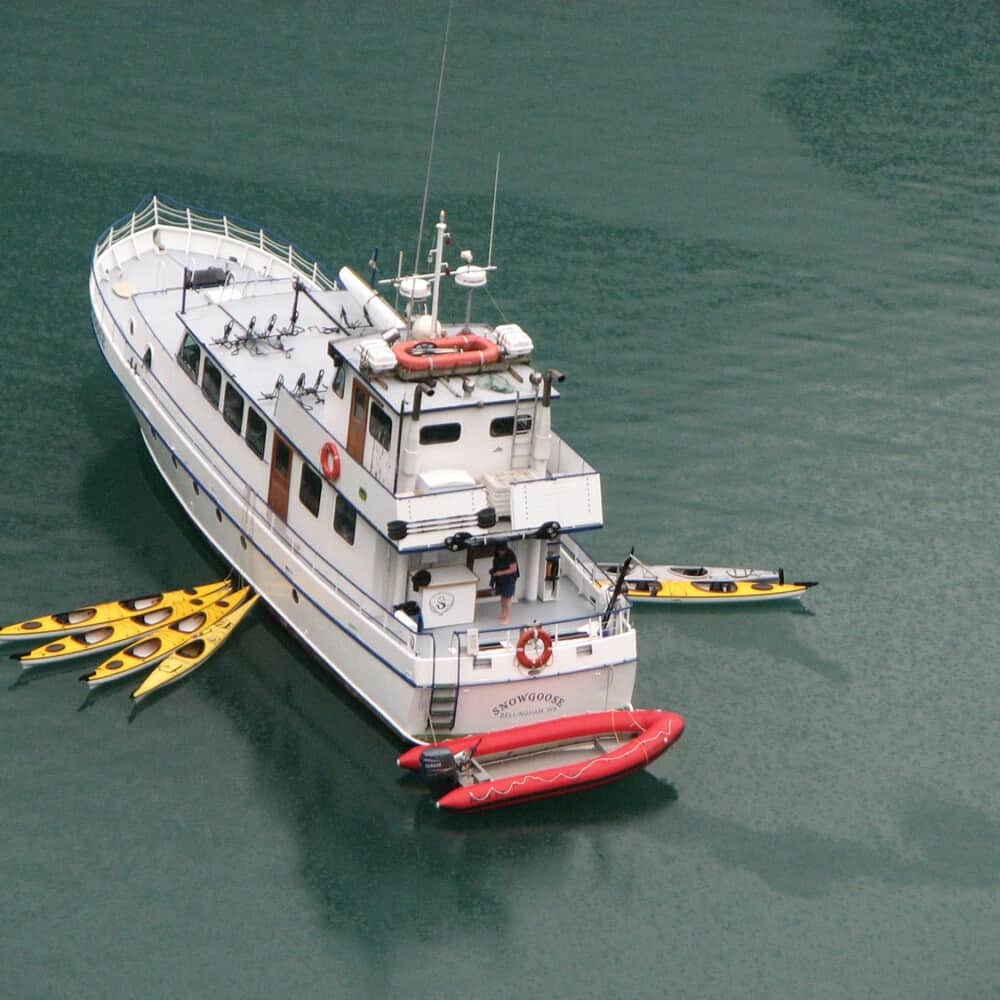 Snow Goose
The Snow Goose is a 65 foot long U.S. Coast Guard licensed passenger vessel that has a steel hull, six private cabins (double occupancy), and three shared bathrooms with two hot showers. The spacious salon has large windows looking out to the water, an…
Ship Details
Naturalist(s)
Your expedition will be led by one or more of the following expert naturalist guides: