Visit remote areas of the Banda Sea full of vibrant coral reefs.
We'll have a chance to see schooling hammerhead sharks in an area where they are known to congregate.
Swim with wild whale sharks that are attracted to traditional fishing platforms in Triton Bay.
Look for blue whales and other cetaceans with expert guidance in between snorkeling or diving some of the world's best reefs.
Enjoy luxurious accommodations aboard the boutique El Aleph.
---
COVID-19 update (January 2021): This is a small group expedition (10 guests max). A range of new procedures will be in place on the ship to help assure COVID safety while aboard and will be regularly updated based on the latest safety guidelines. For information about flying safely during COVID-19, see our guide, and click here for general information about COVID-19 and Oceanic Society expeditions.
---
Starting off in Triton bay just below Raja Ampat, we will have a chance to spend the day swimming with whale sharks. The fishermen in Triton Bay use floating wooden structures, called bagans, to fish for small baitfish that are used in pelagic fisheries. Whale sharks have learned that they can always find a little snack here. Being fully focused on feeding, these gentle giants do not mind us being in the water with them at all. Close encounters are therefore almost guaranteed. We will also explore the beautiful coral reefs surrounding the volcanic islands of Alor and the Banda Sea on this 12-day luxury liveaboard expedition. At the border where the Pacific and Indian Oceans collide, this area harbors some of those most biodiverse coral reef ecosystems in the world and is a hotspot for blue whales.
Our expedition brings together professional conservationists and passionate guests for a unique and enriching experience. Selecting ideal snorkeling and dive sites daily, we will immerse ourselves in diverse marine habitats and sail among the many uninhabited jungle-capped islands, complemented by dedicated time to look for whales. A highlight of the expedition will be a trip to "Hammer Island," a remote location where scalloped hammerhead sharks are known to school in large numbers.
Notes on Trip Costs
1 master cabin is available at an additional cost. Trip prices do not include international airfare, or in-country airfare. Click here for our full expedition terms and conditions.
Founded in 1969, Oceanic Society is America's oldest 501(c)(3) nonprofit organization dedicated to ocean conservation. As pioneers of "eco travel," our expeditions have been designed to directly support our mission. They not only positively impact our travelers, but also the people, places, and wildlife we go to see. A portion of your trip fees for this expedition will support our non-profit partner Planet Deep. They use the sighting data collected on whales and other cetaceans during these trips to help protect critical oceanic habitats such as calving and mating grounds for whales, migratory marine corridors, seamounts, and canyons. We also collect observational data on marine debris that is being used to document its prevalence and overlap with cetacean habitat. Oceanic Society's earnings from this trip are also invested back into our global research and conservation programs. 
Dates & Prices
October 16-27, 2021 SOLD OUT
Cost
From $9,995 / person + park fees. Group limit 10.
Book this Trip
October 11-22, 2022 (from Ambon to Saumlaki) SOLD OUT
Cost
From $9,995 / person + park fees. Group limit 10.
Book this Trip
The following itinerary is an example only, and is subject to change based on weather and other external factors during our voyage. Guests will need to arrive to Jakarta at least one day prior to the start of the expedition. In-country flights from Jakarta to Kaimana, where we embark, and from Ambon, where we disembark, to Jakarta are not included in the trip price, but will be arranged by Oceanic Society.
Day 1: Kaimana, embark
After our flight from Jakarta, we will board our privately chartered vessel, El Aleph, your home for the next 12 days. After a brief boat safety and orientation we will depart to look for whale sharks. There may be opportunities to see whales or dolphins as we cruise past along Triton Bay.
Day 2: Triton Bay
We will spend the first half of this day in the water with the biggest fish on this planet, the whale shark. In the afternoon we will cruise offshore for another round of whale patrol. Optionally, we could instead spend the whole day around the whale sharks.
Day 3: Triton Bay
Hidden away in a little bay there is a stunningly beautiful waterfall that empties directly into the sea—a very unique sight. If we are especially lucky, we might get to see the elusive tree kangaroo here as well. We will spend our morning here with swimming and snorkeling, followed by whale patrol and a dive/snorkel in the afternoon.
Day 4: Kai Islands Cruising Northwest
With the first daylight we will start cruising for a 150 NM journey towards the west, heading for the Kei Islands. This day is entirely dedicated to whale patrol as we work to get to our next destination. We will be getting into waters more than 2000 m deep. Today we will also try to listen to whales and dolphins with a hydrophone..
Day 5: Kai Islands beach BBQ
A beach like no other awaits us in the Kai Islands. Some say this one of the most beautiful and finest white sand beaches in the world. We will spend our day on and around this beach, also with multiple opportunities for snorkeling and diving. We will round up this day with a beach BBQ at this stunning location.
Day 6: Gili Manuk
Being an active volcano rising from the 5,000-7,000m depths of the Banda Sea, Gili Manuk is a wilderness hotspot with many different species. Above the surface we will encounter numerous species of seabirds such as frigate birds, boobies, gannets and terns, even the rare tropicbird – this island is a rookery for these seabirds and recognized as an Important Bird Area by Birdlife International, the leading non-government organization in global bird conservation.
Below the ocean's surface we find an exceptionally high density of … sea snakes, especially the banded sea krait and olive sea snake. For that reason, Manuk is nicknamed "Snake Island." Even though these marine reptiles are highly venomous, we will not have any dangers arising as they are equally peaceful as curious.
In addition to all this, Manuk has teeming coral reef drop-offs and we often see large pelagic fish such as tunas, barracudas, jacks, and sharks passing by. This is a truly unique and wild place, located in the middle of one of the most remote seas on Earth.
Day 7: Banda Neira
Being the only place where nutmeg was originally grown, the so called Spice Islands are historically very interesting and important. Many battles have been fought over them in the 16th and 17th Century by the reigning maritime superpowers of that time - the Portugese, followed by the English and the Dutch "East Indies" Companies (who eventually took possession for centuries to come). This intriguing colonial heritage can be felt today, as several of Banda Neiras street have hardly changed in over 300 years... A stroll over the main island of Banda Neira includes a visit to a quaint museum, a nutmeg plantation and the VOC's Fort Belgica, where a local guide will teach us more about this fascinating chapter in global colonial history.
Below the surface we will see a stunning comeback of a coral reef. At the site named "Lava Flow", the last eruption of the volcano Gunung Api in 1988 eradicated the whole reef. What has happened ever since has baffled coral reef scientists. To this day, Lava Flow is a very encouraging case study on how fast a coral reef can bounce back (reef resilience) when the conditions are right.
As a final option and a must for all who like to keep fit on this well-catered for expedition, the 2000 ft. tall volcano can be climbed in the early hours of the morning to watch the sun rise over the other six islands of the Spice Islands. Follow in the footsteps of the early explorers and enjoy the magnificent view into the Banda Sea.
Day 8: Pulau Run, the Spice Islands
We start our day with a snorkel or dive at another Hammerhead Shark hotspot at Tanjung Noret off Pulau Run. This steep drop off into deep waters offers great diving along the wall and beautiful snorkeling in the shallows on the reef top. Later in the day we go on whale patrol around the waters of the Spice Islands. In the past we had many spectacular encounters with different species of whales and dolphins.
Day 9: Transit to Ambon with exploratory snorkel/dive
This whole day is dedicated to exploring the waters from the Spice Islands onwards towards the west. We can expect wonderful shallow water reefs along the way, and also numerous species of oceanic dolphins, blue whales, sperm whales, pilot whales, melon-headed whales, beaked whales and even orcas have been spotted here in the past. .
Day 10: Nusa Laut and West Ambon
The hard coral reefs fringing this small island just south of Ambon are yet another snorkel and diving highlight. The villagers of Kampung Amed have protected their marine assets from destructive fishing methods for many years and one can clearly see the fruit of their conservation efforts—a stunning reef to explore. To the west the area has been recently "discovered" as a cetacean hotspot during two scientific surveys led by members of our expert team in 2016 and 2017. The survey team recorded 11 species of whales and dolphins in this amazing corridor habitat!
Day 11: Selat Manipa, West-Ambon
This area is a new cetacean hotspot, as "discovered" by members of our expert team during dedicated cetacean conservation projects in 2016-2018. Manipa is not yet 'on the map' for other boats cruising in this area, and further explore this amazing cetacean and snorkel hotspot. Together with the team of Planet Deep we will be pioneers in this area, and support sustainable boat-based tourism and marine conservation to safeguard Manipa's ocean wilderness.
Day 12: Disembark in Ambon
On arrival in Ambon we will disembark and transfer to the airport. You will have the option to fly to Jakarta or Denpasar (Bali) to catch your international flights back home. All guests looking to fly home should make sure their flights do not leave until after 8:00 PM. Most flights will leave the next day.
—> Optional (if afternoon flights available): Visit of Museum Sitta in Ambon which hosts skeletons of blue and sperm Whales as well as cultural artifacts.
Optional Post-trip Extensions
For those who would like to continue their exploration of this spectacular region, we are offering post-trip extensions to Borneo and North Sulawesi upon request. Please inquire for details!
Ship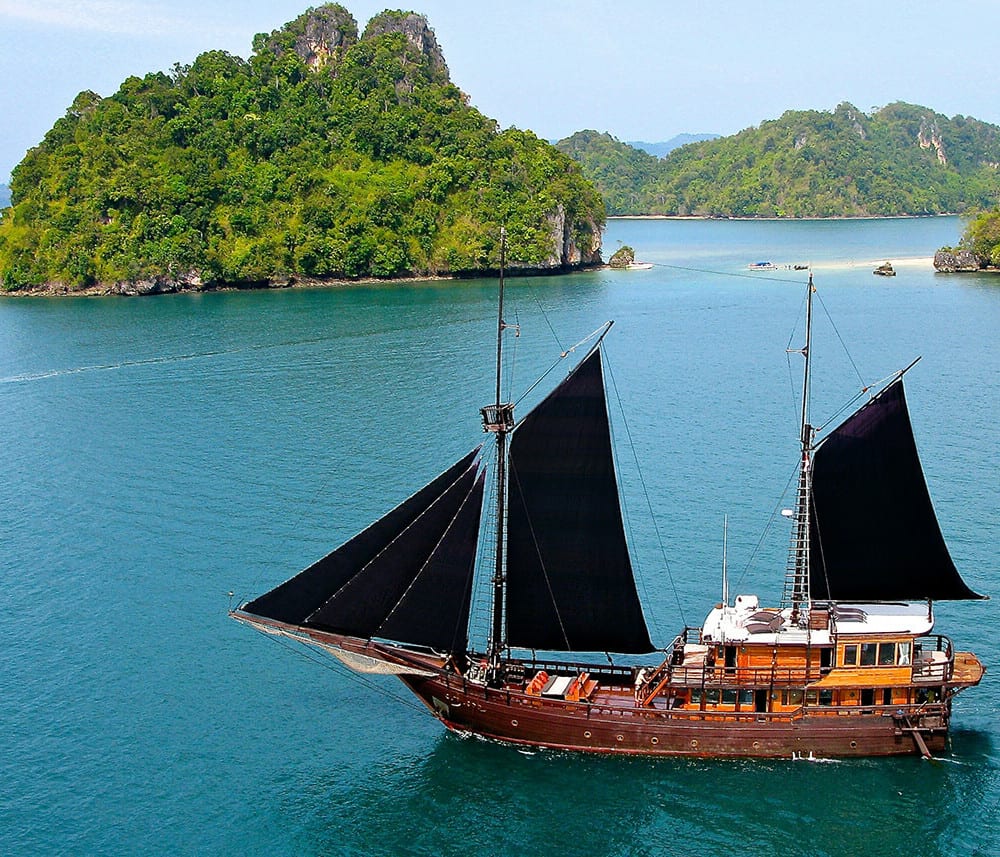 El Aleph
El Aleph is a 40-meter luxury liveaboard ship purpose-built for exploring the remote and legendary regions of Raja Ampat, Indonesia and Papua New Guinea. From the polished wood finish – more reminiscent of a fine guitar than a phinisi schooner – to the…
Ship Details
Naturalist(s)
Your expedition will be led by one or more of the following expert naturalist guides: