Embark from Ambon and visit remote areas of the Banda Sea full of vibrant coral reefs.
We'll have a chance to see schooling hammerhead sharks in an area where they are known to congregate.
Look for blue whales and other cetaceans with expert guidance in between snorkeling or diving some of the world's best reefs.
Enjoy luxurious accommodations aboard the boutique El Aleph.
Optional trip extension with Megadiversity expedition, Borneo, or North Sulawesi
---
COVID-19 update: This is a small group expedition (10 guests max). A range of new procedures will be in place on the ship to help assure COVID safety while aboard and will be regularly updated based on the latest safety guidelines. For information about flying safely during COVID-19, see our guide, and click here for general information about COVID-19 and Oceanic Society expeditions.
---
Our expedition brings together professional conservationists and passionate guests for a unique and enriching experience. Selecting ideal snorkelling and dive sites daily, we will immerse ourselves in diverse marine habitats and sail among the many uninhabited jungle-capped islands, complemented by dedicated time to look for a wide variety of cetacean species. We have seen Blues, Pilots, Sperm Whales, Brydes Whales, and even Orca on historical expeditions, as well as a number of different dolphin species that love to bow ride with us on our travels. A highlight of the expedition will be a trip to "Hammer Island," a remote location where scalloped hammerhead sharks are known to school in large numbers. Besides the possibility of Hammerhead sharks, volcanic activity above and below the waves has created a paradise of remote islands, pretty much only accessible to snorkelers and divers on a liveaboard. You will find pristine coral reefs bursting with life, huge sea fans and sponges the size of a person, sea snakes in Gili Manuk as well as visits to a couple of the historically significant and much fought over 'Spice Islands'.
Notes on Trip Costs
1 master cabin is available at an additional cost. Trip prices do not include international airfare, or in-country airfare. Click here for our full expedition terms and conditions.
Founded in 1969, Oceanic Society is America's oldest 501(c)(3) nonprofit organization dedicated to ocean conservation. As pioneers of "eco travel," our expeditions have been designed to directly support our mission. They not only positively impact our travelers, but also the people, places, and wildlife we go to see. A portion of your trip fees for this expedition will support our non-profit partner Planet Deep. They use the sighting data collected on whales and other cetaceans during these trips to help protect critical oceanic habitats such as calving and mating grounds for whales, migratory marine corridors, seamounts, and canyons. We also collect observational data on marine debris that is being used to document its prevalence and overlap with cetacean habitat. Oceanic Society's earnings from this trip are also invested back into our global research and conservation programs. 
The following itinerary is an example only, and is subject to change based on weather and other external factors during our voyage. Guests will need to arrive to Jakarta at least one day prior to the start of the expedition. In-country flights from Jakarta to Ambon, where we embark, and from Ambon, where we disembark, to Jakarta are not included in the trip price, but will be arranged by Oceanic Society.
Day 1: Ambon, embark
After our flight from Jakarta, we will board our privately chartered vessel, El Aleph, your home for the next 12 days. After a brief boat safety and orientation we will depart for Nusa Laut and whale patrol along the way.
Day 2: Nusa Laut
Nusa Laut is part of the newly established Lease Islands MPA. It has intact marine ecosystems including pristine coral reefs, seagrass and mangroves, supporting abundant marine life, even the endangered dugong. We will spend all day at Nusa Laut – a hard coral slope graduating to a stunning wall makes for excellent snorkeling and diving. Local community safeguarding teams 'Pokmaswas' protect the reefs here, regularly patrolling the waters ensuring the MPA regulations are understood by the local coastal communities, monitoring the marine and coastal ecosystems. It's a great example of collaboration between government designating the MPA, the local community engagement and responsibility for monitoring and maintenance, as well as moving away from destructive fishing methods, that has resulted in a thriving ecology and ecosystem that sustains the local economy here. Lift anchor at Sunset, cruise to Gili Manuk
Day 3: Whale Patrol
The expedition team leaders use their decades of experience to explore the Banda Sea area searching for sightings of various cetacean species. There will be an opportunity for guests to join in with 'spotting' and learn about the various migratory and residential species we might encounter. When we encounter any wildlife, guided by our cetacean expert Benjamin Kahn you will learn how to ID species, and we will collect data on species type, overall behavior, dive times, surface times, track GPS locations so we can share this invaluable data with various conservation organizations and governmental bodies to continue to expand and protect the existing MPA's and contribute to the establishment of protected areas where they don't currently exist. If we have 'friendly' encounters, and the animals are calm and curious, it's possible we may be able to have some in water experience with them, but our priority is always the cetaceans and respecting them and their environment, as well as our guest's safety – so it's not guaranteed. We will arrive Gili Manuk at Sunset
Day 4: Gili Manuk
Being an active volcano rising from the 5,000-7,000m depths of the Banda Sea, Gili Manuk is a wilderness hotspot with many different species. Above the surface we will encounter numerous species of seabirds such as frigate birds, boobies, gannets and terns, even the rare tropicbird – this island is a rookery for these seabirds and recognized as an Important Bird Area by Birdlife International, the leading non-government organization in global bird conservation. Below the ocean's surface we find an exceptionally high density of … sea snakes, especially the banded sea krait and olive sea snake. For that reason, Manuk is nicknamed "Snake Island." Even though these marine reptiles are highly venomous, we will not have any dangers arising as they are equally peaceful as curious. In addition to all this, Manuk has teeming coral reef drop-offs and we often see large pelagic fish such as tunas, barracudas, jacks, and sharks passing by. This is a truly unique and wild place, located in the middle of one of the most remote seas on Earth. Lift anchor and head to Serua overnight.
Day 5- 6: Hammer Islands
This island we refer to as Hammer Island as its potential for large numbers of schooling Scalloped Hammerhead Sharks is still relatively unknown and we don't want to 'spread the word' to potential poachers. When we arrive here, we will first visit the island to meet the chief of the village and some of the inhabitants. The people here are trying hard to protect their reefs from fishermen that come here from as far as Sulawesi, fishing with illegal methods. As part of our work to support local communities we will also deliver general goods like food supplies and fuel. The village priest will accompany us for our first dive/snorkel in the late afternoon when the sharks come into the shallow waters to get cleaned. The priest will 'bless' our endeavors to bring us good luck and plentiful sightings, and his presence is said to 'call the sharks' to us. We will stay for two days at Hammer Island, giving us the best opportunity for Hammer sightings and snorkel and dive the many sites available to us, before heading to Karang Hatta.
Day 7: Karang Hatta
Cruise to Karang Hatta with Whale Patrol along the way. Karang Hatta is a tiny atoll off the south coast of Hatta Island and for many its a dive and snorkel site not to be missed; starting off very shallow for excellent snorkeling, it slopes down beyond 40m. The entire reef is full of schools of fusiliers, snappers and surgeon fish. It's also possible to see blacktip reef sharks and turtles, as well as wrasse and titan triggerfish. Because the reef goes so deep you are also likely to see some of the larger pelagic species such as tuna, trevally, and even barracuda. In the afternoon we will lift anchor and cruise into the stunning natural harbour at Banda Neira.
Day 8: Banda Neira
In the morning there is an optional volcano climb (weather conditions dependent) of Gunung Banda Api, which rises 640m above sea level, sitting on its own island across a narrow strait from Banda Neira. Later in the morning we will dive / snorkel 'Lava Flow' named after the last eruption of Gunung Banda Api which in 1988 which spewed lava into the Sea which initially destroyed a huge area of coral and marine life. In just 5 years following the eruption the area saw an unprecedented rebirth and now boasts a kaleidoscope of life including gigantic table corals, warty finger corals, bottle brush and acropora corals, and a huge variety of tropical fish and creatures endemic to Indonesia. For divers, cabbage leaf coral takes over and you might see fusiliers, parrot fish, wrasse, batfish and with some cold upwellings with this being a 'near shore but deep water' environment we may well see some of the larger pelagic species like Tuna, Trevally and even Mobula Rays as well as more sharks! In the afternoon there will be a land visit to Banda Neira which the principal town of the Banda Islands, and one of the 10 volcanic islands in the archipelago. It was the centre of 200 years of wars between the British, Portuguese and Dutch, such was the demand for Nutmeg which is produced by the native Myristica trees that grow here. You will have the opportunity to explore the 17th Century Fort Belgica which served as the fortification system for the island during the period when Banda Neira was the only place in the world that produced nutmeg, and at that time was worth more than gold!
Day 9: Pulau Run
In the morning we will dive / snorkel at neighbouring Pulau Run, which also has a fascinating history – once upon a time it was traded to the British for another island we now know as Manhattan! A sloping reef which turns into a wall means that this is a great spot for snorkelling and diving. A resident school of bump-head parrot fish may be spotted here as well as passing eagle rays, snapper, fusiliers, sweetlips, blue spotted stingrays amongst many more endemic species. In the afternoon we will set off for Selat Manipa with Whale Patrol in some of the deepest areas of the Banda Sea along the way. We start our day with a snorkel or dive at another Hammerhead Shark hotspot at Tanjung Noret off Pulau Run. This steep drop off into deep waters offers great diving along the wall and beautiful snorkeling in the shallows on the reef top. Later in the day we go on whale patrol around the waters of the Spice Islands. In the past we had many spectacular encounters with different species of whales and dolphins.
Day 10: Selat Manipa
To the west of Ambon there is an Island called Pulau Manipa and the strait of water between Manipa and Ambon is called Selat Manipa. We will cruise Selat Manipa and around midday we will stop at a very scenic anchorage at Tanjung Lola for in water activities there, diving and snorkeling. This area is a new cetacean hotspot, "discovered" by members of our expert team during dedicated cetacean conservation projects in 2016-2018. We have seen a wide variety of cetacean species in this area including beaked and sperm whales, and we have even seen a full breach by a baby sperm whale in past expeditions! Manipa is not yet 'on the map' for other boats cruising in this area. Together with the team of Planet Deep you will be pioneers in this area, and support sustainable boat-based tourism and marine conservation to safeguard Manipa's ocean wilderness.  
Day 11: Selat Manipa
We will continue to cruise Selat Manipa, all the way along the coast and see the incredible 'Jungle Mosque' set in the hillside in amongst the lush greenery. During our last expedition here, we rode along side a Blue Whale all the way along this stretch for over an hour, it was incredible to be accompanied almost all the way 'home' at the end of what had already been an incredible expedition. In the afternoon will arrive into Ambon Bay and anchor for the night and 'Captain's Dinner'.
Day 12: Disembark in Ambon
On arrival in Ambon we will disembark and transfer to the airport. You will have the option to fly to Jakarta or Denpasar (Bali) to catch your international flights back home. All guests looking to fly home should make sure their flights do not leave until after 8:00 PM. Most flights will leave the next day. —> Optional (if afternoon flights available): Visit of Museum Sitta in Ambon which hosts skeletons of blue and sperm Whales as well as cultural artifacts.
Optional Post-trip Extensions
Alternatively if you are extending your stay and joining us on the Megadiversity expedition, you will transfer to your hotel between cruises while the crew do the 'turn-around' and restock for the next leg. For those who would like to continue their exploration of this spectacular region, we are offering post-trip extensions to Borneo and North Sulawesi upon request. Please inquire for details!
Ship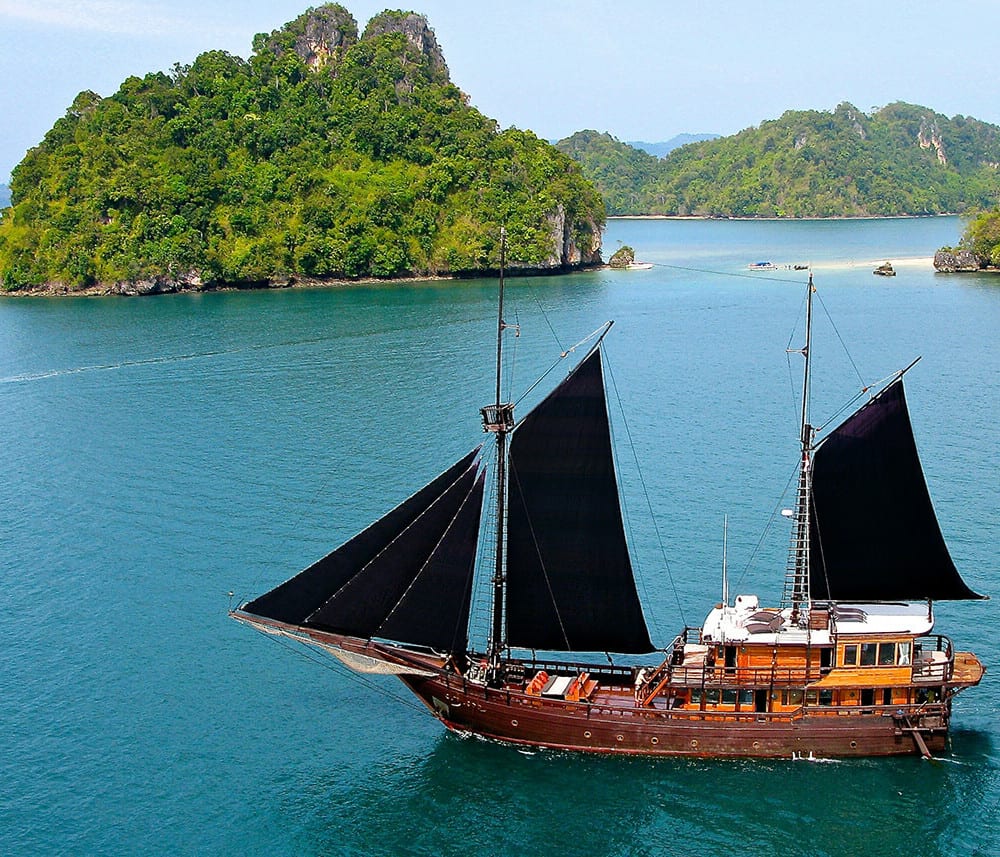 El Aleph
El Aleph is a 40-meter luxury liveaboard ship purpose-built for exploring the remote and legendary regions of Raja Ampat, Indonesia and Papua New Guinea. From the polished wood finish – more reminiscent of a fine guitar than a phinisi schooner – to the…
Ship Details
Naturalist(s)
Your expedition will be led by one or more of the following expert naturalist guides: