Recent Sightings: September 10th: GREAT WHITE SHARK ATTACK!!! Sunday morning we had an incredibly close viewing of a white shark attack right at the Farallon Islands. Check out this feature by the San Francisco Chronicle for the whole story. Right now is the beginning of Farallon shark season that runs through October. We don't see them every trip but when we do, it's a once-in-a-lifetime experience. Book your tickets now!
September 2nd: SPERM WHALE!!! Out in the deep waters near the Farallon Islands, we had a rare close encounter with a large sperm whale, one of the deepest diving animals on the planet. This goes to show you never know what you'll see on our trips... except plenty of whales! We are in peak season right now with 43 whales on average over our last 8 trips.
Farallon Trip Details: Cruise under the Golden Gate Bridge led by wildlife experts to the Farallon Islands, one of the most biodiverse marine environments on the planet. See and learn more about whales, sea lions and seabirds with Oceanic Society due to our reduced passenger capacity and 51 years of experience leading trips to the Farallones. Included in the day are free wildlife photos taken by our professional photographer shared with you right after the trip concludes. For more information, read our Detailed Trip Itinerary.
About Us: Oceanic Society is a non-profit running Farallon trips since 1972. Proceeds from ticket sales go back into our conservation programs such as whale & sea turtle research, plastic pollution removal, and ocean access for under-resourced student groups. Thank you for your support!
Departures: San Francisco Yacht Harbor | Every Saturday & Sunday | April 1st-December 10th, 2023 | 8:00am Check-In | 8:30am Departure | 4:00pm Return
Our Boat: The beautiful, 60-foot Salty Lady. An exceptionally stable vessel with ample viewing deck space and comfortable indoor amenities. Perfect for offshore adventures.
Private Trips Available: We also offer private whale watch charters for your social or business event. Inquire with whales@oceanicsociety.org and start planning today.
Trip Capacity: 33 passengers (about 67% of our 60-foot boat's legal limit of 48 passengers)
Whale Sightings Likelihood: There is a 96% chance of seeing whales April-November (based on the past 40 years of Oceanic Society sightings data)
Age Limit: Age minimum 10
Departure Location: San Francisco Yacht Harbor | Marina District | (3950 Scott Street, San Francisco, CA 94123)
Parking: Free on site | For Parking Diagram & Additional Trip Details Click Here
Any Questions?: Email whales@oceanicsociety.org and get a fast response!
Clothing: With the potential for fog, wind and spray please wear waterproof shoes and outer layer. Hat, sunglasses, and sunscreen are also essential.
Food & Beverages: Coffee and tea are provided on board the boat. Please bring your own food. Alcohol is discouraged, but not prohibited. Backpacks are fine, but please, no coolers due to space limitations.
Weather: Trips go rain or shine, but may be cancelled due to high winds and/or high seas. All passengers will be notified via email and text should we need to cancel and you will have the option to reschedule or receive a full refund.
Policies: For cancellation policy, refund and reschedule policy, and other important terms, read our detailed Terms and Conditions.
Reviews
Oceanic Society is a 501(c)(3) non-profit organization dedicated to ocean conservation. Your participation in our whale watch helps fund conservation efforts, such as our Critter Scholars Program, which delivers life-changing ocean experiences free of charge to underserved student groups and communities in the San Francisco Bay Area. We also use our whale watching cruises as an opportunity to collect photographic identification data on marine mammals, which we share with a network of researchers throughout the eastern Pacific. You can see our recently photographed whales on Happywhale and learn more about whale fluke identification here. Learn more about Oceanic Society here.
Searching Availability...
Our vessel, the iconic 60-foot Salty Lady, departs from San Francisco Yacht Harbor at 8:30am. On every trip we provide a whale expert, a seabird expert, and a professional photographer who shares photos with you for free! No matter what animals we see, our experts will tell you all about them and they will be photographed and recorded in digital databases to support research and conservation. To start the trip, we cruise under the Golden Gate Bridge, often seeing harbor porpoises along the way, and travel up the coastline of the Marin Headlands. We then check in at Diablo Cove to see hauled-out harbor seals and occasional Black Oystercatchers on the rocks. From there, we head past Point Bonita Lighthouse and begin our 27-mile journey to the Farallon Islands, humpback whale watching and birding all along the way. A little over 2 hours later, we pull into the calm waters of Fisherman's Bay at Southeast Farallon Island. There, we soak in the incredible marine habitat which supports over 300,000 breeding seabirds, over 5,000 seals and sea lions and over 100 great white sharks in the fall months (disclaimer: it is very rare to see sharks on our trips, but they are there!). There are also several resident gray whales to see at the Farallon Islands, one of the only places in the world to see them outside of Alaskan waters during the summer months. Next, we continue over to the south side of the Farallones where the biologists who study and preserve the islands live. (Please note: at no point during the trip do we set foot on the islands, they are off-limits to the public.) Nearby, there is a huge colony of northern fur seals, which is growing year after year despite being hunted to local extinction in the late 1800s. Weather permitting, we then go beyond the islands to the Farallon Escarpment, where the ocean floor drops off from roughly 300 to 3,000 feet very quickly. This area is where we can find rarely-seen deep-water seabirds (including albatross), a large variety of dolphins and porpoises, and enormous, magnificent blue whales. From there we begin making our way back to San Francisco Bay seeking out more whale encounters along the way. We often have beautiful sunny conditions and great photographic opportunities coming back under the Golden Gate Bridge. We arrive back in San Francisco right around 4:00pm and our wildlife experts will give a summary of what we saw and our photographer will have a link to images from the day ready for you to view or share as you wish.
Ship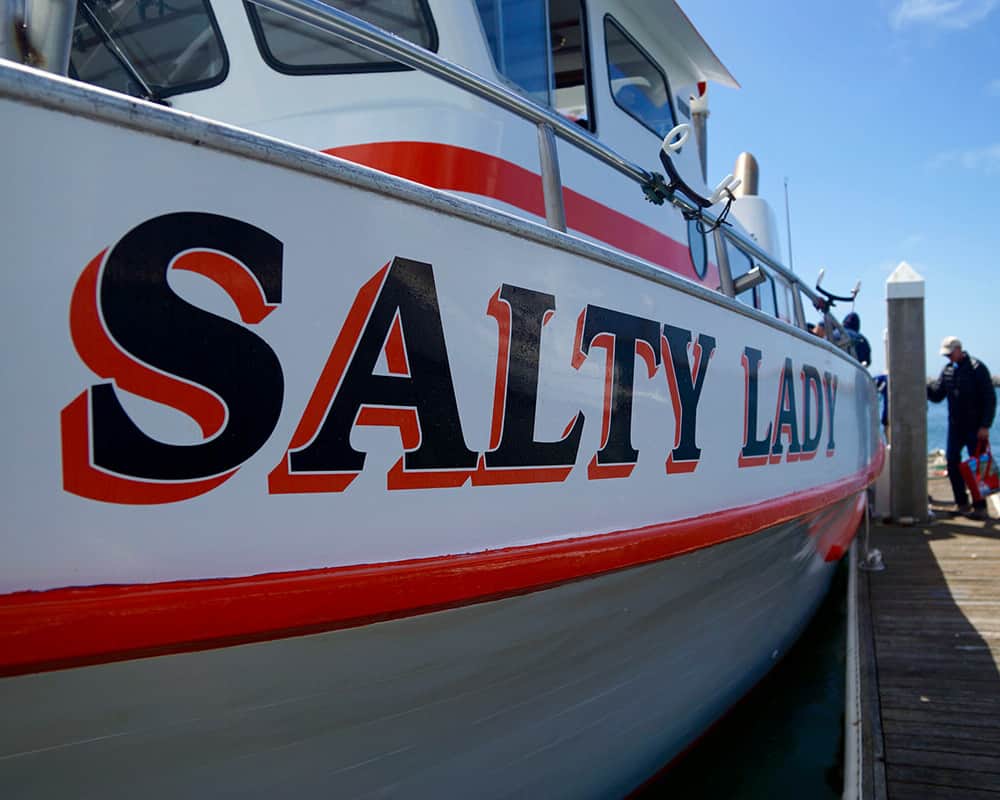 Salty Lady
The Salty Lady is a 60-foot U.S. Coast Guard certified vessel with a maximum capacity of 48 passengers. She is a remarkably stable vessel, well-suited to the demands of open ocean operation with ample observation deck space as well. Comfortable diner-s…
Ship Details
Naturalist(s)
Your expedition will be led by one or more of the following expert naturalist guides: