We're providing life-changing ocean experiences to underserved students and communities in the San Francisco Bay Area.
Everyone Needs Nature &
Nature Needs Everyone
Though nature has been called the "great equalizer," not all people enjoy the same access to safe, natural spaces. According to research compiled by the Children and Nature Network, "children from communities of color and low-income communities tend to have less access to quality natural environments, experiences, and programming." Yet nature provides immense benefits to our well-being, including documented benefits to childrens' cognitive, emotional, and physical development.
Since 1969, Oceanic Society has made our home in the San Francisco area, where we have led a range of programs dedicated to connecting people with the ocean, including our pioneering whale watching tours to the Farallon Islands and in San Francisco Bay. Our region offers some of the best ocean wildlife viewing in the world, yet most Bay Area residents never experience these wonders first-hand. But everyone deserves the chance to benefit from such experiences regardless of socio-economic or physical barriers.
We also know that all major threats to ocean health, like pollution, overfishing, and climate change, are caused by human behavior. To improve ocean health, we need a diverse community of people, from all walks of life, to feel connected to the ocean and to get involved in making simple lifestyle changes that help the ocean, not harm it.
We're Improving Access to Ocean Experiences in the Bay Area
Over the past 50+ years, we've had the privilege to bring hundreds of thousands of people out on the water to experience the San Francisco area's local marine wildlife first-hand. These meaningful, educational experiences have the power to deepen our passengers' connections to the sea in profound ways. Yet we also recognize that such experiences are not available to everyone. Due to the high costs of owning a boat or participating in whale watching trips, only a small percentage of the 7+ million San Francisco Bay Area residents enjoy regular access to the natural wonders of the Bay and surrounding ocean.
In honor of our longtime partner, Captain Roger Thomas (1934-2017), an iconic Bay Area waterman and nature advocate who captained our whale watching vessel, the Salty Lady, we launched a new program in 2017 dedicated to improving access to whale watching in the Bay Area. Captain Roger was passionate about the need to provide trips for those who 'otherwise might not have the opportunity to do so,' and we are proud to carry on his legacy through this program.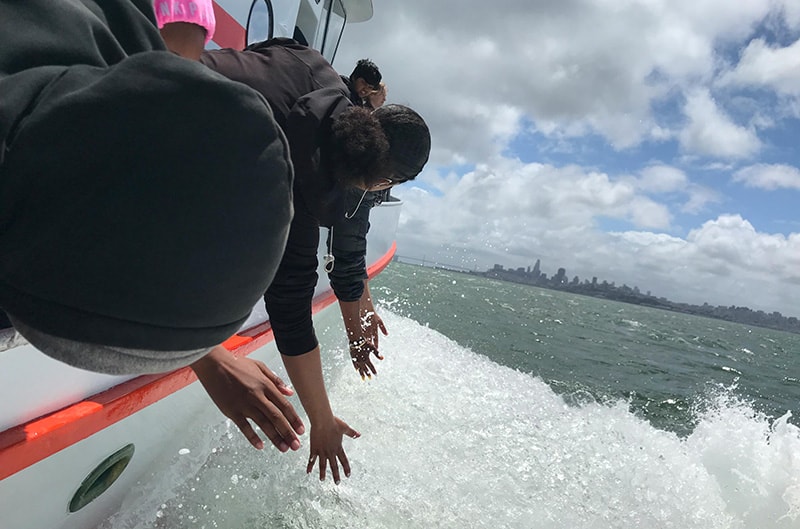 The Critter Scholars Program
Oceanic Society's Critters Scholars Program aims to give life-changing ocean experiences to underserved students and communities in the San Francisco Bay Area. The program was established in honor of Captain Roger Thomas, and borrows one of his famous catch phrases, 'critters', which he used to describe all the fantastic ocean wildlife we see on our trips.
We are providing free-of-charge boat trips to student groups who otherwise would not have the means to participate in such an activity, combined with educational programming that seamlessly integrates those experiences into educators' curricula in new and engaging ways.
Taking the Classroom to the Sea with Sponsored Field Trips
We are collaborating with Bay Area schools to bring school groups of children aged 6-13 from diverse and underserved neighborhoods on sponsored, educational San Francisco Bay boat tours. Critter Scholars and their teachers join our seasoned naturalists who entertain, inspire, educate, and bridge classroom education to first-hand experiences while adhering to California Department of Education requirements.
As they experience the ocean, often for the first time, Critter Scholars learn about marine science and conservation, including the natural history of whales, birds, and other wildlife, as well as about potential careers in environmental fields. Our aim is to give kids a chance to be moved by nature and the sea in ways that can make them lifelong ocean conservationists and ocean champions in their own communities.
Taking the Sea to the Classroom with Virtual Educational Content
To supplement our in-person sponsored field trips, we have also developed a virtual curriculum that was designed, scripted, and filmed in partnership with leading Bay Area scientists and educators, including experts from the Marine Mammal Center, NOAA, University of San Francisco, San Francisco State University, Point Blue Conservation Science, and an assortment of Bay Area teachers. The virtual content consists of video modules and virtual activities that are integrated into a comprehensive lesson plan that fulfills California Department of Education learning standards, and we use learning management softwares to monitor and evaluate the success of our program.
Read More About Access to Nature
Support the Critter Scholars Program
Help expand the accessibility of ocean wildlife experiences in the San Francisco Bay Area with a donation to the Critter Scholars Program. Your contribution will help provide free educational whale watching experiences to someone who might not otherwise have the opportunity.