Explore the largest and most biologically diverse coral atoll in the Western Hemisphere, and visit the legendary Great Blue Hole on this Belize snorkeling trip.
Gain special insight into reef ecology and learn about our marine research as you are guided by our expert naturalist.
Stay in comfortable accommodations on the eastern edge of Turneffe Atoll.
---
COVID-19 update (July 2021): Belize has been open to foreign tourists since October 2020 with a range of safety measures in place including a new certification program and the establishment of a "Safe Corridor"; our 2021 expeditions are running as scheduled. Our eco-lodge is located in remote Turneffe Atoll, far away from population centers; a range of procedures are in place at the lodge to help assure COVID safety, qualifying it as a "gold standard hotel" allowed to operate within of Belize's new Safe Corridor. For information about flying safely during COVID-19, see our guide, and click here for general information about COVID-19 and Oceanic Society expeditions.
---
Explore the exquisite maze of coral reefs and turquoise waters of Turneffe Atoll, and visit the world famous Great Blue Hole on this land-based Belize snorkeling trip. This expedition is one of the best ways for non-divers to discover Belize's spectacular coral reef systems.
Don't miss: 7 Reasons to Visit Belize in the Coming Year
Our trip begins with a 90-minute boat ride from Belize City to the eastern side of Turneffe Atoll. We stay at Turneffe Flats Lodge, which offers comfortable air-conditioned villas and cabanas with beautiful views of the surrounding sea. Turneffe Atoll is exceptional for its warm shallow water, which gives snorkelers easy access to an extraordinary underwater paradise. Magnificently adorned with huge yellow tube sponges and myriad tropical fish, the reef offers unmatched snorkeling opportunities.
Snorkeling sites include the coral rich reefs of The Canyons, Calabash Cut, and Soldier's Caye reef. Over 25 species of birds are found around the islands including the magnificent osprey, and we often spot dolphins en route to our snorkeling sites. Participants in this Belize snorkeling trip will benefit from our decades of experience guiding trips in Belize, and gain special insight into the local ecology through the findings of our long-term research efforts.
Notes on Belize Snorkeling Trip Costs
Trip prices do not include international airfare. There is a single supplement fee of $980. Click here for our full expedition terms and conditions.
Founded in 1969, Oceanic Society is America's oldest 501(c)(3) nonprofit organization dedicated to ocean conservation. As pioneers of "eco travel," our expeditions have been designed to directly support our mission. They not only positively impact our travelers, but also the people, places, and wildlife we go to see. A portion of your trip fees for this expedition will support our non-profit partner Turneffe Atoll Trust (TAT), whose mission is to drive conservation efforts at Turneffe Atoll, a place Oceanic Society has worked for more than 20 years. Park fees we pay also support the UNESCO World Heritage Site that Belize's Blue Hole and Half Moon Caye Marine Reserve are part of.
Dates & Prices
August 7-14, 2021 SOLD OUT
Cost
$3,600 per person. Group limit 12.
Book this Trip
November 6-13, 2021 SOLD OUT
Cost
$3,600 per person.* Group limit 12.
Book this Trip
January 29-February 5, 2022 SOLD OUT
Cost
$3,850 per person. Group limit 12.
Book this Trip
February 19-26, 2022
Cost
$3,850 per person. Group limit 12.
Book this Trip
November 5-12, 2022
Cost
$3,850 per person. Group limit 12.
Book this Trip
Optional pre- and post-trip extensions are available, information below.
Day 1: Belize City - Turneffe Atoll
If arriving on the start date of the program, there will be group transfers facilitated by a Turneffe Flats representative at the International Airport in Belize City. Depending on your arrival time, you will then be transferred to the Radisson Fort George Hotel or to the marina. Once all travelers have arrived, the group will depart at around 2:30 pm for the 90 minute boat ride to Blackbird Caye on the east side of Turneffe Atoll. After settling into your room at Turneffe Flats resort, there will be a welcome meeting, followed by dinner.
Day 2-7: Snorkeling in Turneffe Atoll & Lighthouse Reef Atoll
Each day, after breakfast and after lunch, you will embark on boat-based snorkeling excursions to explore the reefs, mangroves, and atoll habitats. You can expect to see a wide diversity of tropical reef fish, rays, sea turtles, invertebrates, and lobsters as you explore Belize's best snorkeling reefs. You may also come across groups of spinner dolphins and the occasional Antillean manatee. Participants should expect to spend 4-5 hours per day out on the water and snorkeling.
Weather permitting, one of the days will be spent visiting Great Blue Hole and Half Moon Caye in Lighthouse Reef Atoll. The Great Blue Hole was formed millions of years ago when an underground cave collapsed. Now, snorkelers can enjoy the protected blue-water "hole" that is 984 feet wide and 354 feet deep. Here it is possible to see nurse sharks, large parrotfish, angelfish, butterflyfish, and more. The perimeter coral reefs of the Blue Hole begin at depths of only 3-5 feet, and provide spectacular snorkeling in relatively shallow depths.
In the afternoon, we will spend time visiting Half Moon Caye Natural Monument, which was established as Belize's first marine reserve. Here, you will be able to see a large colony of nesting Red-footed Boobies (4,000+) and Magnificent Frigatebirds. There will also be opportunities to see Ospreys, Great-tailed Grackles, Cinnamon Hummingbirds, and White-crowned Pigeons, as well as hermit crabs and spiny tailed iguanas. If time allows, you will be able to snorkel from the beach, with a good chance to see nurse sharks and large schools of reef fish.
Day 8: Belize City - Home (or Optional Trip Extension)
After breakfast, you will be transferred back to Belize City (expect to be back by 9:30-10:00 am) and will have the option to take a group shuttle back to the airport, if leaving that day. If you prefer to depart later to the airport you can easily get a taxi.
See optional post-trip extension below.
Accommodations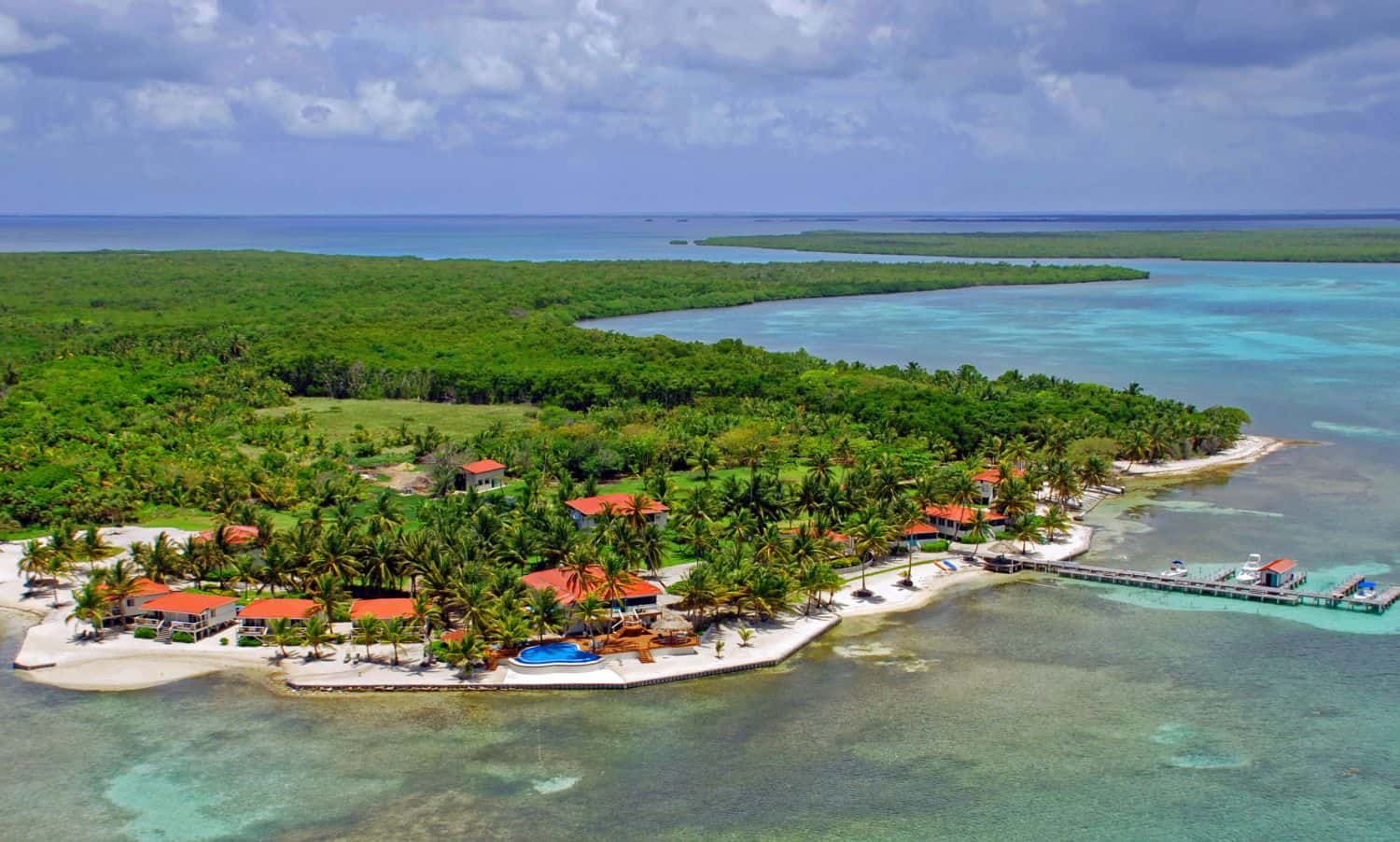 Travelers on this expedition stay in comfortable villas at the highly-rated Turneffe Flats. Each villa has three private rooms with queen-sized beds, ceiling fans, air conditioning, and private bath. The three rooms open out onto a common area including a living room with satellite television and a screened-in veranda. In rare instances when the villas are not available, guests may be accommodated in individual cabanas.
Naturalist(s)
Your expedition will be led by one or more of the following expert naturalist guides:
Pre- or post-trip extensions to the rainforest, Maya ruins, or caves can be added to all Belize snorkeling expeditions; please inquire for details.
Optional Pre- or Post-Trip Extension to Maya Ruins & Rainforest
For travelers who wish to explore Belize's outstanding terrestrial nature and cultural highlights, we offer 3 to 5 day pre- or post-trip extensions to the nearby rainforest (part of the Mesoamerican Forest Hotspot), including visits to Mayan rins or hike-able caves.