8-day Galápagos cruises (9 days with travel days) are offered throughout the year—contact us to check cruise availability and choose your dates.
Enjoy unmatched wildlife viewing opportunities with the unique terrestrial and marine life of the Galápagos Islands.
All Galápagos cruises include diverse daily activities such as hiking, bird watching, beach snorkeling, kayaking, and optional scuba diving.
Comfortably island-hop to the best parts of the Galapagos on your choice of luxury or first-class yachts.
Private cruise charters are available for groups of 12 or more.
---
COVID-19 update: The Galápagos Islands re-opened to tourism on July 1, 2020 with new screening measures. Our Galápagos cruise partners have resumed operations with enhanced cleanliness, sanitation, and other protocols in place to reduce the risks of COVID spread. Bookings are available through Oceanic Society for dates in 2021 and beyond. For information about flying safely during COVID-19, see our guide, and click here for general information about COVID-19 and Oceanic Society expeditions.
---
The Galápagos Islands are one of the greatest nature destinations on Earth. This remote archipelago, 600 miles off Ecuador's coast, provided seeds for Darwin's theory of evolution.
Galápagos plants and animals differ not only from their continental relatives, but many species vary from one island to another. Most of the reptiles, including the giant Galápagos tortoises, many of the birds, and a third of the shore fish are found here exclusively. The archipelago is considered a living laboratory, and the islands are under constant scientific study. Recognizing the uniqueness of the Galápagos Islands, the government of Ecuador has set aside most of the land as a national park, and tourism is strictly regulated.
The Galápagos offer intimate encounters with wildlife. On our Galápagos cruises you can snorkel with penguins, sea lions, marine iguanas, and sea turtles, and walk amid giant tortoises, iguanas, boobies, albatross, and many other species found nowhere else. Our Galápagos cruise partners have been carefully selected for their sustainability practices and quality of service, and all trips are family-friendly. Each expedition is guided by an experienced, Galápagos-trained guide.
Our expedition is aboard one of two carefully chosen small Galapagos cruise ships, the luxurious Origin & Theory (from $8,950/person, max 20 passengers), or the first-class Cachalote Explorer (from $4,400/person, max 16 passengers). Both ships offers participants small group intimacy and expert trip leadership. While island hopping, our focus is on observing and photographing wildlife.
Specialized family and SCUBA programs are also available on select dates.
Galapagos Cruise Wildlife Highlights
Galápagos cruises offer some of the most reliable, intimate, and unique wildlife encounters of any destination on Earth. After decades of protection, many Galápagos species are largely unafraid of people, allowing travelers to view their natural behaviors up-close. As we travel throughout the islands you will readily see how natural selection has shaped the unique species found in the unique habitats of each island.
Wildlife highlights include endemic species such as Galápagos tortoises, marine and land iguanas, Darwin's famous finches, Flightless Cormorants, Galápagos Hawks, lava lizards, and Galápagos sea lions. Other unique species include Galápagos Penguins, green sea turtles, Great Frigatebirds in courtship, Waved Albatrosses, dolphins, whales, sharks, Blue-footed and Masked Boobies, Greater Flamingos, and many more. All trips yield excellent wildlife sightings, but certain species and behaviors occur seasonally; please inquire if you have a particular wildlife interest.
For more information, see our guide: The Galapagos Islands: What You'll See and When to Go.
Notes on Trip Costs
These 8-day / 7-night cruises (9 day trip with travel days) are offered on many dates throughout the year, but tend to book well in advance. 8-day/7-night cruises aboard the luxurious Origin & Theory start at $8,950/person (max 20 passengers), and trips aboard the first-class Cachalote Explorer start at $4,400/person (max 16 passengers). Please contact us to discuss your preferred departure dates, ship, and cabin selection.
Prices do not include in-country flights from Quito or Guayaquil to the Galápagos, nor international airfare to/from Ecuador. Click here for our full expedition terms and conditions.
Founded in 1969, Oceanic Society is America's oldest 501(c)(3) nonprofit organization dedicated to ocean conservation. As pioneers of "eco travel," our expeditions have been designed to directly support our mission. They not only positively impact our travelers, but also the people, places, and wildlife we go to see. Your expedition costs include fees that support conservation and promote sustainable livelihoods in the communities we visit, and Oceanic Society's earnings are invested back into our global research and conservation programs. In 2019, we also established our Expedition Impact Fund (EIF) as a way to grow our impact. The fund is seeded annually with money earned from our expeditions, and supplemented by donations from Oceanic Society travelers. Through the EIF, we award grants to our partners for their on-the-ground efforts to protect ocean habitats and the wildlife and human communities that depend on them.
Dates & Prices
Dates available throughout 2021-2022
Cost
From $4,400 or $8,950 / person. Contact us to book.
Book this Trip
The following is a sample 8-day/7-night Galapagos cruise itinerary. Different cruise itineraries are available depending on your dates, desired trip length, wildlife interests, and the ship you select - contact us for information. Aboard both the first-class Cachalote Explorer and luxurious Origin & Theory we offer the option of two 8-day/7-night itineraries. Itineraries can also be done back-to-back for a 15-day trip.
Day 1: Arrive in Quito or Guayaquil
Arrive in Quito or Guayaquil, Ecuador, overnight on your own.
Day 2: Quito or Guayaquil - San Cristóbal
Fly to San Cristóbal, Galapagos where you will be met and transferred to the ship for a welcome briefing followed by lunch. In the afternoon we will explore the island of San Cristóbal, which is home to several endemic birds, plants, and giant tortoises. We return to the ship for a welcome cocktail party and dinner.
Days 3 thru 8: Exploring the Galápagos Islands
The next seven days are spent visiting various sites of natural and historic interest throughout the archipelago following one of two itineraries. Ports of call include Española, Floreana, Isabela, Bartolomé, Mosquera, Santa Cruz, and South Plaza Islands, and daily activities include guided hikes and snorkeling, birdwatching, panga rides, and optional scuba diving. Contact us for complete day-by-day details depending on your preferred departure dates.
Day 9: San Cristóbal - Quito or Guayaquil
On our final morning in San Cristóbal, we visit the Interpretation Center operated by the Galápagos National Park before heading to the airport to catch mid-day flights back to Quito or Guayaquil. You can make arrangements to connect to international flights (with late afternoon departure times) or opt to overnight in a hotel and fly out the next day.
Ship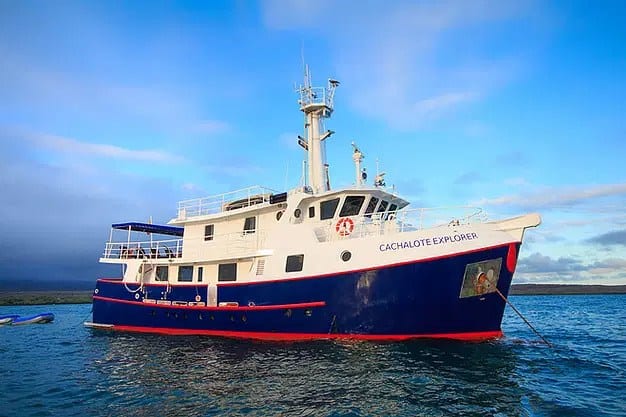 Cachalote Explorer
Originally built in 1988 in Vancouver, Canada, the Cachalote is a large and spacious motor yacht that was converted into a passenger vessel in the early 2000s.  It can accommodate 16 passengers in 8 air-conditioned cabins, each with their own private b…
Ship Details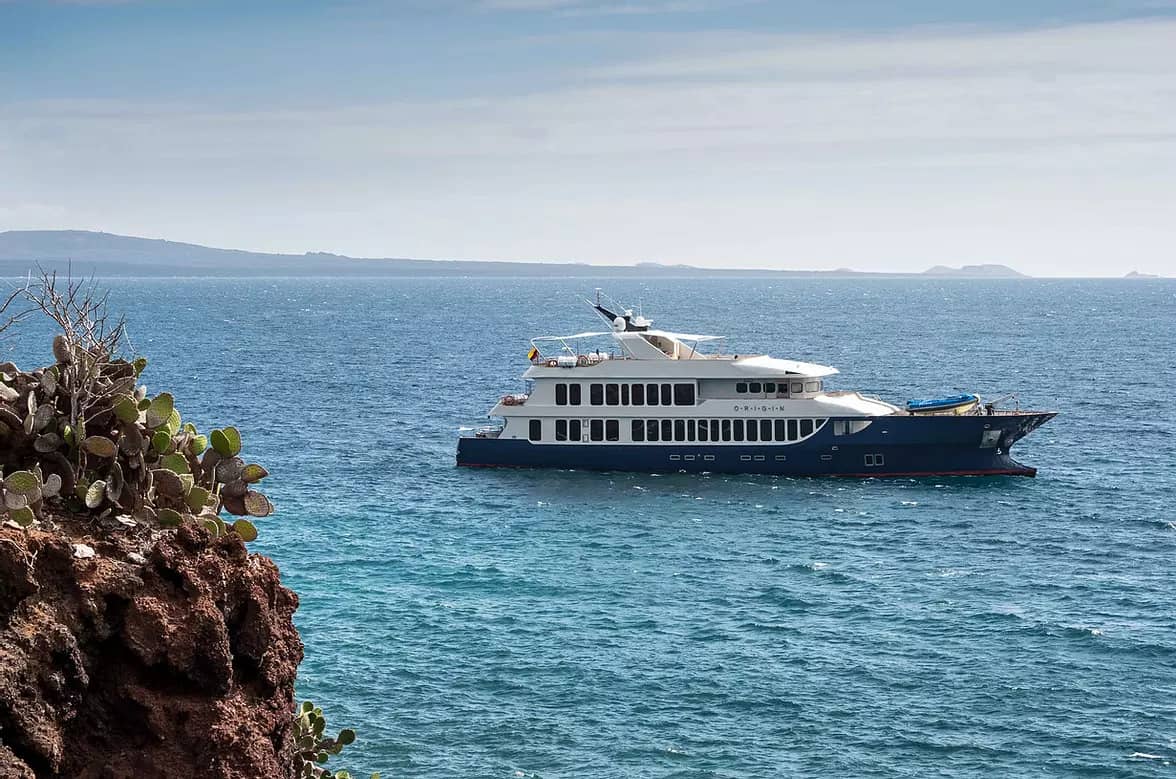 Origin & Theory
Custom-designed for sustainability and comfort, the Origin & Theory is the ultimate Galapagos cruise vessel, offering luxurious amenities while minimizing environmental impacts. The state of the art design also allows us to spend less time travelin…
Ship Details
Naturalist(s)
Your expedition will be led by one or more of the following expert naturalist guides:
Extend your Galápagos adventure with one of our pre- or post-trip extensions to visit must-see locations in Ecuador or Peru. Custom itineraries and options are available to suit your specific interests or available time - contact us for details. The following are sample itineraries that can be readily customized for your trip.
Peru: Cuzco & Machu Picchu | 4-5 days
Delve into the fascinating history of the Incas as you enjoy a guided, in-depth exploration of the mysterious ruins at Machu Picchu. You'll have the option to stay amid a cloud forest sanctuary that is home to 214 bird species (including many endemics) and the world's largest collection of native orchids. Take time to also explore the beautiful Andean city of Cuzco, the former Incan capital that is also home to spectacular ruins within and around the city.
Peru: Machu Picchu & Amazon | 6-8 days
The Amazon Rainforest is must-visit for any nature lover, and Peru offers one of the easiest and best access points to explore this wonderland of biodiversity. Our trip extensions take you into Tambopata National Reserve, with opportunities to see iconic Amazonian species including giant river otters, monkeys, tapirs, macaws, caimans, capybaras, and much more. Combine with visits to Machu Picchu and Cuzco (described above) for a well-rounded Peru experience.
Ecuador: Quito & Cloud Forest | 3-4 days
Take time to explore the charming city of Quito and the beautiful nearby cloud forest before embarking on your Galápagos voyage. On a guided tour of Quito, a UNESCO World Heritage Site, you will learn about its rich cultural history as you visit the colonial Old Town, world famous monasteries, and more. A day trip (or overnight) to nearby Mindo offers the opportunity to explore a species rich cloud forest ecosystem filled with birds, orchids, waterfalls, and more.