Komodo Liveaboard Trip Highlights
Explore the diverse coral reefs of Komodo aboard the luxurious Damai 2 liveaboard.
Learn about community-led coral reef conservation efforts from local experts and snorkel within Komodo's marine preserve, where they are being successfully implemented.
Our small group size (12) allows for an intimate adventure.
Spend an afternoon seeing the amazing Komodo dragons up close.
Our Komodo liveaboard trip itinerary begins with two days in Bali where you will be introduced to the coral reef conservation efforts of the local non-profit organization, Coral Triangle Center, including the chance to visit a coral reef that they are restoring. From Bali we will fly to Labuan Bajo, near Komodo, to board our privately chartered liveaboard ship, the luxurious Damai 2, and begin our exploration of enchanting Komodo National Park.
Komodo National Park is a collection of rugged volcanic islands located in Indonesia's Lesser Sunda Islands. The area has been protected since 1980 and is globally recognized as a UNESCO World Heritage Site. While Komodo is known primarily for the endemic Komodo dragon, it also features excellent marine diversity and delightful coral reefs. The park's rich marine life includes manta rays, pygmy seahorses, clown frogfish, abundant nudibranchs, diverse sponges, tunicates, and corals. Fringing and patch coral reefs are also extensive throughout the area, and house beautiful corals, and thousands of fish in the crystal clear water.
Note on Trip Costs
Trip prices do not include international or in-country airfare (we will help arrange your in-country airfare). Limited single supplements are available. Click here for our full expedition terms and conditions.
Founded in 1969, Oceanic Society is America's oldest 501(c)(3) nonprofit organization dedicated to ocean conservation. As pioneers of "eco travel," our expeditions have been designed to directly support our mission. They not only positively impact our travelers, but also the people, places, and wildlife we go to see. Your expedition costs include fees that support conservation and promote sustainable livelihoods in the communities we visit, and Oceanic Society's earnings are invested back into our global research and conservation programs. In 2019, we also established our Expedition Impact Fund (EIF) as a way to grow our impact. The fund is seeded annually with money earned from our expeditions, and supplemented by donations from Oceanic Society travelers. Through the EIF, we award grants to our partners for their on-the-ground efforts to protect ocean habitats and the wildlife and human communities that depend on them.
Our itinerary and routing will be flexible to account for weather conditions and ensure the best possible guest experience. The following is a sample itinerary, and is subject to change. Request a detailed itinerary using the form below for a comprehensive daily itinerary, price details, frequently asked questions, and more.
Day 1 | August 5 | Arrive into Bali
Arrive into Bali and transfer to our hotel. Your guide will meet everyone this evening for a brief welcome orientation.
Day 2 | August 6 | Bali | (B, L, D)
Today we will visit with the Coral Triangle Center (CTC) education center. The CTC is a non-governmental organization dedicated to ocean conservation. They are working with government partners, community groups, and local organizations to design, develop, and establish successful marine protected areas in Indonesia. Oceanic Society has been partnering with the CTC for the last 5 years.In the evening we will have a group dinner in Bali.
Day 3 | August 7 | Bali | (B, L)
Today we will visit Nusa Penida with the Coral Triangle Center (CTC) to snorkel and check out one of their coral restoration sites. After a full day out, dinner will be on your own, as we have an early departure the following morning.
Day 4 | August 8 | Fly to Labuan Bajo (Komodo) | (B, L, D)
Waking up early, we will head to the airport to catch our flight to Labuan Bajo. On arrival, we will transfer to the Damai 2, our home for the next 7 nights.
Days 5-11 | August 9-15 | Explore Komodo National Park and Snorkel | (B, L, D)
Our days will be spent exploring Komodo National Park — home of the prehistoric lizard, the Komodo dragon. While here, we will visit a variety of snorkel sites and spend an afternoon inside the park. We can expect to dedicate ample time to snorkel around central Komodo in the current rich areas of Tatawa, the iconic sites of Batu Bolong, and to look for manta rays at Karang Makassar. To the north, the islands of Gili Lawa are known as some of "fishiest" sites in the park. For a macro experience, we can head to the small island of Wainilu on the north coast of Rinca. Snorkeling along the sandy slope of the beach should provide an excellent opportunity to encounter sea hares and unusual nudibranchs. On land, we'll be able to take a walk in the park to view Komodo dragons and the beautiful panoramic views of the rugged hillsides.
Day 12 | August 16 | Fly to Bali (Denpasar) | (B)
After breakfast we return to the airport in Bima for our flights back to Bali and then connect with flights home.
Ship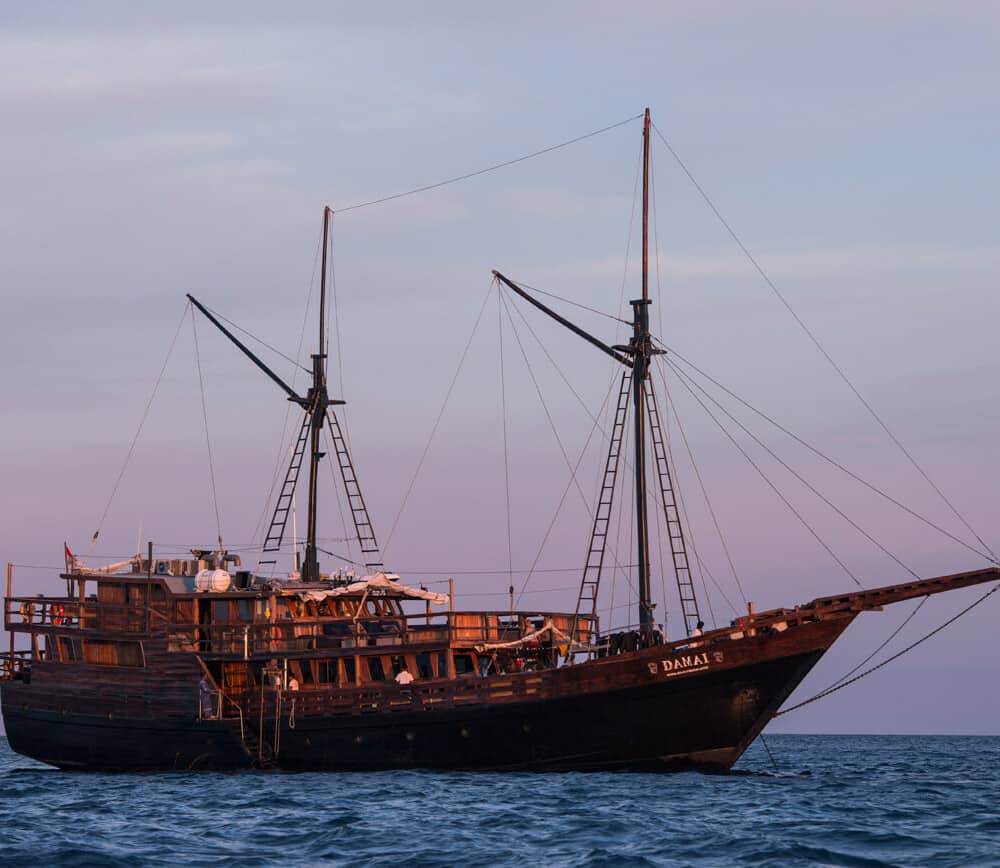 Damai II
The Damai II is a boutique liveaboard ship that offers a high level of comfort for exploring Indonesia's waters. It was built in South Sulawesi in 2011 by Pak Hadji Baso, one of the most respected master boat builders in the traditional Indonesian boat…
Ship Details
Naturalist(s)
Your expedition will be led by one or more of the following expert naturalist guides:
We are happy to arrange trip extensions to explore nearby destinations including Borneo, Sulawesi, and Bali. Please contact us for details.