Raja Ampat is at the heart of the Coral Triangle and considered by many to be the best marine destination on Earth.
Our trip and itinerary were developed specifically for snorkelers who want to experience Raja Ampat's incredible marine habitats.
Travel comfortably aboard a traditional Indonesian schooner with spacious common areas and two tenders with sturdy dive ladders.
Explore fish-filled walls and soft coral gardens. Nudibranchs abound!
This special liveaboard snorkeling journey through Raja Ampat, Indonesia was named one of National Geographic Traveler's 50 Tours of a Lifetime in 2010! Located in Indonesia's West Papua Province, the Raja Ampat Archipelago is at the heart of the most biodiverse marine region on Earth—the Coral Triangle. Largely unexplored by scientists until recently, new marine species are being discovered here on a regular basis. Coral reefs in Raja Ampat are not only the world's most biodiverse, but they are also some of the most pristine. More than 500 species of coral and more than 1,300 species of fish have been recorded here.
Our trip takes you on an exploration of this remote archipelago aboard a 112-foot motored schooner. Selecting ideal snorkeling sites daily, we will immerse ourselves in diverse and unique marine habitats, exploring multiple islands. Morning excursions will provide opportunities to see the equally diverse bird life, including the magnificent Red Bird of Paradise, Kingfishers, and Sea Eagles.
In addition to snorkeling in aquamarine waters, we also explore some of the larger islands of the region including Waigeo whose lush green forest is inhabited by many varieties of bird and animal life. We enjoy strolling along white sand beaches, and at Gam Island there is a possibility to see beautiful Birds of Paradise. With daily diverse snorkeling opportunities, combined with a mix of island exploration, this is one of the best snorkeling expeditions possible.
"World-class snorkeling in the most biodiverse marine environment on Earth." - Gary Nielsen, past traveler
"This is a wonderful way to experience snorkeling, and I would come again as soon as possible!" - Deborah Sheppard, past traveler
---
Note on Trip Costs
Price varies based on cabin selection. There is a single supplement fee of $2900, with limited quantities available; 2 upper deck cabin upgrades are available for an additional $495/person (not available as a single). Trip prices do not include international or local airfare. Click here for our full expedition terms and conditions.
2024 voyages will be aboard the magnificent vessel Dancing Wind. This enchanting ship is renowned for its elegance, comfort, and exceptional sailing capabilities, providing the perfect setting for an unforgettable journey.
Founded in 1969, Oceanic Society is America's oldest 501(c)(3) nonprofit organization dedicated to ocean conservation. As pioneers of "eco travel," our expeditions have been designed to directly support our mission. They not only positively impact our travelers, but also the people, places, and wildlife we go to see. A portion of your trip fees for this expedition will support the various organizations we visit or collaborate with in Indonesia, including Planet Deep, The Coral Triangle Center, and the Misool Foundation. Over the 13 years we have been leading trips in Indonesia, we have supported groups working on coral reef restoration, marine protected area design and management, plastic pollution solutions, and shark conservation. Trip fees and donations from past travelers have also supported our ability to work with (and supplement the pay of) exceptional local guides who join almost all of our groups. Over the years, we have provided thousands of dollars in park fees that support the protection of marine areas like Raja Ampat and Komodo National Park.
Dates & Prices
October 20-31, 2023 Sold Out
Cost
From $6,995 per person. Aboard Sea Safari 8.
Book this Trip
March 6-17, 2024 (aboard Dancing Wind)
Cost
From $8,175 per person. Group limit 14.
Book this Trip
October 18-29, 2024 (aboard Dancing Wind)
Cost
From $8,175 per person. Group limit 14.
Book this Trip
November 1-12, 2024 (aboard Dancing Wind)
Cost
From $8,175 per person. Group limit 14.
Book this Trip
Day 0: Arrive into Jakarta
Arrive into Jakarta on your own and stay overnight. If you are originating from North America, please note that you will be crossing the International Date Line. You'll want to arrive at least 24 hours in advance to adjust to the time change and give yourself a buffer period before your flights to Sorong.
Day 1: Jakarta - Sorong, Embark
Today is the official start of our trip. Everyone will board an early morning flight just past midnight to Sorong, West Papua, where we will be transferred to the privately-chartered Dancing Wind, our home for the next 11 nights. Once everyone is checked in, we will set sail.
Days 2-11: Exploring the Raja Ampat Archipelago
We'll spend each day snorkeling and exploring the archipelago's reefs and tropical landscapes. Each day we will spend 4-6 hours in the water, visiting some of the most pristine, diverse, and colorful coral reefs in the world. Here we may come across soft and hard coral walls, colorful nudibranchs, abundant schools of fish, and productive reef ecosystems full of butterflyfish, angelfish, snappers, groupers, parrotfish, sea turtles, and possibly marine mammals and sharks. We do our best to keep the itinerary flexible depending on external factors such as tides, wind, and weather. Possible snorkeling destinations may include reefs adjacent to Batanta, Penemu, Waigeo, Aljuy Bay, Gam, Fam, Kawe, Wayag, Friwinbonda, Mansuar, and Kri Islands. For those interested in bird watching, there will be some opportunities to go on early-morning outings to look for unique birds and to enjoy the beautiful scenery. We will also visit a lek (mating display site) of the endemic Red Bird of Paradise on Gam Island to see male birds perform their mating displays.
Day 12: Sorong - Jakarta (or Bali)
At the conclusion of our trip, the group will disembark in Sorong, West Papua and transfer to the airport in time for our flights back to Jakarta (or Bali). Depending on your return flight schedule, you may fly home this evening or stay overnight (on your own). Please inquire about our post-trip extensions to snorkel in North Sulawesi or trek in Borneo.
Ship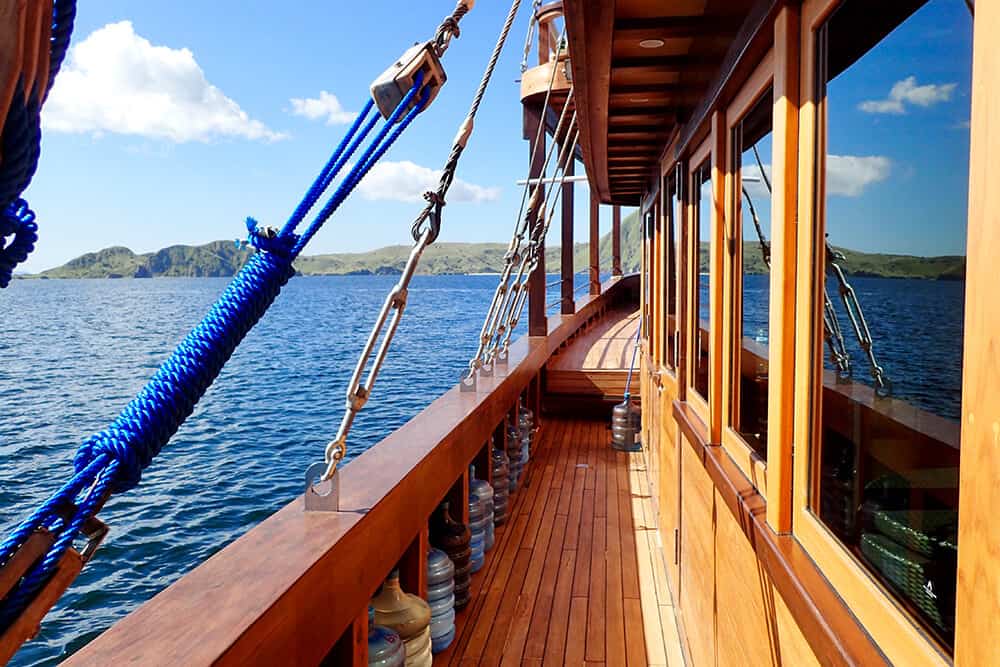 Dancing Wind Liveaboard
Dancing Wind is a classic Indonesian phinisi built from handpicked teak and ironwood in Kendari, South Sulawesi and given a modern makeover in design and facilities to make it a comfortable and stylish liveaboard. It is a spacious vessel and has been f…
Ship Details
Naturalist(s)
Your expedition will be led by one or more of the following expert naturalist guides: