Art Competition Entries & Results
We are thrilled to share below the official entries and results of the 2023 Global Ocean Cleanup Art Competition. Each winner will receive an additional $500 to support their ocean conservation work.
Thank you and congratulations to all of our participants and to our panel of judges!
Entry 1: WasteHub - Indonesia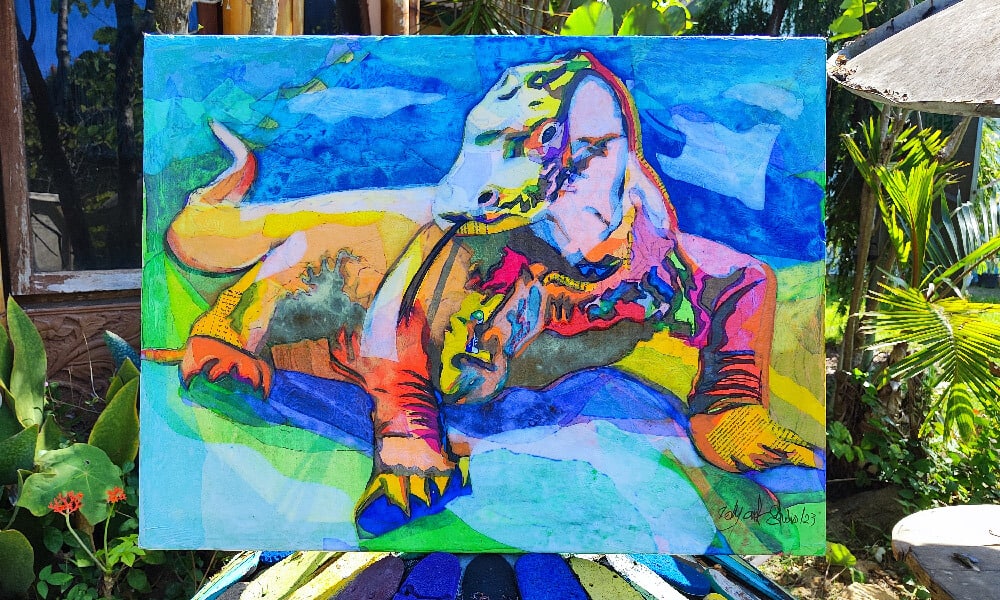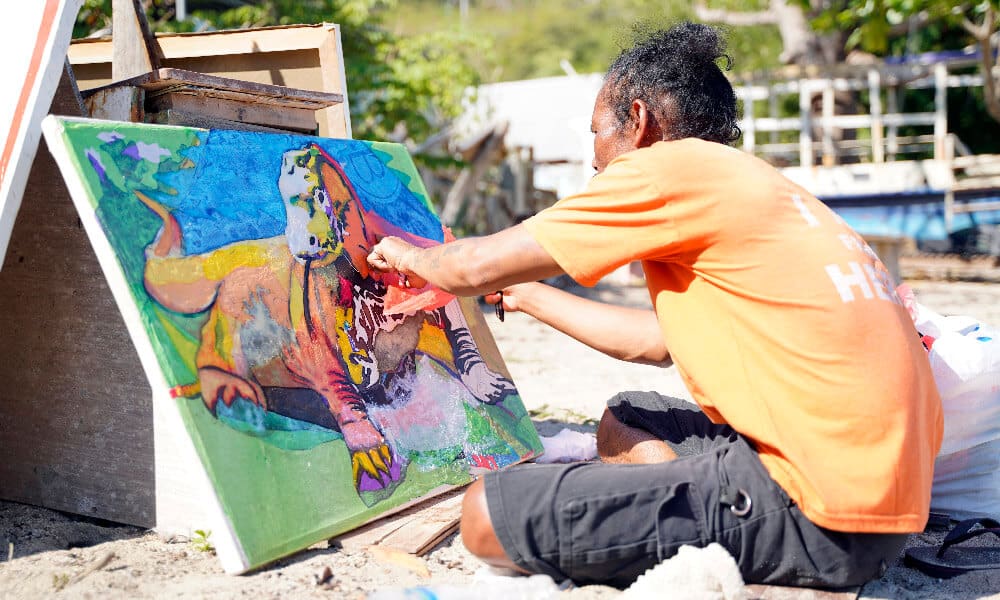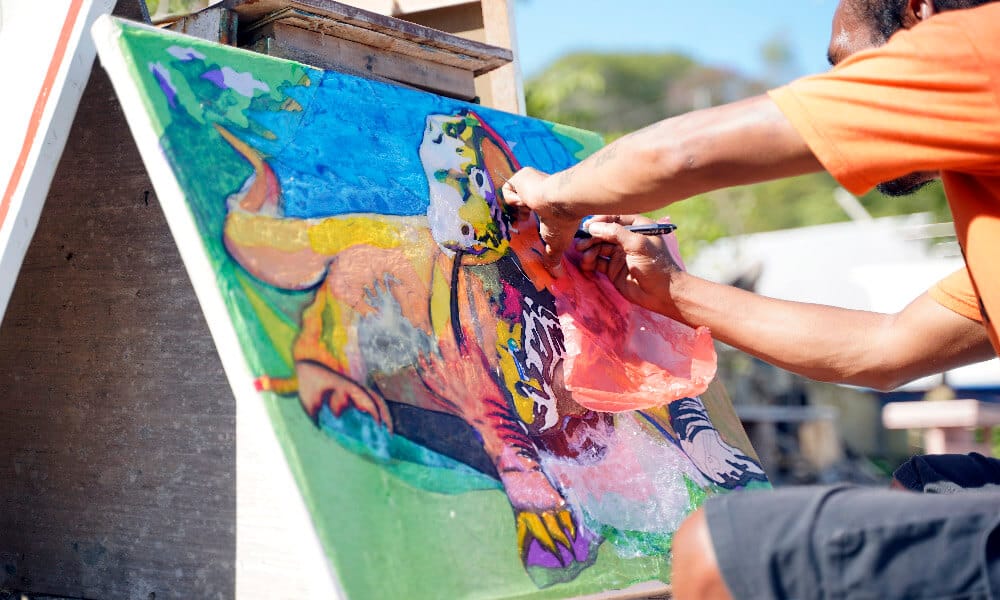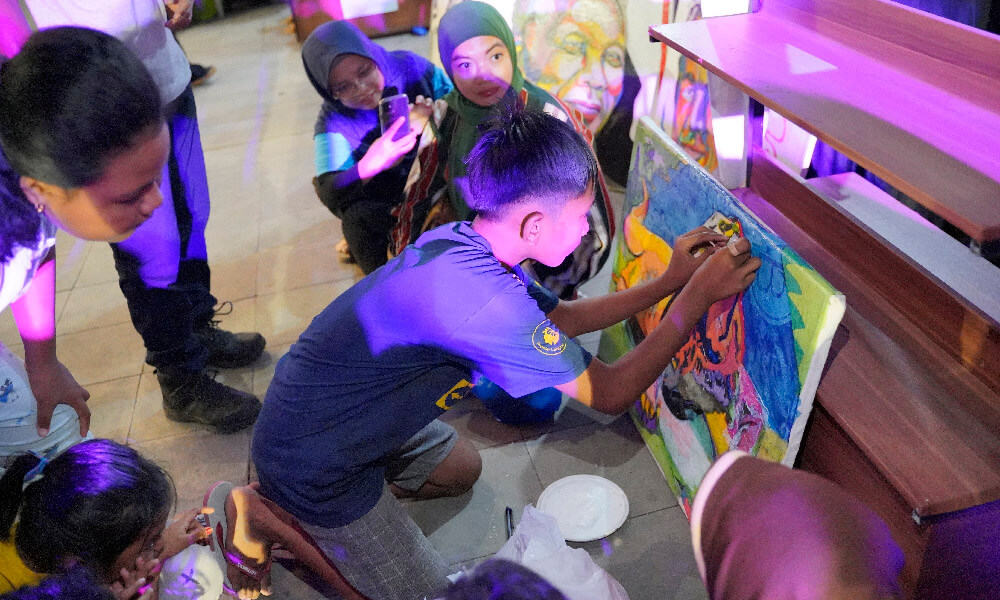 Description: This work, titled "Komodo from Plastic Waste" was created by artist Edy Ginting using waste collected during WasteHub's underwater and beach cleanups in Komodo and Labuan Bajo, Indonesia. Edy carefully selected and cut thin plastic material, such as from bags and wrappers, and applied it to the canvas using paint to create the image of a Komodo dragon (watch the process).
Artist Statement: In the words of the artist, "painting with plastic waste is one of the ways to campaign about the impact of plastic and to make use of plastic waste in art. In the end, the waste can have new value, as well as provide interesting education about protecting the earth for the children."
The work depicts a Komodo dragon, the iconic reptile that draws tourists from worldwide to this region of Indonesia, using waste collected in Komodo Marine Park and the nearby town of Labuan Bajo, where most tourists depart for Komodo. This work will be on display at Labuan Bajo Flores Tourism Authority and Komodo Airport.
Entry 2: Olive Ridley Project - Kenya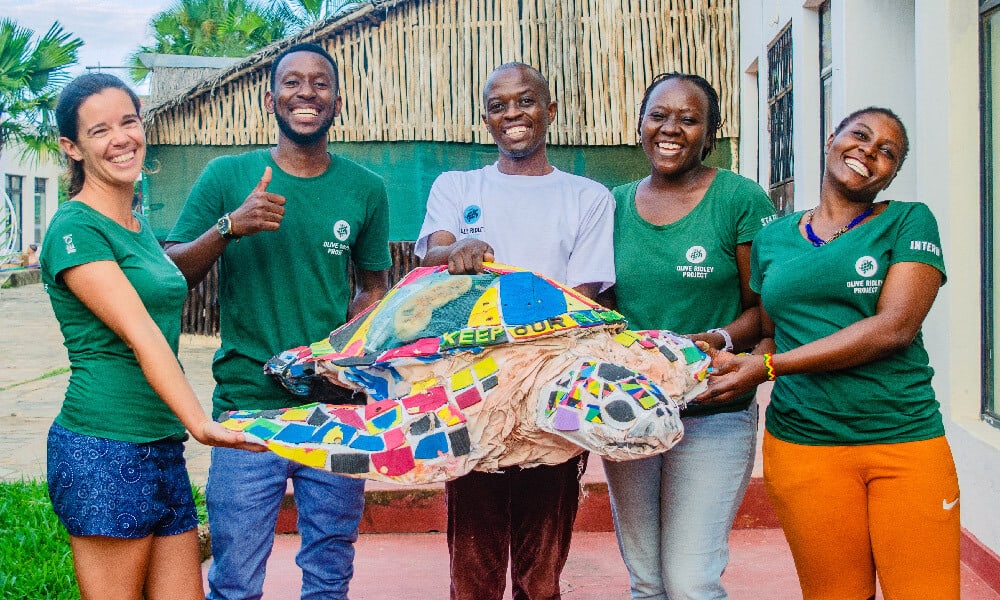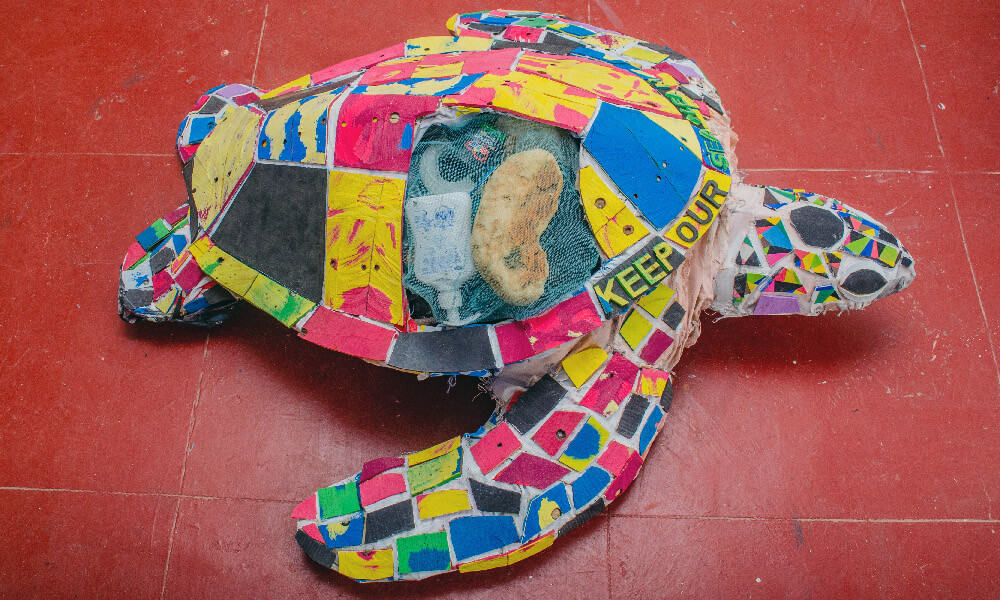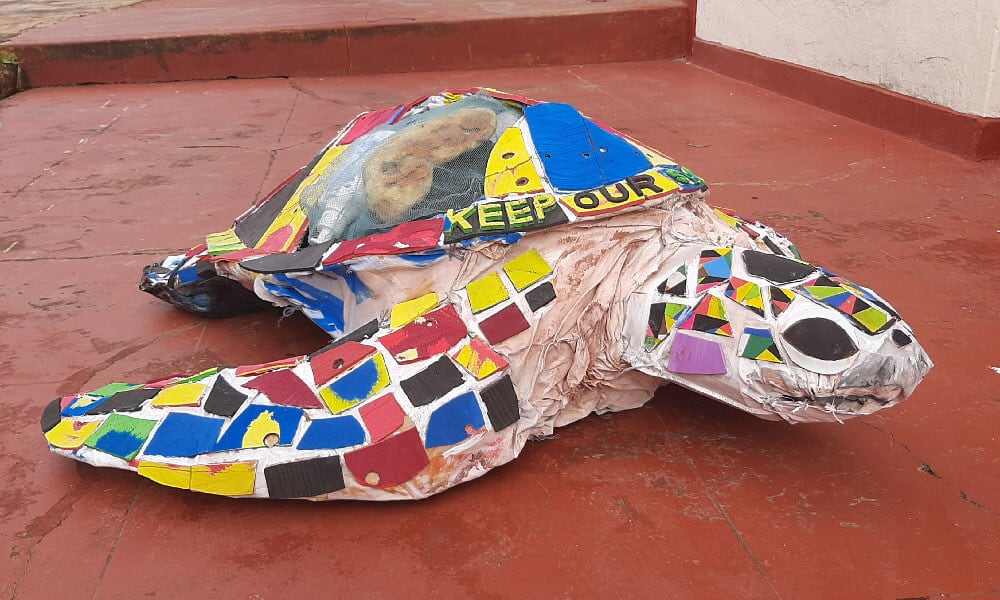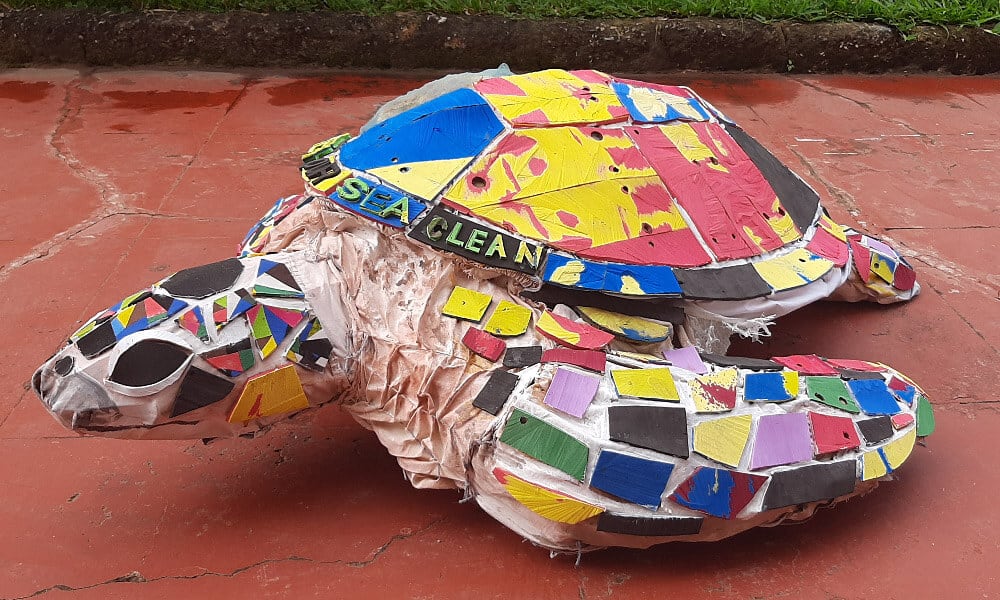 Description: The artwork features a sea turtle, a symbol of the ocean's fragile ecosystem, constructed entirely from plastic debris. We collected discarded items such as flip flops, fishing nets, sacks, wires, polystyrene, and other waste during the Global Ocean Cleanup initiative on June 16. By incorporating these materials, we visually depict the destructive nature of plastic pollution and its detrimental effects on marine life.
The art piece features a unique element—a window within the turtle's shell, revealing its inner space filled with plastic. This powerful imagery serves as a poignant representation of the devastating impact of plastic ingestion on sea turtles and their marine habitats. By incorporating discarded items like flip flops, the artwork underscores the breadth of plastic waste that endangers these majestic creatures. To emphasize the main message, we added the writing 'KEEP OUR SEA CLEAN' in bold letters, serving as a direct call to action.
Artist Statement: "We chose to create this artwork because we believe in the power of visual expression to convey important messages. Our art piece is a culmination of visual, imaginative, and informative presentations that aim to raise awareness about the impact of plastic pollution on our oceans and beaches. It serves as a reminder that we still have a long way to go in informing and mobilizing our community to keep our seas and beaches clean and to protect marine and land life together." - Local artist, Polycap
Through this artwork, we aim to inspire individuals to take responsibility for their actions and make conscious choices that contribute to a cleaner and healthier marine environment. As an organization whose mandate is to protect this endangered migratory species, the artwork speaks to our mission of using the sea turtles as the forefront for pollution movement. By raising awareness and encouraging collective efforts, we hope to foster positive change and ensure a sustainable future for our oceans and the diverse life it supports.
Entry 3: TunSea - Tunisia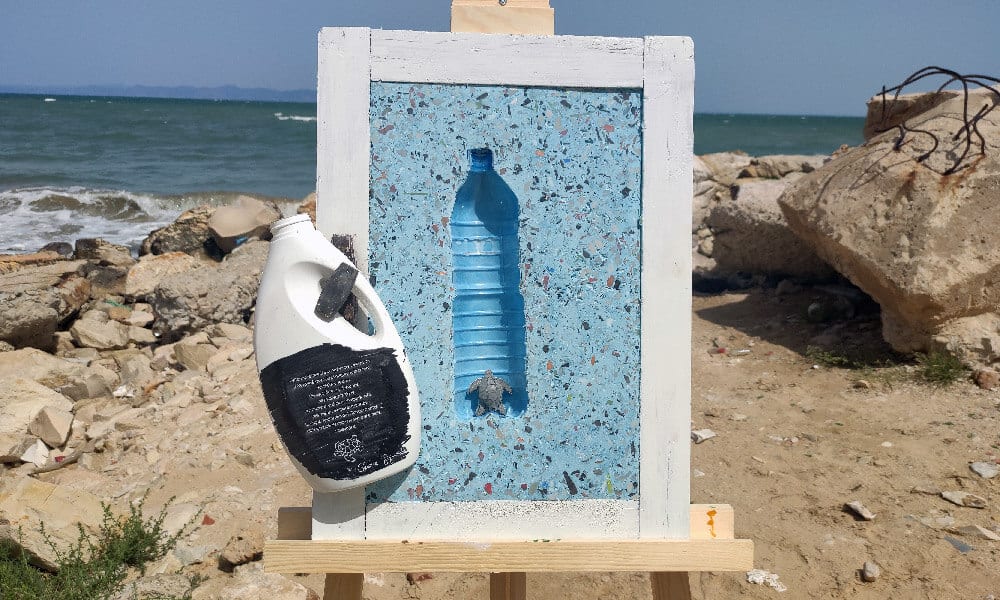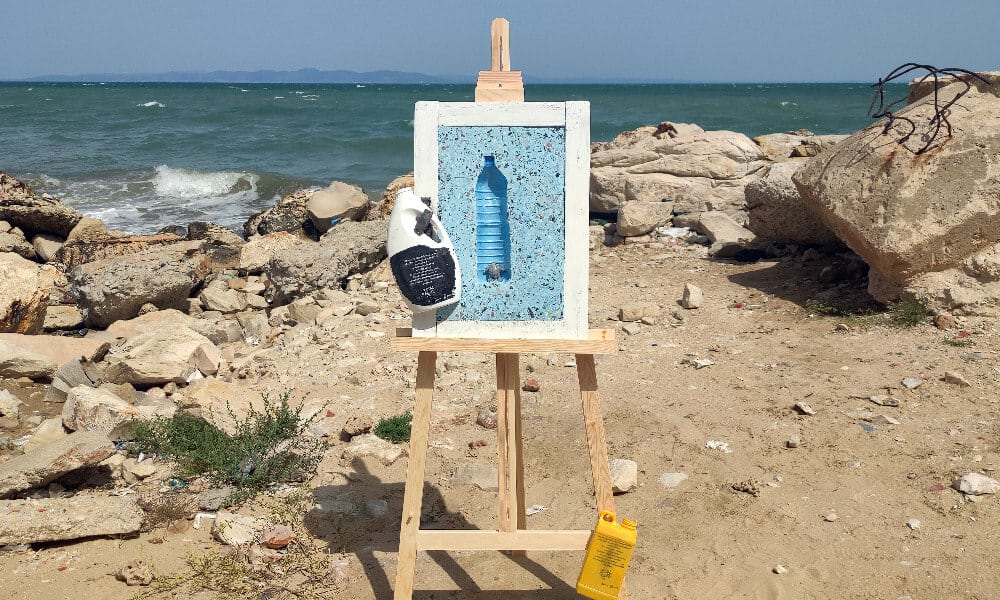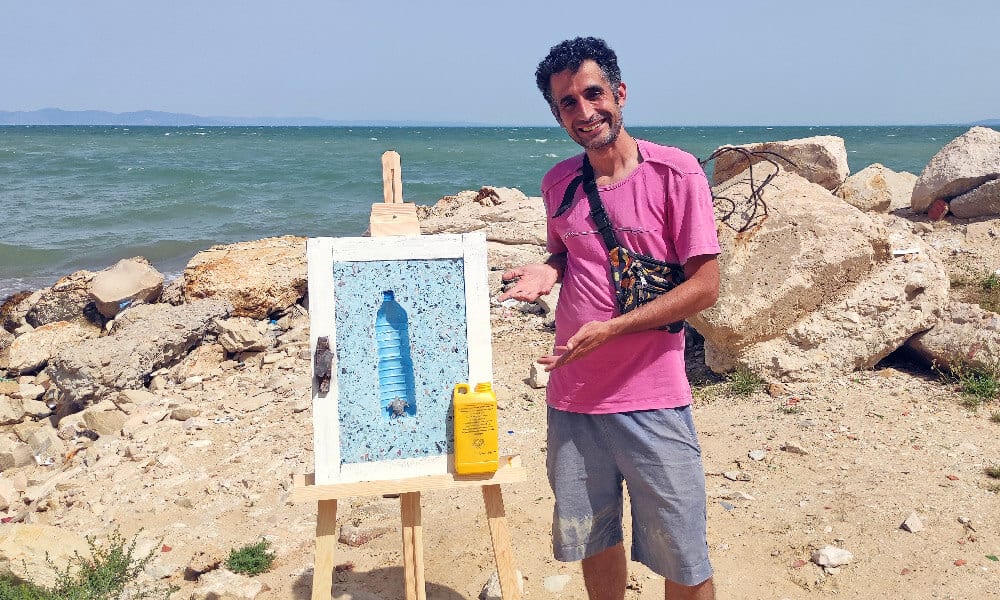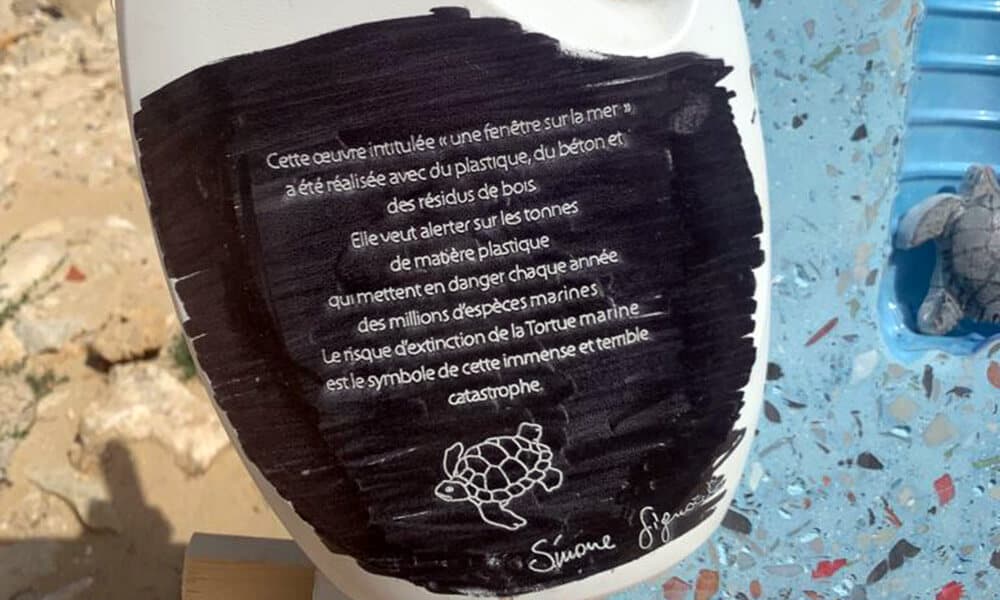 Description: "Une fenêtre sur la mer" ("A window to the sea") is a captivating tableau created by Simone Signoretta, a talented local Italian-Tunisian artist and the CEO of INDINYA, a gifts and handicrafts shop known for its use of recycling and upcycling to create unique pieces. The artwork is composed of a mosaic of little pieces of plastics, meticulously arranged to form a visually stunning depiction. At the center of the tableau, there is a plastic bottle, serving as a symbolic representation.

Artist Statement: Simone Signoretta's creation, "Une fenêtre sur la mer" / "a window to the sea," aims to reflect the profound environmental issue of plastic pollution in our oceans. The tableau conveys the distressing reality of macro and micro plastics floating ubiquitously in the sea. By employing the medium of plastic itself, sourced from discarded materials, Signoretta not only highlights the problem but also offers a poignant reminder of the urgent need for responsible waste management and recycling.
As the CEO of INDINYA, Signoretta channels his artistic vision to promote sustainable practices through recycling and upcycling. He invites viewers to contemplate the impact of our actions on the fragile ecosystems of the oceans. The artwork serves as a powerful statement, reminding us of the collective responsibility we bear in preserving our beloved blue. The artwork is currently exhibited in the National Museum of Fisheries and Oceans in Tunisia - Salambo.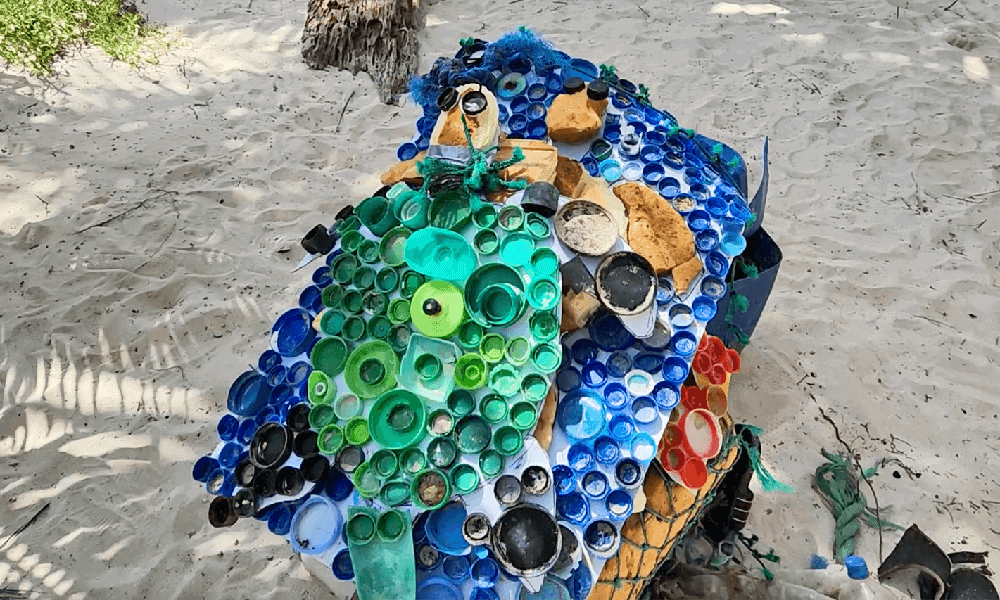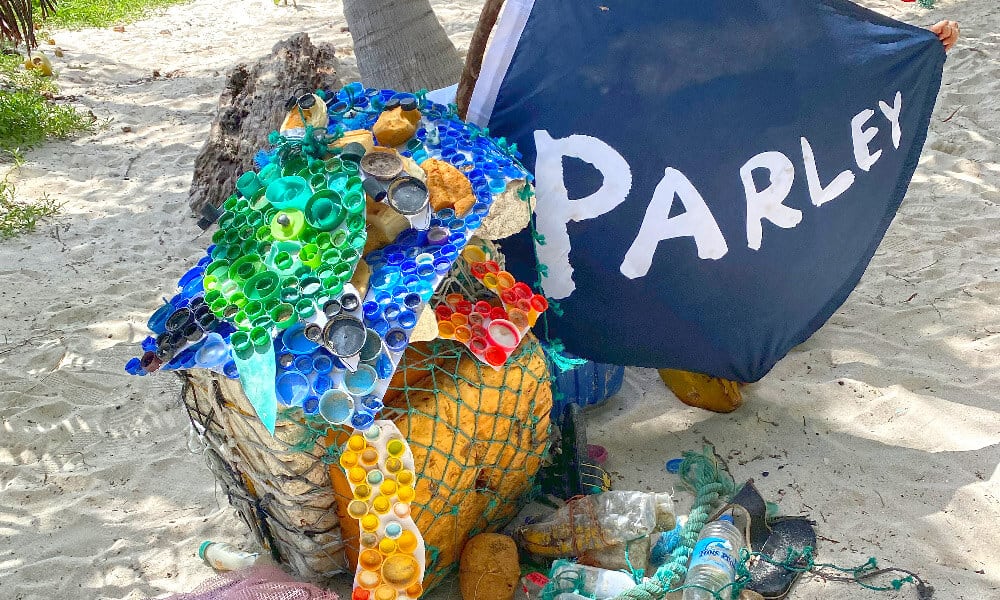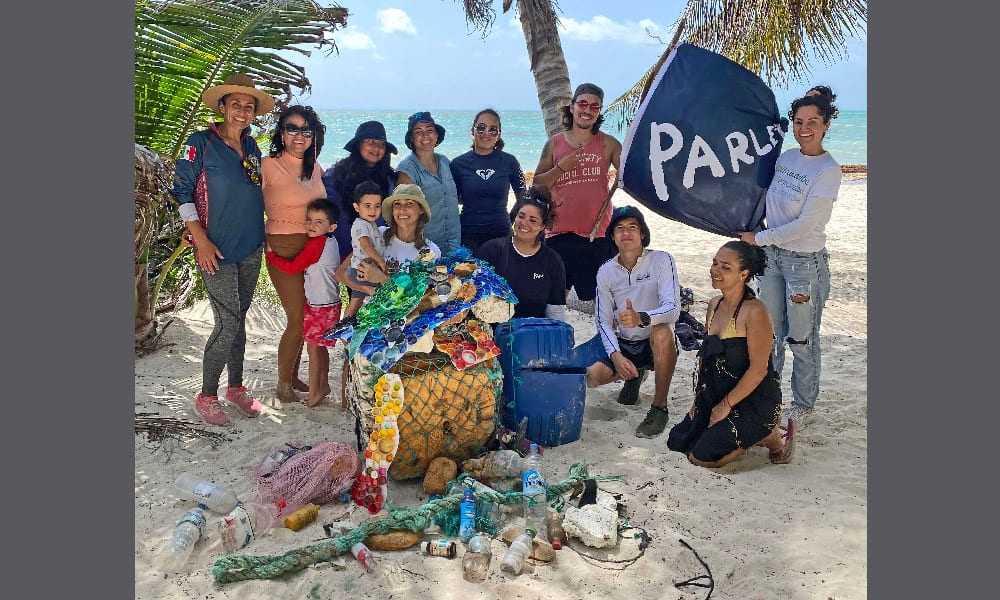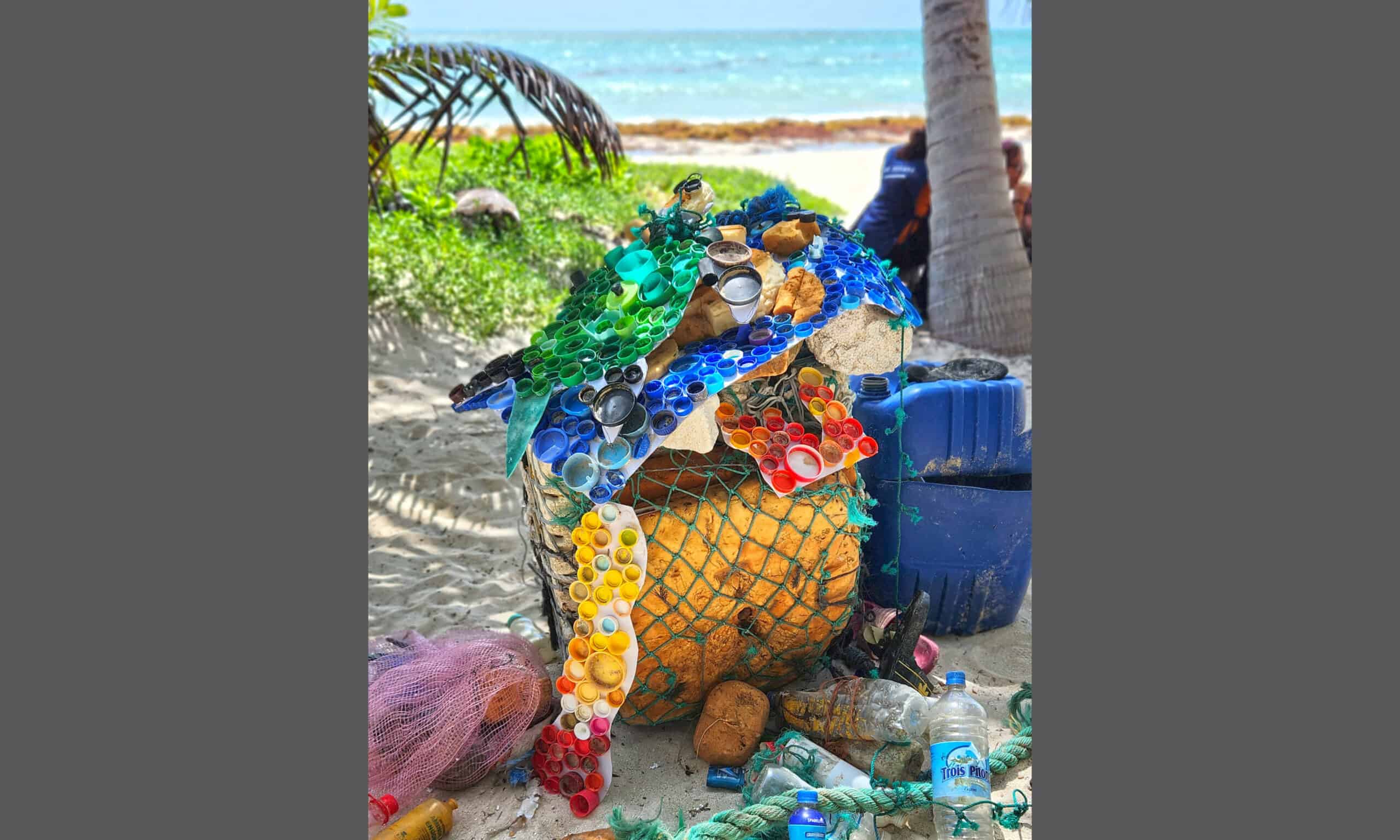 Description: The art was created collectively by a group of volunteers and children, just like the cleanup itself. It was constructed using marine debris found in the cleanup, specifically foam, bottle caps and ghost fishing gear. The male turtle on top is made of bottle caps, while the female turtle beneath is made of foam, likely from a cooler or appliance. The background and ocean are made of ghost fishing gear. Around the piece, we also showcased "floating debris" using the two main waste that we found during the cleanup: shoes and plastic bottles (from 10 different countries including: Guatemala, Honduras, Haiti, U.S., and Dominican Republic).
Artist Statement: We are currently in the middle of sea turtle mating season in Quintana Roo, and on the morning of the cleanup we were surprised by a couple of turtles right on the cleanup beach ... it was a sign! They reminded us that they, and all the other marine animals, are one of the main reasons why we do the beach cleanups, to leave their home a little bit better than we found it. Our art was therefore inspired by the turtles, as well as the threats to marine megafauna, (e.g. ghost gear and plastics). We put the turtles on the top of the art as a message that there's still hope, if we keep working hard to help them. We also wanted to showcase that even though Sian Ka'an is a marine protected area and is quite isolated, it receives tons and tons of plastics that washes ashore. Much of the waste comes from other countries, emphasizing that the plastic problem is a worldwide issue and that the oceans connect us all. In addition, during our event we taught our volunteers a little bit about sea turtles, including how to differentiate a male from a female turtle based on their tail length. So the the volunteers made sure that the male turtle in our art had a really big tail!
Entry 5: Pacific Blue Foundation - Fiji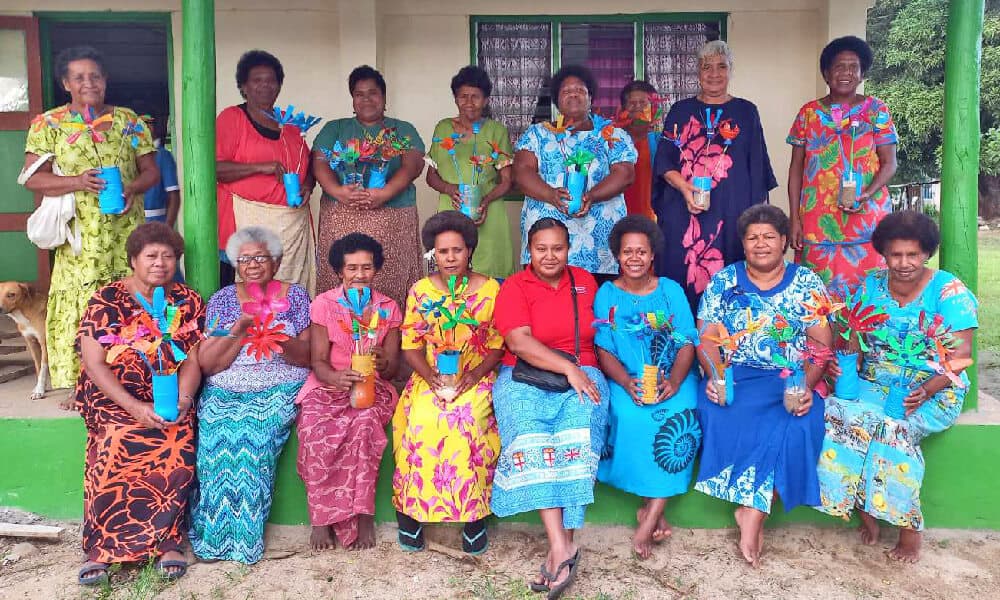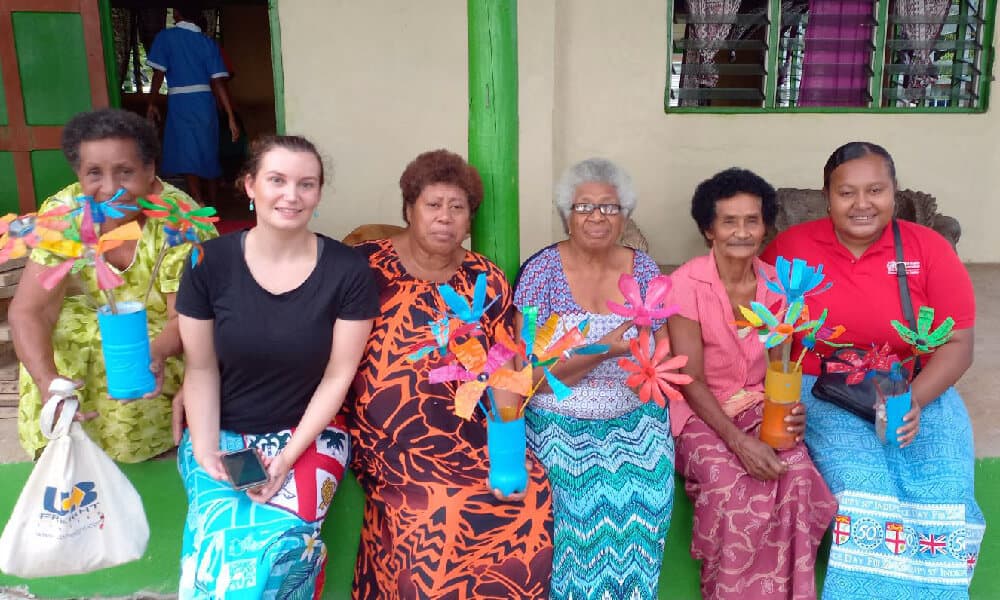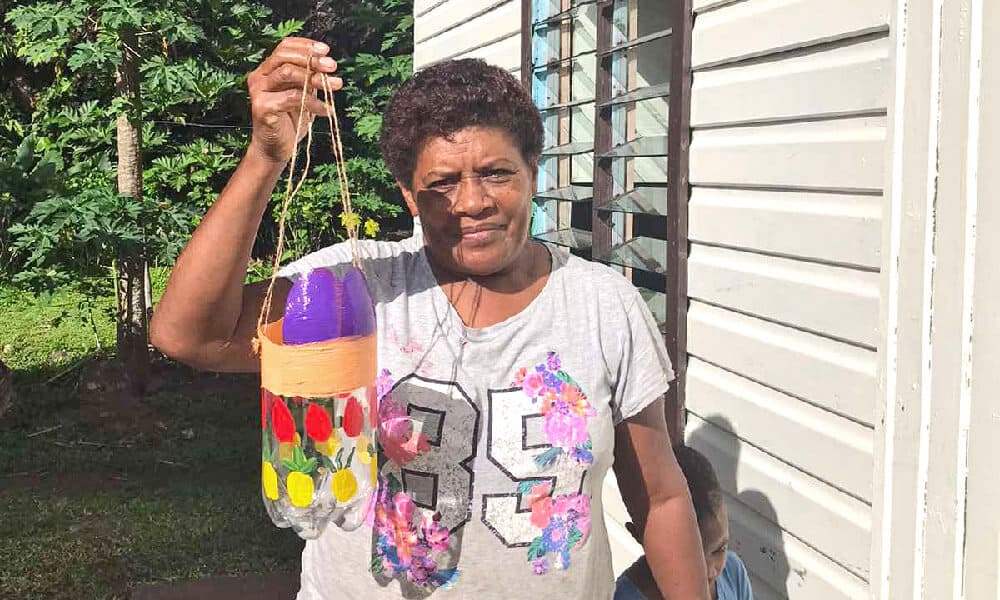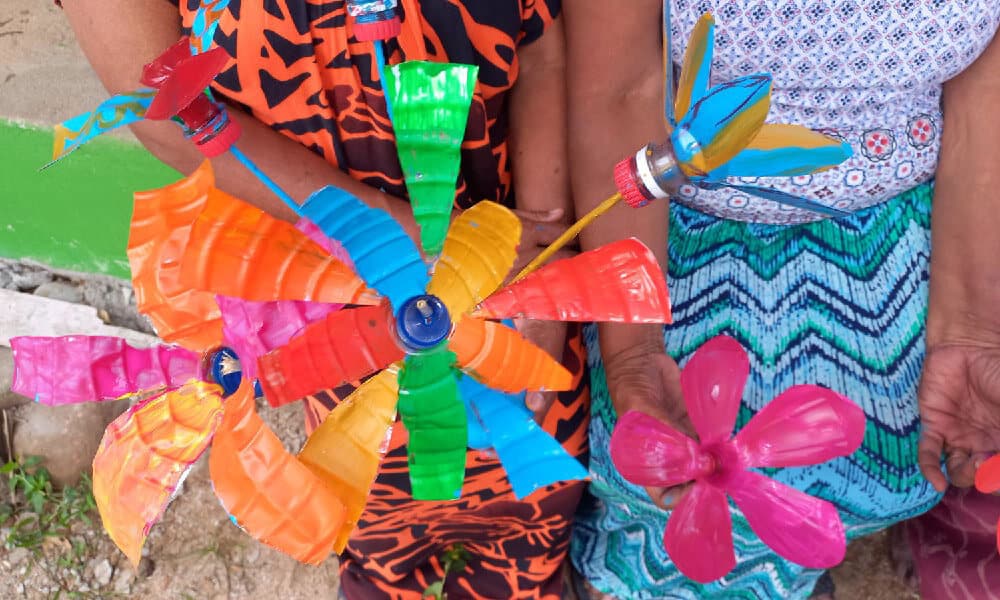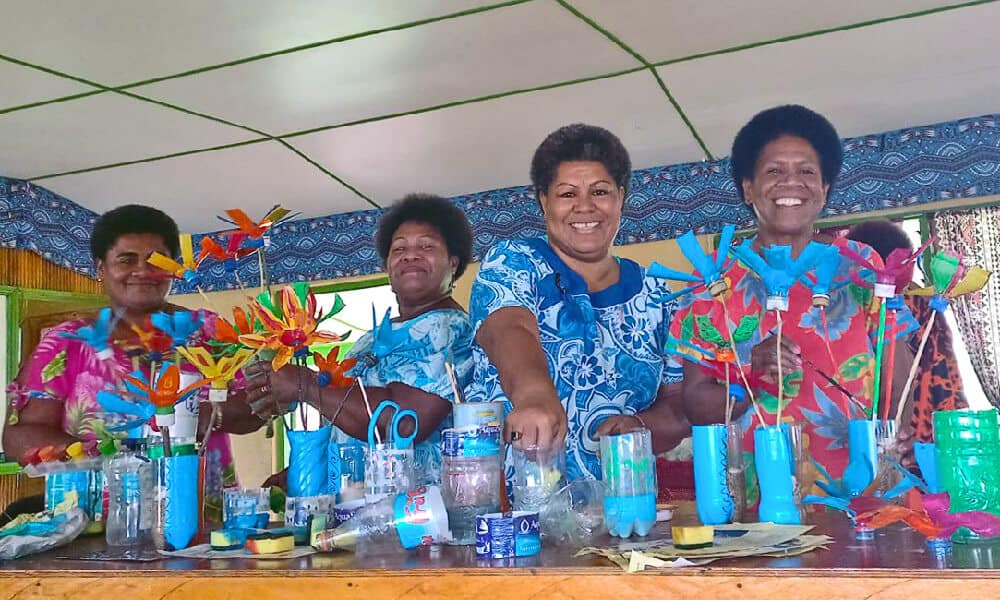 Description: The women in Beqa used plastic bottles from the cleanup to create artwork for home decorations, including artificial flowers and flower arrangements. They used scissors to cut the plastic bottles and shape them into flowers, which were painted to match the color of flowers preferred by each participant.
Artist Statement: We chose to create artificial flower arrangements and other items for home decorations. Flowers were designed and painted to match the type of flowers that are usually planted at home. The art is meant to be both beautiful and functional.
Entry 6: Karumbé - Uruguay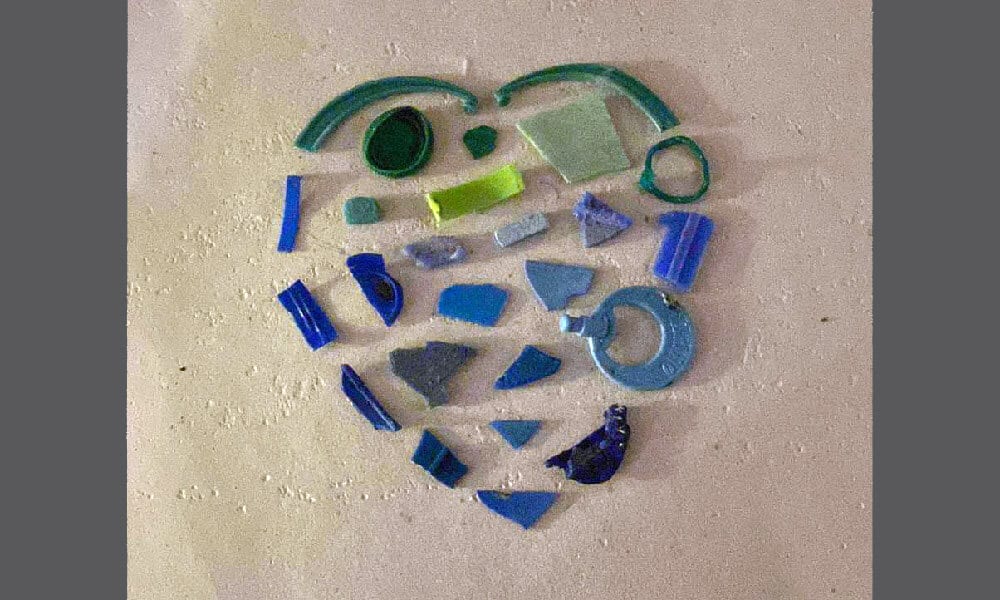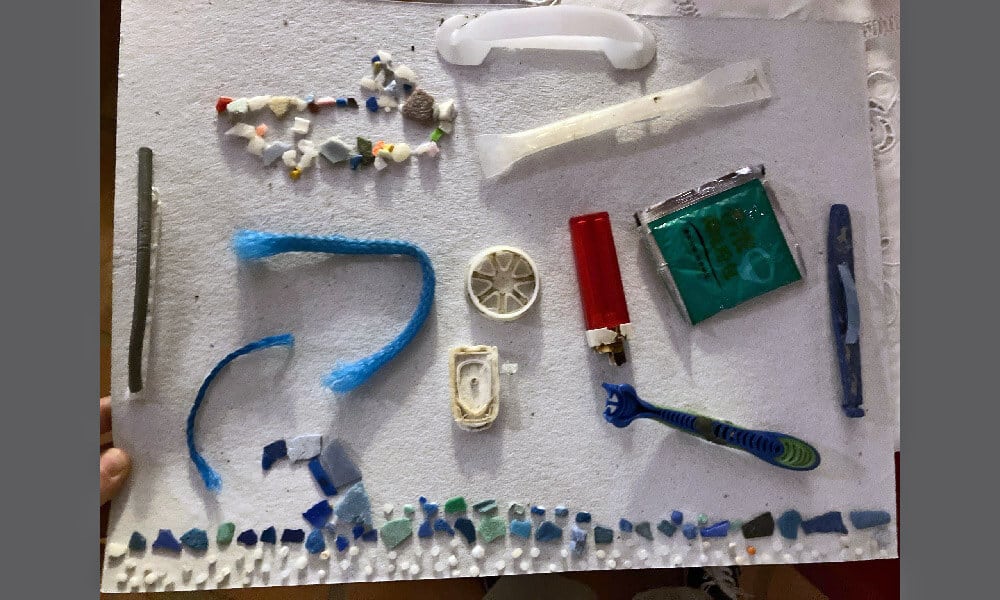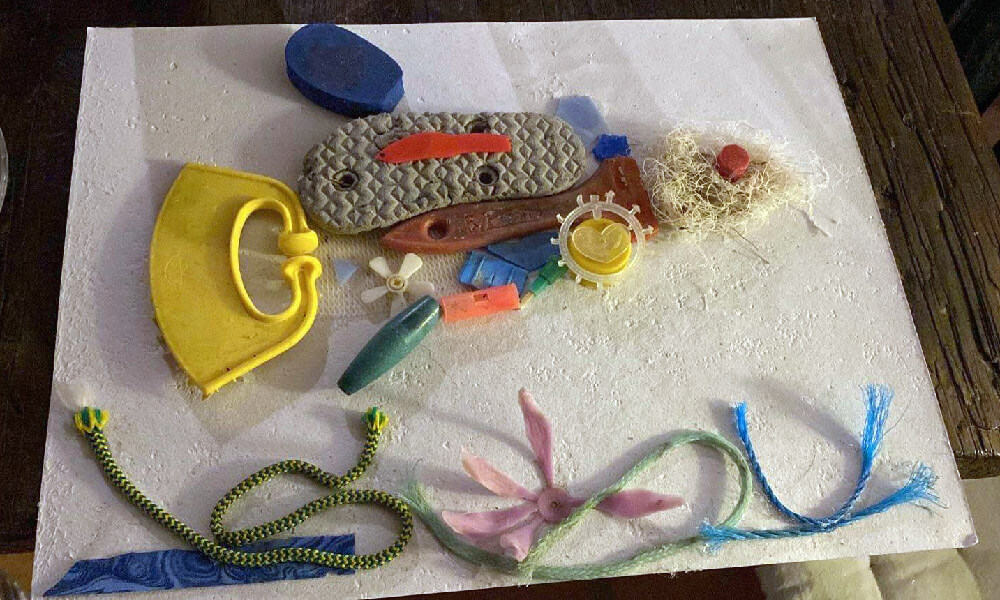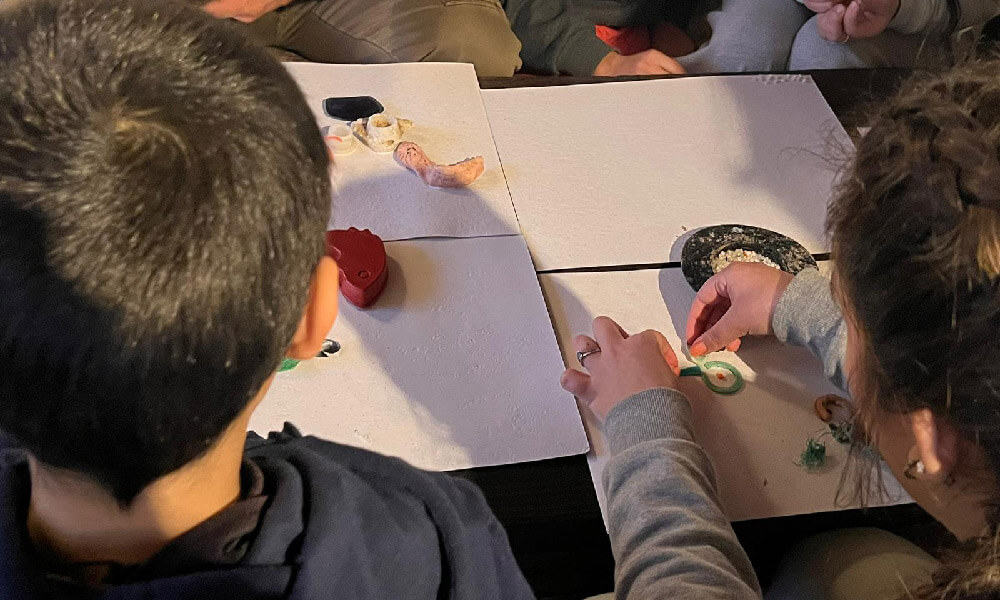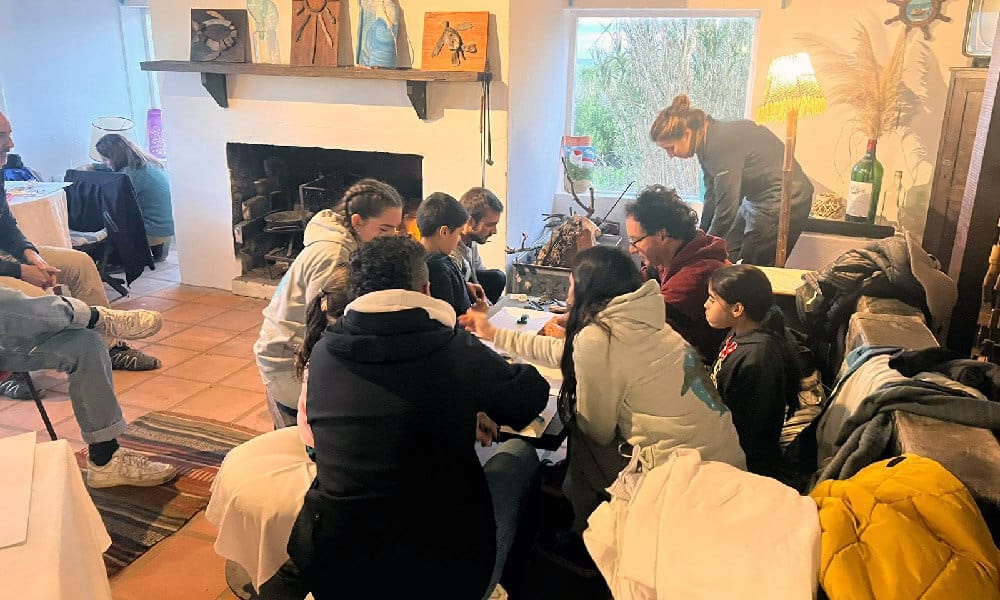 Description: We decided among all of us to make several artistic compositions and display them on the walls of the inn where we met to share a snack. We glued all the plastics with silicone on recycled paper cartons made in the paper recycling factories of our country.
Artist Statement: There are 3 compositions:
1) Love on the Beach: The first composition is about expressing and transforming plastics into emotions and feelings. What united us to clean the beach on a very cold winter day was love – for the coast, for biodiversity, for the people – and to share and celebrate together the sea turtles, the oceans, surfing, and friendship.
2) Deep Ocean: This composition uses microplastics and other plastic fragments to portray the density of the ocean. Created by Guille (7 years old) and Aye (27 years old), they tried to create a boat that seems small in size because it is far away, from which they released several pieces of debris, which are the ones we see floating. Further towards the bottom of the recycled paper cardboard, we see fragments of microplastics that represent a beach, sand and waves, which is where those plastics that are transported by the tides of the deep ocean will end up and where they will be collected and transformed into art by other generations of people who love and care for the coastal area.
3) Fish Out of Water: This piece is composed of many plastics and residues that are linked to different human activities where the field, the city, the fish, and others, are linked. It tries to reflect how we still have time to transform all these practices to prevent fish from being surrounded by so much pollution. The colors convey positive feelings and invite us to reflect, to create other possibilities, and through love change forms, products, and minds.
Entry 7: People and the Sea - Philippines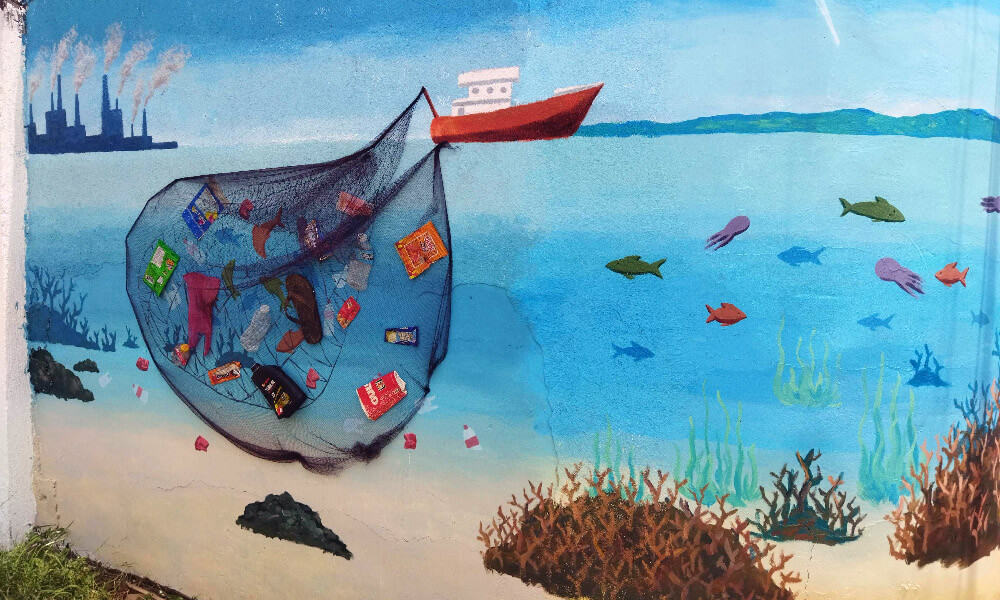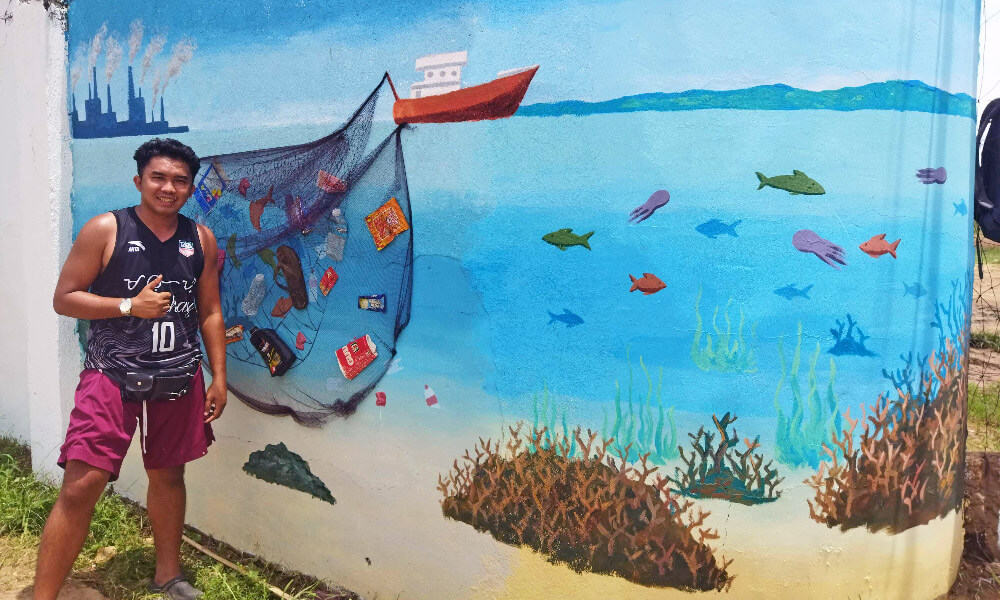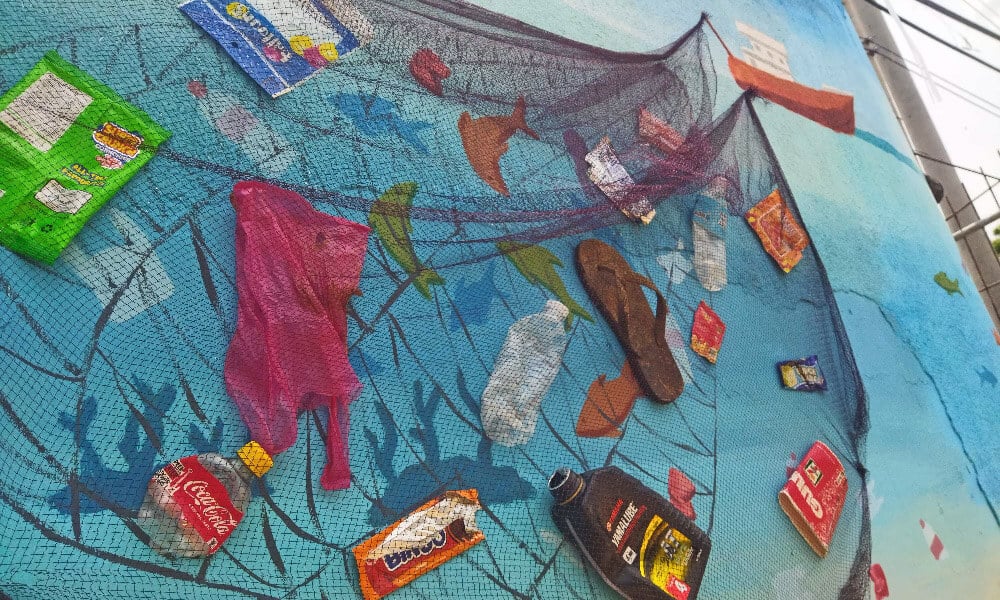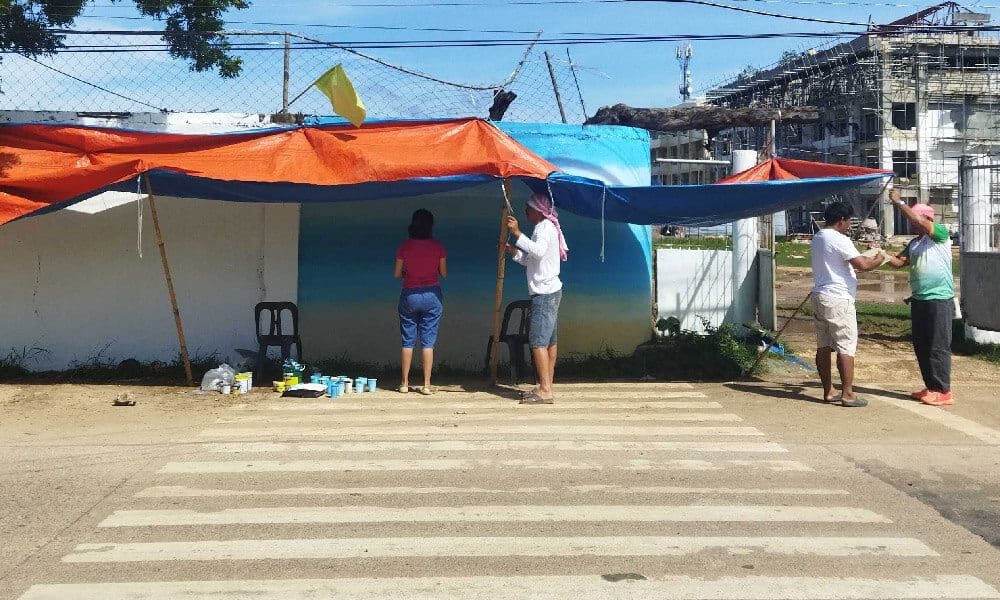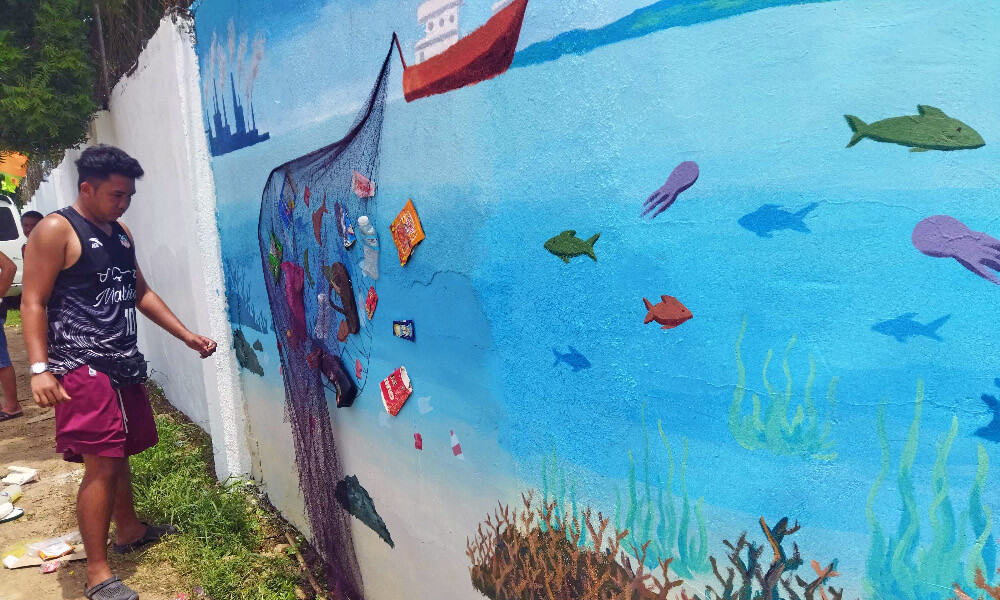 Description: The art is a combination of a mural and an installation using the trash we got from our cleanup. It depicts the damage done by trash, pollution caused by excessive consumerism and too much production symbolized by the factories. The commercial vessel shows destructive bottom trawling. All these damaging and unsustainable practices will eventually cause the destruction of our healthier ecosystems (the right part of the artwork) if not properly given attention.

Artist Statement: The art was done through the combined effort of volunteers. Not everyone has the talent to paint but the idea of getting people together and do their small contributions to the artwork is more
fulfilling. It simply shows that if everyone gives some of their time and willingness to help, we can definitely accomplish something bigger and better. The same idea applies to working on conservation and taking care of our environment.

Our 2023 Global Ocean Cleanup Art Competition results are as follows.
Judges' Selections
The following winners were selected by our esteemed panel of judges:
Winner ($500): Wastehub – Indonesia
Runner-Up ($500): Olive Ridley Project – Kenya
Audience Choice Results
The following winner was selected through a public vote held online from June 26-30, 2023:
Audience Choice Winner ($500): TunSea – Tunisia
Congratulations and thank you to all of the 2023 Global Ocean Cleanup Art Contest participants!