Explore the breathtaking coral reefs of

Komodo while traveling

aboard the luxurious Fenides liveaboard.
Our small group size (10) allows for an intimate and specialized adventure.
Spend a full day snorkeling up close with whale sharks.
Learn about community-led coral reef conservation efforts from local experts and snorkel within

Komodo

's marine preserve, where they are being successfully implemented.
Our newest Komodo liveaboard trip was crafted with our local partners from the non-profit organization Planet Deep. These collaborative expeditions are guided by nature itself: our "best place during the best time" approach gives us the best opportunity for exceptional marine wildlife encounters. On this expedition we explore the more remote western part of Komodo, highlighted by one full day spent swimming with whale sharks. The group will meet in Bali and fly to Labuan Bajo, the gateway to Komodo National Park, to board our privately chartered liveaboard ship, the luxurious Fenides and embark on our exploration of this incredible seascape.
Komodo National Park has been protected since 1980 and is globally recognized as a UNESCO World Heritage Site. While Komodo is known primarily for the endemic Komodo dragon, it also features excellent marine diversity and dazzling coral reefs. The park's rich marine life includes manta rays, pygmy seahorses, clown frogfish, abundant nudibranchs, diverse sponges, tunicates, and corals. Our unique itinerary will allow us to enjoy intimate encounters with whale sharks, Komodo dragons, and manta rays.
Note on Komodo Liveaboard Trip Costs
Trip prices do not include international or in-country airfare (we will help arrange your in-country airfare). Limited single supplements are available. Cabin upgrades available, please contact us. Click here for our full expedition terms and conditions.
Founded in 1969, Oceanic Society is America's oldest 501(c)(3) nonprofit organization dedicated to ocean conservation. As pioneers of "eco travel," our expeditions have been designed to directly support our mission. They not only positively impact our travelers, but also the people, places, and wildlife we go to see. For many years now, Oceanic Society has partnered with the marine conservation nonprofit, Planet Deep, to design unique expeditions within the Coral Triangle region. A portion of your trip fees for this expedition will support our partnership, ensuring that our collaborative expeditions contribute to cetacean conservation and support the inclusion of oceanic habitats in Marine Protected Areas (MPAs). This gives our expeditions additional conservation value alongside (and at no sacrifice to) our in-water time. In 2019, we also established our Expedition Impact Fund (EIF) as a way to grow our impact. The fund is seeded annually with money earned from our expeditions, and supplemented by donations from Oceanic Society travelers. Through the EIF, we award grants to our partners for their on-the-ground efforts to protect ocean habitats and the wildlife and human communities that depend on them.
Dates & Prices
Aug 26 - Sep 6, 2024
Cost
Starting from $9,995/person + $330 park and harbor fees
Book this Trip
Our itinerary and routing will be flexible to account for weather conditions and ensure the best possible guest experience. The following is a sample itinerary, and is subject to change. Request a detailed itinerary using the form below for a comprehensive daily itinerary, price details, frequently asked questions, and more.
Pre-Arrival
The recommended arrival in Indonesia (Bali or Jakarta) is at least one full day prior to departure, to connect with one of the many morning flight connections into Labuan Bajo. We will assist you with your in-country flight booking.
Day 1 | Arrival and embarkation | (D)
Arrival in Labuan Bajo, Flores, the gateway to Komodo National Park, in the morning for embarkation on our live-aboard vessel Fenides. Welcome aboard orientation and safety briefing. We lift anchor and head into a sheltered island bay for our first coral reef snorkel or check-out dive. Sunset cruise through the Park whilst looking for dolphins as we head towards a secluded anchorage off Rinca.
 Day 2 | Rinca | (B, L, D) 
Early morning walk at Rinca Rangers Station for a unique and close-up experience with the Komodo Dragons. Short cruise to the spectacular dive and snorkel sites along the northern section of Linta Strait (Tawata Besar or other amazing sites). Sunset drinks on the beach of a nearby uninhabited island.
Day 3 | Komodo| (B, L, D) 
Today we will explore the northern section of Komodo, with a series of three snorkels and dives along spectacular reefs and close-up manta encounters. These majestic creatures visit the reef's cleaning stations (dependant on tides and currents) and can be viewed with minimal disturbance. At sunset we head for our sheltered anchorage in Hidden Bay.
Day 4 | Gili Lawa Darat | (B, L, D) 
We start our 'Whale Patrol' (during many of our passages we have a good change to spot whales and dolphins) on the way to Gili Lawa Darat on the extreme northern side of Komodo Island. Around midday we will snorkel and dive some of the most diverse reefs this region has to offer including offshore reefs and an amazing drift through a dazzling coral channel. We overnight in nearby Lawa Darat Bay.
Days 5 | Moncho | (B, L, D) 
During the morning and midday we will snorkel/dive in sites with fantastic names like Cauldron and China Shop, yet the exact times are depending on tides and currents.
In the afternoon we will conduct a whale patrol as we relocate to the remote west Komodo region. Overnight in Moncho, the westernmost part of Komodo, where we often spot wild deer, pigs and occasionally dragons on the local beach.
Day 6 | Sape Strait | (B, L, D) 
In the morning we will explore the exceptional coral reefs around west Komodo, followed by a whale patrol, heading south along the Sape Strait.
This deep passage separates the main islands of Komodo and Sumbawa and functions as a marine migration corridor. In the afternoon we will snorkel, dive and explore the coral reefs Kelapa Island, right on the southern edge of the Sape Strait. Sunset over Sumbawa from a remote beach.
Day 7 | Banta | (B, L, D) 
At sunrise we cruise north to spectacular Banta Island for our morning snorkel, dive and breakfast afterwards. At midday we will have a unique experience to snorkel through a split in the island with the sun right overhead. In the afternoon we will conduct a whale patrol towards a seamount where we will spot for large pods of oceanic spinner and spotted dolphins, Risso's dolphins, and the occasional melon-headed and sperm whales. Overnight in a sheltered bay in Banta.
Day 8 | Banta | (B, L, D) 
At Banta, today we will experience a thrilling couple of coral reef sites with odd names such as Star Wars, The Wall and Pinnacle (which often functions as a superb manta cleaning station). In the afternoon we may opt for a sunset cruise and head west towards San Geang, an active volcanic Island located just 5km north off Sumbawa.
Day 9 | San Geang | (B, L, D) 
We will visit a traditional phinisi boat-building village after breakfast, followed by a unique snorkel and dive site, where corals mix with bubbling volcanic gasses rising up from the sandy Bottom. San Geang is also renowned for its amazing "critters" including pygmy seahorses that inhabit these techno-colour reefs. Tonight we will cruise under the stars during our overnight passage to Satonda.
Day 10 | Saleh Bay |(B, L, D) 
A morning snorkel or dive in Satonda, followed by a walk to a spectacular crater lake (or opt for more leisurely morning around the boat with our kayaks and SUPs). After lunch, we will relocate into Saleh Bay, an expansive area where the whale sharks reside. Enroute we will keep a lookout for Bryde's whales and dolphins. Our anchorage is located nearby the bamboo lift- net structures (bagans) that will be the focus of our whale shark action tomorrow, starting at sunrise.
Day 11 | Whale sharks |(B, L, D) 
A special experience with whale sharks!  At sunrise we will have a long snorkel or dive with the whale sharks, followed by breakfast. After breakfast we will have 2nd snorkel or dive with the whale sharks. Late morning the Whale sharks often move away, so we will relocate for a nice snorkel or dive (depending tomorrow's flight times). We may visit a beautiful waterfall in the local jungle. Overnight anchorage in Moyo.
Day 12 | Disembarkation and departure | (B, L, D) 
The end of an incredible marine adventure! Disembarkation in Sumbawa Besar, on-board departures depending on flight times. Airport transfers by car will be arranged to connect with domestic flights (to Bali or Jakarta).
Ship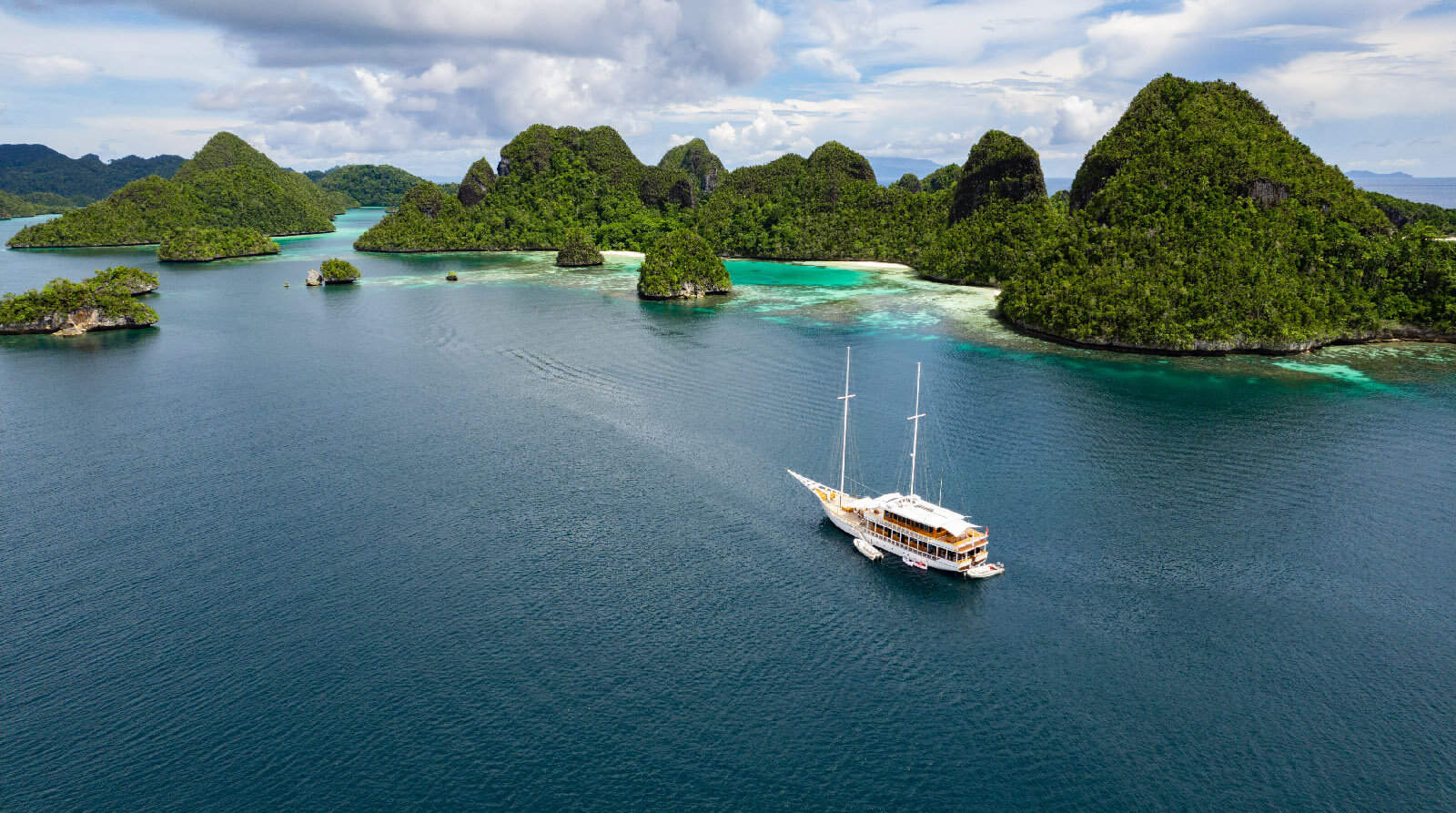 Fenides Liveaboard
Fenides Liveaboard is a 41-meter luxury liveaboard of exquisite design, dedicated to exploring the most exotic and remote islands of the Indonesian archipelago. Fenides is a phinisi style schooner that has 5 luxurious cabins—2 twin (12 sqm, lower deck)…
Ship Details
Naturalist(s)
Your expedition will be led by one or more of the following expert naturalist guides:
We are happy to arrange trip extensions to explore nearby destinations including Borneo, Sulawesi, and Bali. Please contact us for details.