Enjoy daily snorkeling or diving in the wonderland of Raja Ampat while traveling aboard one of the luxury liveaboard phinisi schooners, Silolona or Fenides.
During our February 2024 expedition aboard Silolona, cetacean expert Benjamin Kahn will lead us in spotting marine mammals including Bryde's and sperm whales, and much more.
Your participation supports data collection on cetacean habit use data that can drive marine protected area expansion and further protection of deep water habitats and associated shallow water ecosystems of the Coral Triangle.
Escape for a 12-day adventure to Raja Ampat aboard the luxury liveaboard ships Silolona or Fenides, and enjoy daily snorkeling or diving in the most biodiverse coral reef ecosystem in the world. Multiple hours will be spent each day immersed in Raja Ampat's famous and beautiful reefs where cetaceans, manta rays, turtles, and large schools of fish are all frequently sighted. Time will also be devoted in the afternoons to surveying for marine mammals, plus optional morning outings to go birding.
This program is co-led by Benjamin Kahn, a cetacean biologist specializing in the Coral Triangle. From experience, we know that most whales are sighted in the Dampier Strait. Our itinerary aims to maximize marine mammal encounters, and you will get to participate in visual whale surveys, use hydrophones to listen to their unique sounds and, on rare occasions, observe them while snorkeling. All whale survey activity is carried out in a manner designed to ensure that the species and habitat are not disturbed.
Notes on Trip Costs
On Silolona, 3 luxurious large suites are available at an additional upgrade fee at $1900/person double occupancy only. Trip prices do not include international airfare, or in-country airfare from to/from Sorong. Click here for our full expedition terms and conditions.
Founded in 1969, Oceanic Society is America's oldest 501(c)(3) nonprofit organization dedicated to ocean conservation. As pioneers of "eco travel," our expeditions have been designed to directly support our mission. They not only positively impact our travelers, but also the people, places, and wildlife we go to see. A portion of your trip fees for this expedition will support our non-profit partner Planet Deep, who also uses the cetacean sightings data collected on these expeditions to help protect critical oceanic habitats such as calving and mating grounds for whales, migratory marine corridors, seamounts, and canyons. We will also collect data on marine debris to document its prevalence and overlap with cetacean habitats. And Oceanic Society's earnings from all our expeditions are invested back into our global research and conservation programs.
Dates & Prices
Feb 20–Mar 2, 2024 (aboard Silolona)
Cost
$11,700 / person + park fees. Group limit 8. Contact us to book.
Book this Trip
Guests will need to arrive to Jakarta at least one day prior to the start of the expedition. In-country flights to and from Sorong, where our expedition begins and ends, are not included in the trip price, but will be arranged by Oceanic Society. The following itinerary is an example, and is subject to change based on weather and other external factors during our voyage.
Day 0: Arrive into Jakarta
Arrive into Jakarta on your own and stay overnight. If you are originating from North America, please note that you will be crossing the International Date Line. You'll want to arrive at least 24 hours in advance to adjust to the time change and give yourself a buffer period before your flights to Sorong.
Day 1: Jakarta - Sorong, Embark
Today is the official start of our trip. Everyone will board an early morning flight to Sorong, West Papua, where we will be transferred to the privately-chartered and luxurious boat, Silolona or Fenides, our home for the next 11 nights. Once everyone is checked in, we will set sail.
Days 2-11: Exploring the Raja Ampat Archipelago
Welcome to Raja Ampat! One of the most diverse, healthy, and colorful underwater regions in the world, where snorkelers and divers can experience incredible fish, corals, and wildlife. We'll spend the next 10 days exploring the region, with time dedicated to morning and afternoon snorkel/dive sessions (generally 4-5 hours per day), as well as expert-facilitated cetacean observations. We try to keep the day-to-day schedule flexible, based on factors such as wind, weather, tide, and species' behavior and movement. Possible snorkel and dive sites may include reefs adjacent to Waigeo, Batanta, Mansuar, Gam, Fam, Wayag, and Penemu Islands, as well as the Dampier Strait where cetaceans (and manta rays) are most frequently sighted. There will also be opportunities to explore the maze of paradise islands aboard Zodiacs and in the water, and make a stop to climb Mount Pindito on Wayag Island. For the Feb 2024 Trip, we will have a more 'science' focus, and there will be dedicated time spent spotting, following, and monitoring various cetacean species, and their behaviors. With luck there may be opportunities to snorkel with the whales. We will have the opportunity to learn from Benjamin Kahn, an eminent, and renowned cetacean expert, who along with the team, will be gathering data on our sightings to contribute to conservation plans for the region, and globally for migratory species. Those interested can get involved with 'spotting' these majestic creatures from the observation deck, so that we can start to understand their behavior.
Day 12: Sorong - Jakarta (or Bali)
At the conclusion of our trip, the group will disembark in Sorong, West Papua and transfer to the airport in time for our flights back to Jakarta (or Bali). Depending on your return flight schedule, you may fly home this evening or stay overnight (on your own). Please inquire about our post-trip extensions to snorkel in North Sulawesi or trek in Borneo.
Ship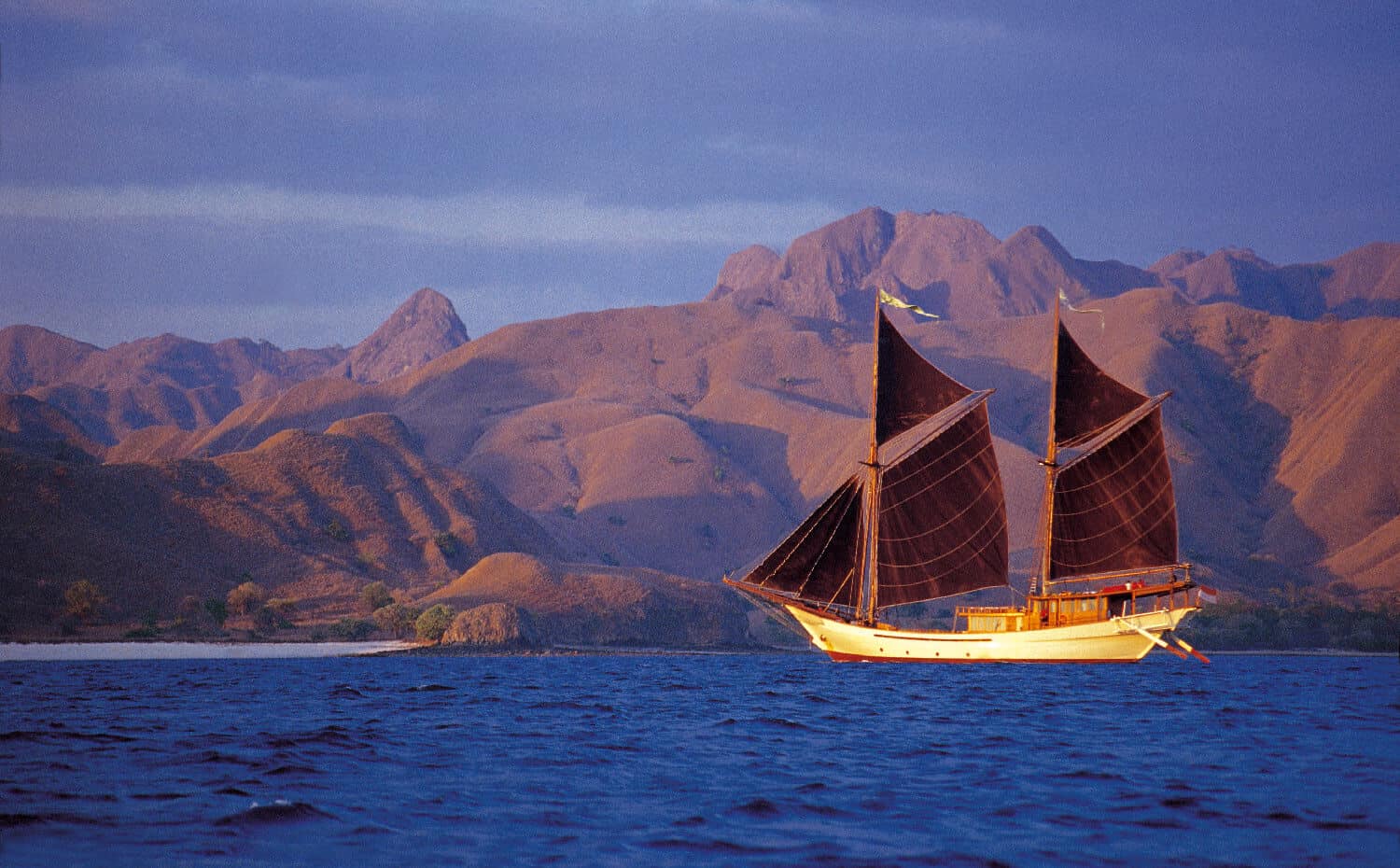 Silolona
MSV Silolona is a powerful traditional wooden sailing vessel newly built from the finest tropical hardwoods by the Master Konjo boatbuilders of Sulawesi. This magnificent vessel melds the best of the traditional Spice Island sailing vessels with all of…
Ship Details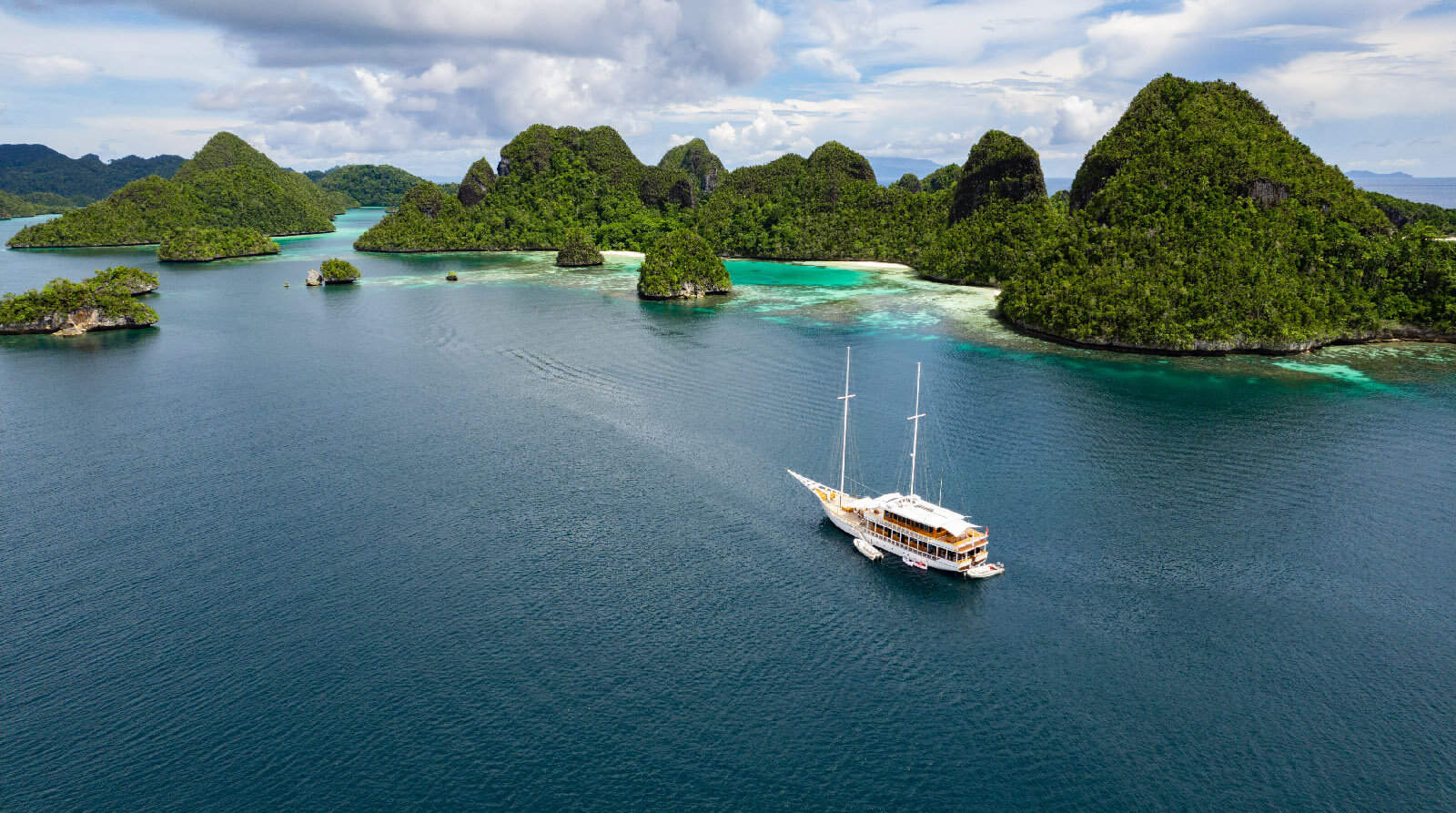 Fenides Liveaboard
Fenides Liveaboard is a 41-meter luxury liveaboard of exquisite design, dedicated to exploring the most exotic and remote islands of the Indonesian archipelago. Fenides is a phinisi style schooner that has 5 luxurious cabins—2 twin (12 sqm, lower deck)…
Ship Details
Naturalist(s)
Your expedition will be led by one or more of the following expert naturalist guides: