Trip Highlights
Explore Raja Ampat's stunning coral reefs in a small group setting.
The Damai vessels are specifically designed for cruising in tropical waters and are setting new standards for safety and comfort in Raja Ampat.
Our years of experience leading snorkeling trips here will make sure you see the best shallow water coral habitat that Raja Ampat has to offer.
Join us aboard the intimate Damai II for an expedition designed to get you snorkeling in the phenomenal variety of habitats that make the Raja Ampat archipelago so special. We'll explore shallow reefs with abundant fish, blue water mangroves rich with soft corals and macro life, and known habitats for iconic Coral Triangle species ranging from colorful mantis shrimp to breathtaking manta rays and otherworldly tasseled wobbegong sharks.
Beginning and ending in Sorong, stops on our itinerary include the Dampier Straits, Kri Island, Gam, Wayag, Alyui Bay, Penemu, Batanta, and more. A maximum of 13 guests in 7 cabins and two on-board snorkel guides make for an intimate experience aboard this boutique wooden ship.
Notes on Trip Costs
Trip prices do not include airfare. Two master cabins are available for an additional fee. Limited single supplements are available for a fee of $3,100. Click here for our full expedition terms and conditions.
Related Trips
For a similar option with additional dates, see our Raja Ampat Coral Triangle Adventure expedition.
Founded in 1969, Oceanic Society is America's oldest 501(c)(3) nonprofit organization dedicated to ocean conservation. As pioneers of "eco travel," our expeditions have been designed to directly support our mission. They not only positively impact our travelers, but also the people, places, and wildlife we go to see. A portion of your trip fees for this expedition will support the various organizations we visit or collaborate with in Indonesia, including Planet Deep, The Coral Triangle Center, and the Misool Foundation. Over the 11 years we have been leading trips in Indonesia, we have supported groups working on coral reef restoration, marine protected area design and management, plastic pollution solutions, and shark conservation. Trip fees and donations from past travelers have also supported our ability to work with (and supplement the pay of) exceptional local guides who join almost all of our groups. Over the years, we have provided thousands of dollars in park fees that support the protection of marine areas like Raja Ampat and Komodo National Park.
Dates & Prices
January 20-31, 2023 Sold Out
Cost
From $7,600 / person + park fees. Group limit 13.
Book this Trip
Jan 24 - Feb 4, 2024
Cost
From $8,800 / person + park fees. Group limit 13.
Book this Trip
Feb 18-27, 2024 (10 day trip)
Cost
10 day trip From $6,850 / person + park fees. Group limit 13.
Book this Trip
Jan 24- Feb 4, 2025
Cost
From $8,800 / person + park fees. Group limit 13.
Book this Trip
Day 0: Arrive into Jakarta
Arrive into Jakarta on your own and stay overnight. If you are originating from North America, please note that you will be crossing the International Date Line. You'll want to arrive at least 24 hours in advance to adjust to the time change and give yourself a buffer period before your flights to Sorong.
Day 1: Jakarta - Sorong, Embark
Today is the official start of our trip. Everyone will board an early morning flight to Sorong, West Papua, where we will be transferred to the privately-chartered Damai II, our home for the next 11 nights. Once everyone is checked in, we will set sail.
Days 2-11: Exploring the Raja Ampat Archipelago
We'll spend each day snorkeling and exploring the archipelago's reefs and tropical landscapes. Each day we will spend 4-6 hours in the water, visiting some of the most pristine, diverse, and colorful coral reefs in the world. Here we may come across soft and hard coral walls, colorful nudibranchs, abundant schools of fish, and productive reef ecosystems full of butterflyfish, angelfish, snappers, groupers, parrotfish, sea turtles, and possibly marine mammals and sharks. We do our best to keep the itinerary flexible depending on external factors such as tides, wind, and weather. Possible snorkeling destinations may include reefs adjacent to Batanta, Penemu, Waigeo, Aljuy Bay, Gam, Fam, Kawe, Wayag, Friwinbonda, Mansuar, and Kri Islands. For those interested in bird watching, there will be some opportunities to go on early-morning outings to look for unique birds and to enjoy the beautiful scenery. We will also visit a lek (mating display site) of the endemic Red Bird of Paradise on Gam Island to see male birds perform their mating displays.
Day 12: Sorong - Jakarta (or Bali)
At the conclusion of our trip, the group will disembark in Sorong, West Papua and transfer to the airport in time for our flights back to Jakarta (or Bali). Depending on your return flight schedule, you may fly home this evening or stay overnight (on your own). Please inquire about our post-trip extensions to snorkel in North Sulawesi or trek in Borneo.
Ship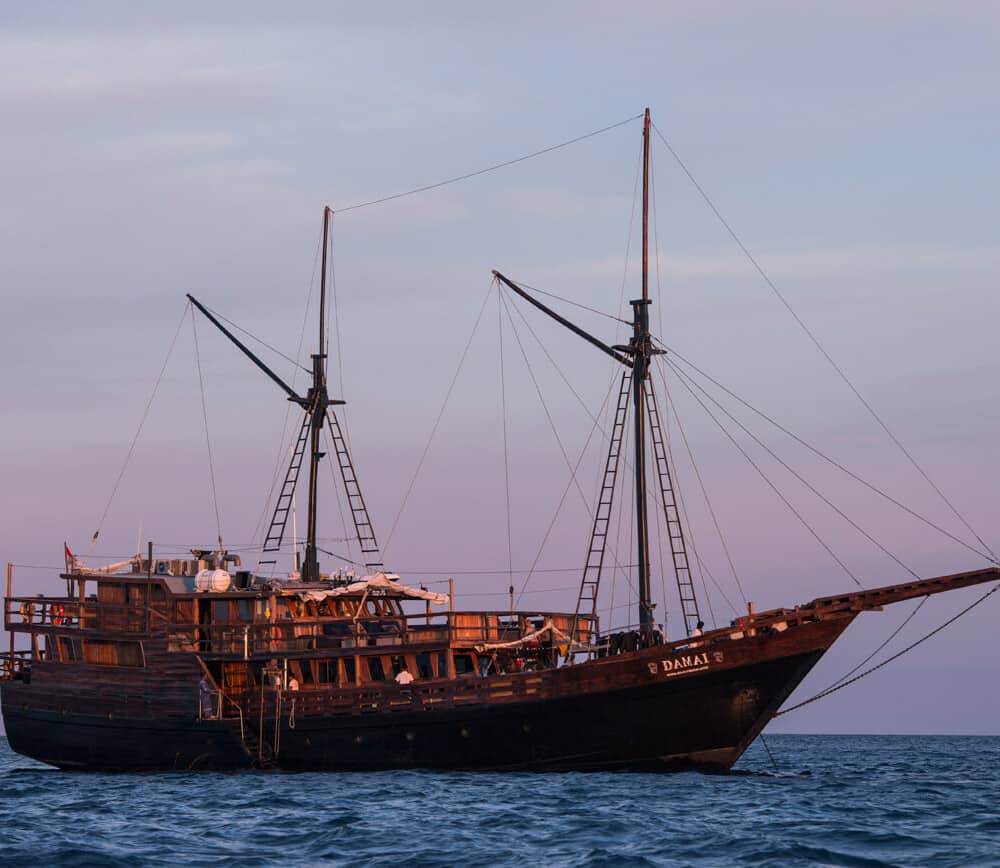 Damai II
The Damai II is a boutique liveaboard ship that offers a high level of comfort for exploring Indonesia's waters. It was built in South Sulawesi in 2011 by Pak Hadji Baso, one of the most respected master boat builders in the traditional Indonesian boat…
Ship Details
Naturalist(s)
Your expedition will be led by one or more of the following expert naturalist guides: