Trip Highlights
Snorkel pristine shallow reefs of hard and soft corals, including a location with the second highest reef fish biodiversity in the world (after Raja Ampat, Indonesia).
Our Solomon Islands liveaboard expedition supports whale and dolphin survey efforts, and we may see the little-known Omura's whale, first discovered in 2004.
Visit ultra-remote parts of the Solomon Islands including Tetepare – the largest uninhabited island in the South Pacific – and Marovo Lagoon, the world's largest enclosed reef lagoon.
This special itinerary was created in collaboration with Planet Deep and Cheeseman's Ecological Safaris. Our liveaboard expedition brings guests to the vibrant waters of the Solomon Islands, where we'll explore colorful coral reefs peppered with brilliantly-hued fish, dazzling tropical lagoons, and volcanic jungle-clad islands. Populated by people who maintain a subsistence lifestyle, the region has been unchanged for hundreds of years. We will venture to some of the ultra-remote islands, even by Solomon Islands' standards, best described as some of the Earth's "last Edens." We will explore this unique jewel of the South Pacific, guided by cetacean experts and marine biologists with years of experience in the region. High fish and invertebrate variation allow for diverse wildlife sightings including nudibranchs, pipefish, pygmy seahorses, mantis shrimp, rays, sea turtles, and sharks.
You'll get to enjoy two to three snorkeling excursions a day, complemented by intriguing cultural experiences with village visits and jungle hikes on uninhabited islands. During transits between snorkeling sites, you will look for cetaceans. Many tropical cetacean species are present here including spinner dolphins, pantropical spotted dolphins, Risso's dolphins, Indo-pacific bottlenose dolphins, rough-toothed dolphins, shortfin pilot whales, pygmy killer whales, dwarf sperm whales, and sperm whales. There are also reports of unidentified beaked whales. But a particular target of our expedition will be blue whales, which may use these waters as a mating or/and breeding ground, as well as Omura's whales, tropical baleen whales that were unknown to science before 2004 and were first described from the Solomon Islands. If deemed appropriate, you may also have the opportunity to snorkel with whales — an unforgettable experience.
There will be some time devoted to visiting the islands and local villages. There will also be plenty of time for snorkeling on the stupendous coral reefs—some of the most under-appreciated and unique in the entire Pacific. The middle of our trip itinerary will bring us near Gizo, where marine experts recorded the second-highest reef fish biodiversity in the world in 2006. Read our trip leaders' reports from past Solomon Islands trips:
Notes on Trip Costs
Trip prices do not include airfare. Extra hotel nights pre and post trip are not included. Special deposit amounts and payment dates are in effect for this expedition ($2,000/person deposit upon registration; $2,000/person second deposit due by Jan 2024; final balance due by Oct 2024). Limited single accommodations are available by request only, but we are happy to pair solo travelers with a roommate. This expedition has special terms and conditions.
Founded in 1969, Oceanic Society is America's oldest 501(c)(3) nonprofit organization dedicated to ocean conservation. As pioneers of "eco travel," our expeditions have been designed to directly support our mission. They not only positively impact our travelers, but also the people, places, and wildlife we go to see. Your expedition costs include fees that support conservation and promote sustainable livelihoods in the communities we visit, and Oceanic Society's earnings are invested back into our global research and conservation programs. In 2019, we also established our Expedition Impact Fund (EIF) as a way to grow our impact. The fund is seeded annually with money earned from our expeditions, and supplemented by donations from Oceanic Society travelers. Through the EIF, we award grants to our partners for their on-the-ground efforts to protect ocean habitats and the wildlife and human communities that depend on them.
Dates & Prices
April 24 - May 5, 2025
Cost
From $10,450 per person + park & harbor fees. Group limit 16.
Book this Trip
Our customized Solomon Islands liveaboard itinerary reduces open water travel time and focuses on the best snorkeling locations that the location has to offer. Highlights include colorful soft coral walls, abundant schooling reef fish, and productive reef ecosystems that are very snorkel accessible and perfectly suited to our group. The guides may change the snorkeling site sequence or selection due to local sea and weather conditions or wildlife sightings.
Apr 24 or earlier: Arrival
Arrive in Honiara, Solomon Islands on Guadalcanal Island.
Apr 25: Embark
At 3pm, we'll embark on the Bilikiki for the Russell Islands, about 30mi northwest of Guadalcanal Island. 
Apr 26–27: The Russell Islands
The Russell Islands are made up of two scenic volcanic islands, Pavuvu and Mbanika, with rugged terrain and amazing beaches. Their numerous deep, sheltered bays are perfect for coral reef growth and offer exceptional snorkeling. Explore a variety of fascinating seaward reef environments, including sloping coral gardens and barrier reefs. Various whales and dolphins inhabit these waters, including a resident pod of short-finned pilot whales. It is a perfect start to your exploration of the remote waters of the Solomon Islands. Between snorkels, you can help survey for whales as you travel to new snorkel sites. If you want to participate in the cetacean surveys you'll learn to use our Rapid Ecological Assessment survey techniques.
Apr 28: Mborokua Island
Onward to one of the most remote and isolated islands in the Western Solomon Islands, Mborokua or Mary Island. Mborokua offers fantastic snorkeling and diving opportunities, including spectacular reef drop-offs and large schools of barracuda and trevally. Here, thousands of colorful damselfish, anthias, surgeonfish, and other species congregate in schools, creating breathtaking flashes of light as they move in unison.
Apr 29–30: New Georgia Island
Marovo Lagoon is the world's largest enclosed reef lagoon and earns its World Heritage status from its mix of biologically and culturally significant wonders. Its turquoise-blue waters are dotted with hundreds of small islands fringed with sandy beaches and covered by coconut palms and rainforest, making it an idyllic and pristine tropical paradise. Spend an exhilarating two full days snorkeling and exploring in this extraordinary lagoon. Cetaceans are also frequently sighted in Marovo's waters, and occasionally orca and dugong.  We will also arrange a visit with the local communities on the inhabited islands to see the exquisite woodcarvings made by local woodcarvers;
May 1- 2: Kolombangara Island 
Kolombangara, meaning "Water Lord" in the local language, is made from the remnants of an extinct stratovolcano reaching 5,810ft. Enchantingly cone-shaped and almost perfectly round, it is lushly forested and has approximately 80 rivers and streams running down its flanks. The island's pristine forests are culturally significant to the indigenous inhabitants and are a biodiversity wonderland featuring several species of birds and frogs endemic to the island.  The vibrant forests create prime nutrient-rich conditions for underwater life around the island. Snorkeling and diving are spectacular along the many drop-offs surrounding the island. History buffs may see airplanes and ships from WWII in the waters, now covered in corals and teeming with life. Back on board the boat, look for Fraser's and spotted dolphins, dwarf sperm whales, and other cetaceans that frequent the deep waters around the island.
May 3–4: Ghizo Island
We spend our final few days making our way to Gizo,  the capital of the Western Provinces.  The Gizo area has many excellent snorkeling and diving sites. In 2006, marine experts recorded the second highest reef fish biodiversity in the world in Gizo (after Raja Ampat in West Papua, also part of the Coral Triangle). 
May 5: Disembark
Disembark after breakfast, or overnight in Gizo.
Ship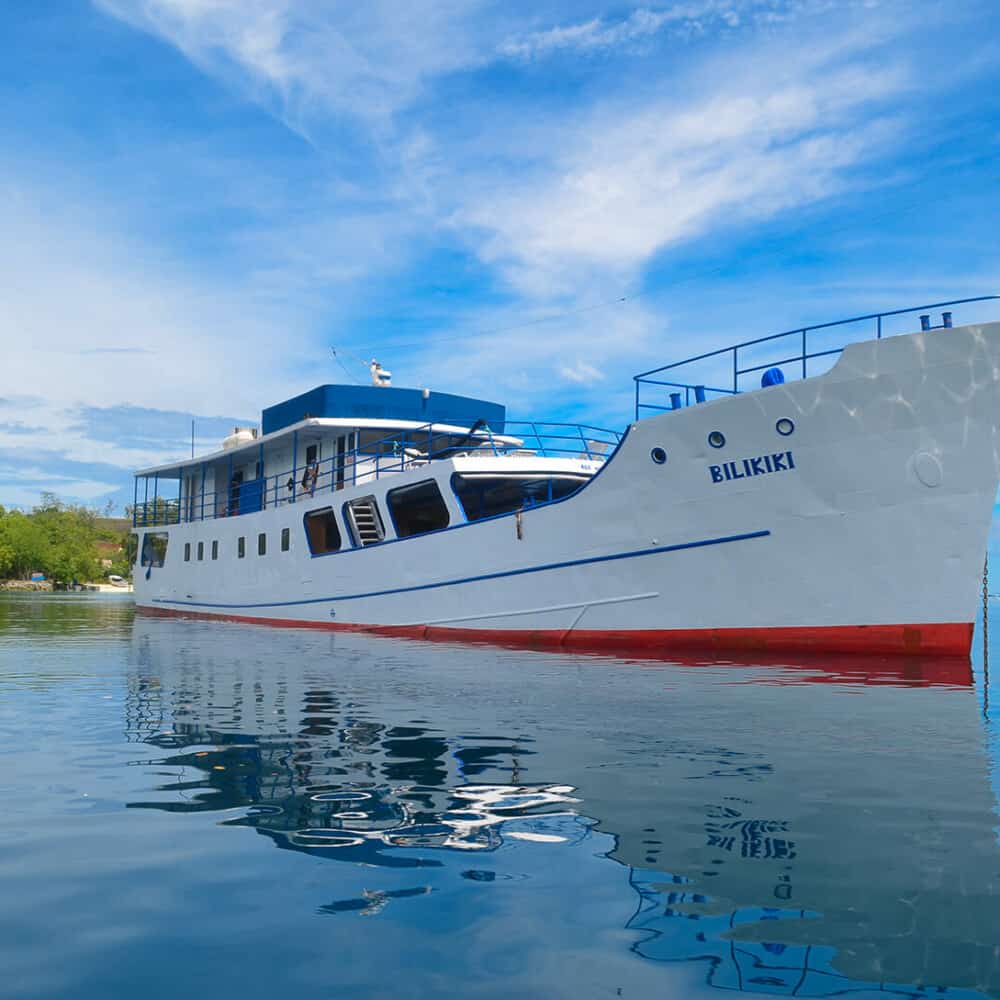 MV Bilikiki
In 1989 MV Bilikiki sailed as the first full service liveaboard dive vessel in the Solomon Islands. She is a large, stable, comfortable vessel and consistently rated one of the best liveaboard ships in the world. MV Bilikiki has 10 deluxe cabins, eight…
Ship Details
Naturalist(s)
Your expedition will be led by one or more of the following expert naturalist guides: