A luxury liveaboard trip for snorkelers and scuba divers aboard the boutique El Aleph, with an exceptional "off-the-grid" itinerary custom designed by our marine conservation partner Planet Deep, that highlight Indonesia's remarkable biodiversity.
Our trip begins with the chance to see blue whales as we sail toward the pristine coral reefs of the Lease Islands Marine Protected Area, one of the newest in Indonesia.
We'll spend two full days exploring the renowned reefs of Misool, one of the few places in the world where biodiversity is improving—with carnivorous pitcher plants and orchids above the water, and soft coral gardens and sea fans below.
Our final days will have us at Batanta, finding hornbills and parrots in the early morning and swimming with manta rays soon after, and Kri, one of the most fish rich locations in all of Raja Ampat
Indonesia is one of just 17 countries in the world that are considered to be "megadiverse," containing a wealth of biodiversity of which a high proportion is found nowhere else. No less than 75% of the world's known coral species are found here, and half of the world's coral reefs are located within the Coral Triangle, as well as the world's largest mangrove forest.
This luxury liveaboard trip was named the "megadiversity expedition," because our itinerary was designed to allow participants to experience this immense variety of species while snorkeling or scuba diving, during whale patrols when moving between locations, and in excursions on land. Our itinerary takes you on an exciting journey from the Spice Islands to Raja Ampat, a remote region considered by many to be one of the world's best places for snorkeling and scuba diving. You'll enjoy world class service aboard the El Aleph, a privately-owned luxury liveaboard ship with just 5 cabins that was purpose-built for exploring these waters and is available only for select charter groups.
Wildlife Highlights
Our expedition takes place at the heart of the Coral Triangle Region, the most biodiverse marine region on Earth. There are more than 2,000 species of reef fish in the Coral Triangle, with 1,320 species reported in Raja Ampat alone. Our focus is to explore this underwater paradise and we'll spend ample time below the surface, with your choice to scuba dive or snorkel (our ship's facilities and crew can readily accommodate both). We'll explore expansive reefs filled with hard and soft corals where we'll find many fish species large and small. Highlights include colorful clownfish, schooling bumphead parrotfish, manta rays, and sharks ranging from walking sharks to wobbegongs and hammerheads. Macro lovers will delight in looking for pygmy seahorses and an incredible diversity of sea slugs (nudibranchs) hidden among the reef. Sea turtles, giant clams, cuttlefish, octopus, eels, and other reef icons can readily be found. While in transit between dive/snorkel sites, we will pass through known corridors for cetaceans and will use this time to look for Bryde's whales, blue whales, pilot whales, and several dolphin species, among the 16 cetacean species recorded in this region.
Notes on Trip Costs
A luxurious master cabin with a private deck is available for an additional cost. Trip prices do not include international airfare, or in-country airfare from to/from Sorong. Click here for our full expedition terms and conditions.
Founded in 1969, Oceanic Society is America's oldest 501(c)(3) nonprofit organization dedicated to ocean conservation. As pioneers of "eco travel," our expeditions have been designed to directly support our mission. They not only positively impact our travelers, but also the people, places, and wildlife we go to see. A portion of your trip fees for this expedition will support our non-profit partner Planet Deep, who also uses the cetacean sightings data collected on these expeditions to help protect critical oceanic habitats such as calving and mating grounds for whales, migratory marine corridors, seamounts, and canyons. We will also collect data on marine debris to document its prevalence and overlap with cetacean habitats. And Oceanic Society's earnings from all our expeditions are invested back into our global research and conservation programs.
Dates & Prices
Oct 24 - Nov 2, 2023 Sold Out
Cost
Contact us for more information
Book this Trip
Oct 28- Nov 6, 2024
Cost
$10,500 + $185 park fee per person
Book this Trip
The following itinerary is subject to change based on weather and other external factors during our voyage. Participants will need to arrive into Jakarta or Bali at least a day prior to Day 1 in order to make it to Ambon in time for the ship's departure. While airfares are not included in the trip cost, Oceanic Society will make in-country flight arrangements and provide guidance for international flight arrangements.
*2024 Voyage will be from Ambon to Sorong
Day 1: Ambon, Embark
Arrive to Ambon by air from Jakarta or Bali and board the El Aleph. Aboard the ship,  meet the team, undergo a safety briefing and orientation, and take a tour of your home for the next ten days as you settle in. The ship will embark for Nusa Laut, with opportunities to look out on whale patrol along the way.
Day 2: Nusa Laut (Spice Islands)
Wake up in Nusa Laut, where we'll spend our first full day. Nusa Laut is home to a hard coral slope graduating to a stunning wall that makes for excellent snorkeling and diving. This area is part of the newly established Lease Islands Marine Protected Area, designated less than 12 months ago, and features pristine coral reefs, seagrass meadows, and mangroves that support abundant marine life, even the endangered dugong. After midnight we'll lift anchor and cruise west to West Ceram, Teluk Taluti.
Day 3: West Ceram, Teluk Taluti (Spice Islands)
Today we will anchor in Taluti Bay for an exciting day of discovery diving and snorkeling in this little explored area. Situated between the Ceram Sea to the north and the Banda Sea to the south, Ceram Island is mountainous and covered with tropical forest. Ceram was historically known as one of two islands that comprised the 'South Moluccas' and is the native habitat of spices such as nutmeg, cloves, and black pepper. As with many of the small Indonesian islands, there are shallow nearshore areas that give way to steep drop-offs into the deep. We hope to see great diversity of marine species as we explore this area. At sunset we will lift anchor and cruise overnight to Koon.
Day 4: Koon (Spice Islands)
Our full day today will be spent at Koon, which offers great diving and snorkeling along a steep wall in the north and a gentle slope in the south that converge to form an action-packed tip that borders the Banda Sea, and is teeming with marine life. At sunset, we'll cruise from Koon toward southern Raja Ampat.
Day 5: Misool (Raja Ampat)
Today we will explore Misool, one of only a handful of places in the world where biodiversity is improving rather than declining. Under the stewardship of the famous Misool Resort and their foundation, a staggering 300,000 acre (1,220 sq km) marine reserve is protected in this area. On average, the biomass in the area has increased by 250% in just 6 years, and on some key sites the recovery has surpassed 600%. There are 25 times more sharks inside the Misool Marine Reserve than directly outside of it, and oceanic manta sightings have increased 25-fold. Access is limited within the park and we will collaborate with our fellow conservationists at the Misool Resort to provide you with some of the 'Best of Misool' snorkeling and diving during our visit here. Cruise overnight to Wayil.
Day 6: Wayil (Raja Ampat)
We'll spend our full day today in spectacular Wayil (Raja Ampat). The first dive/snorkel will be in the passage of Wayilbatan: Neptune's Sea Fan, where you will see meters-wide huge gorgonian fans covering this wall, nicely lit by the morning sun. For the rest of the day, we'll have three different sites to choose from for other dives/snorkels. In the afternoon we will go "Jalan Jalan" on a James Bond-style speedboat excursion, traversing through crystal turquoise waters between limestone pinnacles with lush green peaks. We'll slow down to also take in the mangroves, orchids, and some of the other incredible biodiversity in amongst the greenery. Cruise north overnight.
Day 7: SW Batanta & Pulau Dayang (Raja Ampat)
Today we'll enjoy a cruise along the lush rainforest on the wild coast of West Batanta, as well as diving and snorkeling at the West Batanta manta cleaning station, a phenomenal experience.
Day 8: Kri
Today will be spent exploring Kri and the surrounding area. The Biodiversity in this area is incredible. Before Raja Ampat became THE place to dive in the world, the famous Dr. Gerry Allen (world renowned ichthyologist and author of Reef Fish Identification: Tropical Pacific) counted 327 fish species on a single dive at Cape Kri. In a more recent survey, 374 distinct species were counted in just 90 minutes. Dr. Allen is quoted as saying that Cape Kri is one of his favorite places to dive. After lunch, we will get back on whale patrol as we head south to Batanta and into a spectacular anchorage at Pulau Wruzwarez in North East Batanta, with hornbills flying overhead right after sunset.
Day 9: Batanta
For those who are keen, our day starts in the very early morning with some birding. Out on the speedboats, with breakfast provided, it's one not to miss. On your return, enjoy second breakfast, lift anchor, and get back on whale patrol as we cruise towards Sorong with the opportunity to see a wide range of cetaceans and pelagic species on our way. Our final dive and snorkel of the trip will be at one of our favorite sites, "Larry's Dream," named after the late legendary dive guide and pioneer of Indonesia diving, Larry Smith. When diving the site for the first time, he said, "it's how I dreamed Raja Ampat to be." We will then continue onwards through Dampier Strait, whale patrolling into Sorong. Once we arrive in Sorong at our overnight anchorage, we will prepare for the farewell Captain's Dinner.
Day 10: Disembark, Sorong
We'll say goodbye to the ship and crew as we disembark this morning and transfer to the Sorong airport for flights onward Jakarta or Bali.
Ship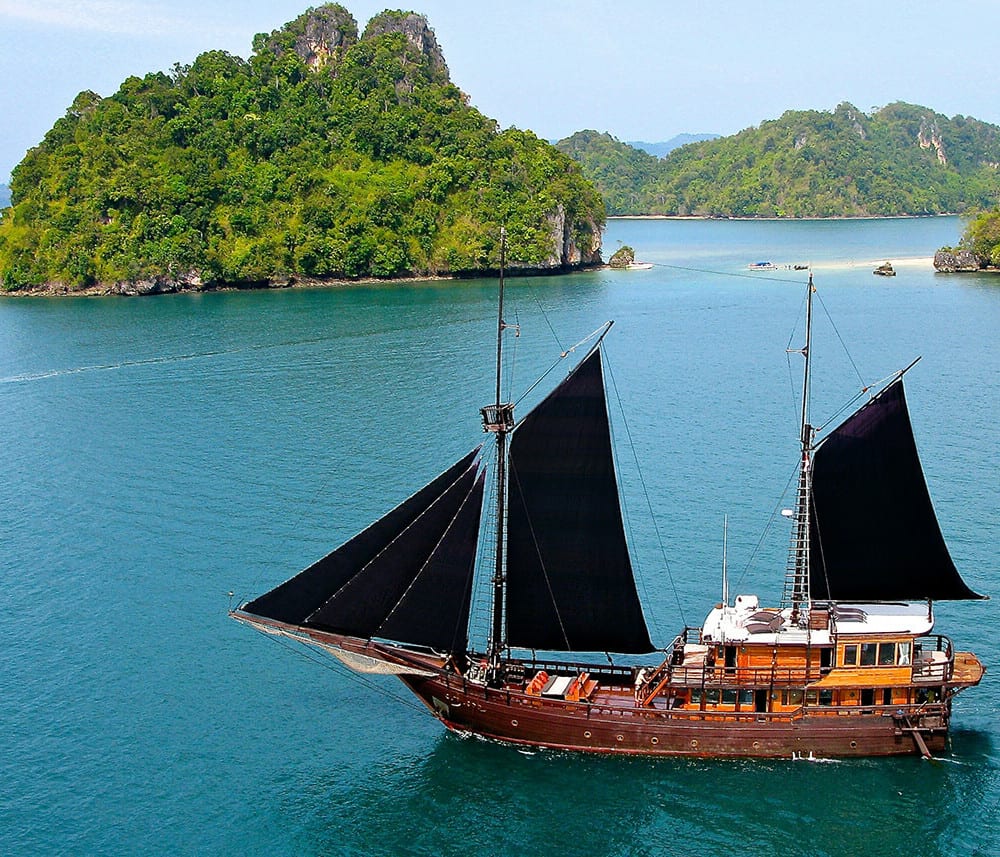 El Aleph
El Aleph is a 40-meter luxury liveaboard ship purpose-built for exploring the remote and legendary regions of Raja Ampat, Indonesia and Papua New Guinea. From the polished wood finish – more reminiscent of a fine guitar than a phinisi schooner – to the…
Ship Details
Naturalist(s)
Your expedition will be led by one or more of the following expert naturalist guides: